DripDrop and the NVFC Partner to Donate 400,000 Servings of Life-Saving Dehydration Relief to Volunteer Firefighters
July 6, 2022
UPDATE: That was fast! DripDrop has now successfully donated all 400,000 servings of its oral rehydration solution to volunteer fire departments across the U.S. If you missed the free product donation, you can still get 20% off your next purchase at DripDrop.com with code NVFC20. Stay tuned for next year's program!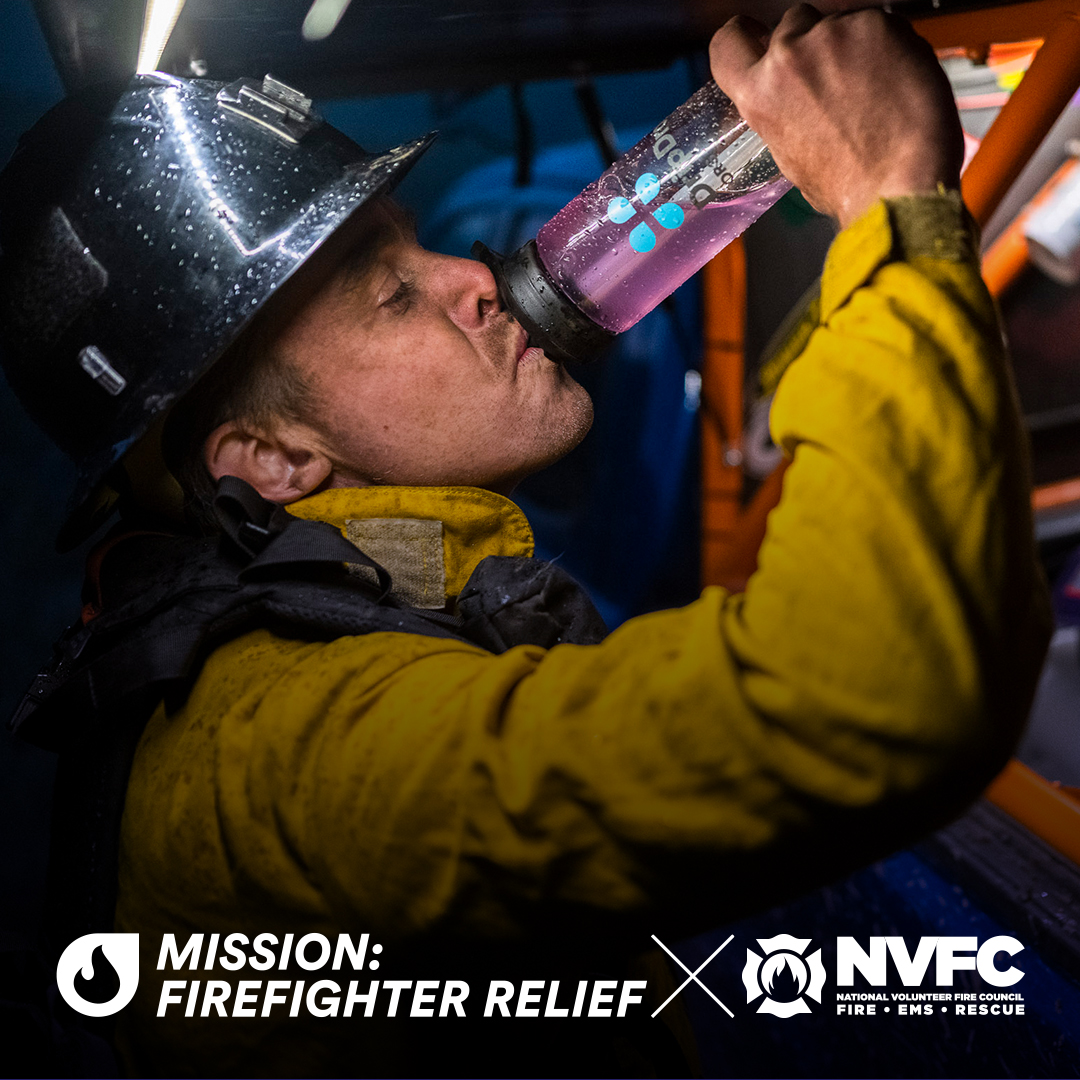 DripDrop Hydration, a leading electrolyte powder company, and the National Volunteer Fire Council (NVFC), the leading association representing the volunteer fire, EMS, and rescue services, have teamed up for a third year to provide dehydration relief to volunteer firefighters. DripDrop is donating 400,000 servings of its oral rehydration solution (ORS) to volunteer fire departments across the U.S. so firefighters can stay hydrated as they battle wildfires and other strenuous response situations.
Scorching heat, crushing physical effort, and heavy gear mean firefighters face an increased risk of dehydration and heat-related injuries. Replenishing lost fluids with DripDrop is a mission-critical tool for firefighters in the field so they don't get sick from the heat. DripDrop is a fast, clinically-proven way to replace lost fluids and replenish electrolytes. Through the donation, volunteer firefighters can request up to two 80-count multi-flavor packages of DripDrop ORS to use in their department.
"We are very pleased to partner with DripDrop for a third year to promote the health and safety of our nation's volunteer firefighters," said NVFC chair Steve Hirsch. "Dehydration is a significant risk for firefighters and can cause decreased performance, weakness and muscle fatigue, dizziness, confusion, and even heat stroke or heart attack. This donation of DripDrop ORS will provide medical-grade dehydration relief to protect the health of firefighters as they do their jobs and keep them performing safely and effectively."
"Dehydration should never impact firefighters' ability to do their job or compromise their safety," said Dr. Eduardo Dolhun, founder and creator of DripDrop. "Firefighters experience substantial electrolyte losses. I developed DripDrop ORS to work fast and efficiently, something water alone could never do."
Active volunteer firefighters located in the U.S. can request a product donation, while supplies last, at www.dripdrop.com/nvfc-2022. To help the most firefighters, only one order per department will be processed. In addition, firefighters can receive a 20% discount on their DripDrop ORS order at any time by using code NVFC20 at checkout on dripdrop.com.
*The NVFC does not make any medical claims. Check with your physician if you are experiencing a medical issue.
About DripDrop
DripDrop is a leading electrolyte powder created by a doctor on a mission to fight dehydration. The sticks are a fast-acting, delicious-tasting dehydration remedy trusted by doctors, firefighters, elite athletes, and the U.S. Military. They are a perfect on-the-go solution for everyday use to combat dehydration from heat, exercise, sleep, travel, etc. The patented scientific formula improves upon international oral rehydration solution (ORS) standards, conforming to proven ratios of salts, sugars, potassium, and other ingredients. To find a store that carries DripDrop, or for more information, visit www.dripdrop.com.
About the NVFC
The National Volunteer Fire Council (NVFC) is the leading nonprofit membership association representing the interests of the volunteer fire, EMS, and rescue services. The NVFC serves as the voice of the volunteer in the national arena and provides critical resources, programs, education, and advocacy for first responders across the nation. Learn more at www.nvfc.org.