Department Spotlight: Gilt Edge Volunteer Fire Department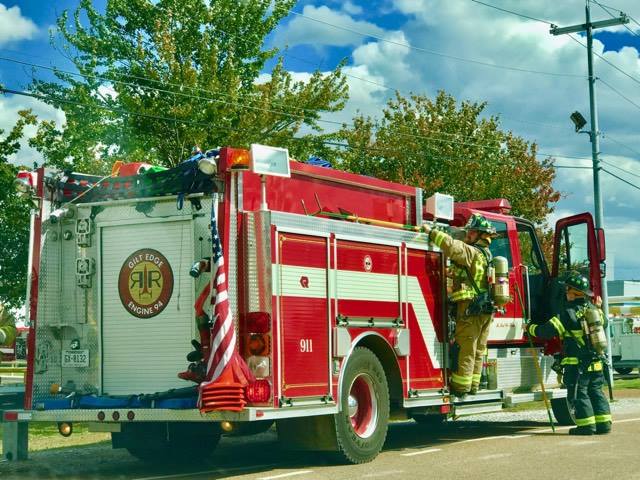 Department Name: Gilt Edge Volunteer Fire Department
Department Location: Gilt Edge, TN
Department Type: Volunteer
Number of Active Volunteers: 21
Community Type: Rural
What challenges have you experienced in terms of recruiting new members to your department?
Our biggest challenge to recruiting is our location. We are a rural municipal volunteer department that protects two small towns of about 450 each and an unincorporated area of approximately 3,100. Many of the recommended recruiting practices such as setting up recruiting drives in local schools and hangouts do not work for us because we do not have those types of facilities. We are a bedroom residential community and what is not residential is primarily agricultural. Residents do most of their shopping and recreational activities in other parts of the county. We have attempted "meet & greet" recruitment efforts at local convenience stores and the one local restaurant with little to no success. With all that said, we have adapted our methods to overcome these challenges to "traditional" recruitment methods.
What methods have proven successful in recruiting new volunteers?
Social media, specifically Facebook, has been our bread and butter in direct and indirect recruiting. We have used the department's social media page as a tool to tell our department's story and to show the public what their volunteers are doing every day and at all hours. In addition to sharing fire prevention and safety tips, we show our members training, in action on incidents, and serving the public by installing address signs and smoke alarms. While we always accept applications, during certain times of the year we also use the Facebook page to advertise that we are actively recruiting.
This social media presence, as well as other positive reputation management tools such as news media, has led to a positive image of our department through word of mouth in the community. Most of our recruiting hits come from folks messaging the Facebook page. We do also send an annual recruitment mail-out/fundraiser letter to every address in our district and this has yielded some success over the years.
What has your department done to reach all demographics in the community?
Our annual mail-out goes to every address in our district and our social media posts are publicly shared on multiple community pages and groups on Facebook.
How have you used the Make Me A Firefighter campaign in your recruitment efforts?
We have had a Make Me A Firefighter account and postings set up since the program started and just a couple of days ago received our first successful applicant that shows a lot of promise.
How does your department support the retention of volunteers?
Leadership first and foremost. ALL levels of leadership must care about their people as both people and firefighters. Our department follows the Fully Involved Leadership philosophy of the Big 4. Do your job. Treat People Right. Give All Out Effort. Have An All In Attitude. Those are the 4 things that we ask from people on day one of joining.
We have a high standard of training which instills pride in the organization. Members are required to obtain HMA/HMO, FF1, FF2, and EMR within 24 months of joining. We were told by some that this was too much and that we would drive people away or discourage new members. Four years later, we are stronger than we have ever been in the department's 33-year history. We train hard on weekly drills and we regularly send members to outside training opportunities.
In a nutshell, we care about our members and strive to help them succeed in both life and the fire department. We train with high expectations and standards. As members progress we empower them, which instills a sense of ownership within the organization. This is a winning formula that has yielded much success for our department.
What tips or advice do you have for departments that are struggling with recruiting and/or retaining volunteers?
Recruitment:
Stop the "sinking ship" recruitment messages such as "volunteers desperately needed" or "what if no one answers the call." Nobody wants to join a sinking ship!
Your recruitment message should inspire people to want to serve or accept a challenge.
Raise your standards. Coach Nick Saban once said that "mediocre people don't like high achievers, and high achievers don't like mediocre people." If your organization has mediocre standards and reputation, then you will have a hard time recruiting high achievers, and those you do recruit will be hard to keep. This includes training standards, grooming standards, professional appearance, and behavior standards.
Manage your department's reputation. Get active on social media. Share your department's story and market your brand. Tell your story straight forward and honestly, but avoid coming across as "the sinking ship," "the poor pitiful victim," or the "we are special so please thank us for our service" department. Show your members in action, and include captions educating the public on what it is you are doing in a photo. Write your posts in the form of a press release and DO NOT run your department page like it is a personal page. Stay away from political or controversial posts and sharing posts of that nature. Focus on your department, what you are doing for your community, and what new members can do for the community.
Retention:
Deliver on what you said or implied in recruiting. If you paint a picture of a high achieving organization but you deliver mediocre standards, your high achievers will leave.
Treat your people with respect! You are asking folks to give up their free time, time with their families, etc. to do a job that can get them killed for a small stipend or no pay at all. They keep showing up because they want to be there, not because they have to be there. Don't forget that. You can enforce high standards and still keep people motivated to show up. Create a family-friendly atmosphere in the firehouse. Let people know that their work and sacrifice is valued and appreciated.
Raise your standards. If the volunteer fire service is to survive, the "good ole boy social club" model has got to go. While the public doesn't get on the phone to 911 and say "send me the paid or volunteer fire department," they expect whoever shows up in the big red truck to handle their problem to be proficient and professional. The mantra of "We are just volunteers" has got to go! If you want to retain high achievers, you must develop and maintain professional standards.
Empower your people! This doesn't mean turn the rookie loose with the chief's buggy on day one to run command. This means to grow your people, train your people, mentor your people, and then let them do what you have trained them to do! Prepare for the future. Build a succession plan. SHARE knowledge and power.
Change is best received with buy-in from the bottom up rather than forced from the top down. Understand leadership capital and how much you have to spend when it comes to change. You won't be able to fix everything overnight.
Anything else you'd like to share?
One of the hardest things to do as a leader is to look inward at our organization, and especially ourselves, and find fault. To progress and move forward, this is exactly what we must do if we expect to see the volunteer fire service survive the foreseeable future.
Our department historically has averaged 15 members on the roster. It has fluctuated up and down a few times but for 33 years that has been the average. Today we are sitting at 21. When compared to 2012 when we only had 11, we have seen a remarkable turnaround that started in 2013 with raising our training standards and taking an active role in managing our reputation. We still have plenty of areas to improve, but we take it one day at a time and strive each day to better than we were the day before.
Find resources to help with volunteer recruitment from the Make Me A Firefighter campaign department portal. View more department profiles here.