CHEMTREC® HELP Award Winners Receive $10,000 for Hazmat Preparedness and Response
December 8, 2020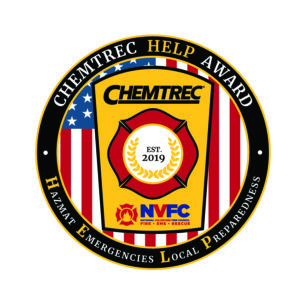 CHEMTREC®, in partnership with the National Volunteer Fire Council (NVFC), has awarded two volunteer fire departments with $10,000 each to enhance their hazmat incident preparedness and response capabilities. The recipients of the 2020 CHEMTREC® Hazmat Emergencies Local Preparedness (HELP) Award are the New Johnsonville (TN) Fire Department and the Water Witch Hose Company #2 (New Milford, CT).
The New Johnsonville Fire Department will be utilizing the CHEMTREC® HELP Award to set up an operations level response trailer, which will include resources such as personal protective equipment that will keep their firefighters safe while mitigating hazmat incidents and protecting their community.
Water Witch Hose Company #2 will use the CHEMTREC® HELP Award to update their personal protective equipment and the hazmat supplies on their response trailer. This award will not only benefit the department but fulfill their mission of protecting lives and property throughout the region and state.
CHEMTREC® is the world's leading source of 24/7 call center support and information during hazardous materials incidents. To further assist fire and emergency service departments responding to hazmat emergencies, CHEMTREC® partnered with the NVFC starting in 2019 to launch the HELP Awards. Each year, two eligible volunteer fire departments that are also NVFC members receive the award to enhance their response capabilities and increase local preparedness to respond to and prepare for hazardous materials incidents.
"We are grateful for CHEMTREC's support of our volunteer fire departments through the HELP Award," said NVFC chair Steve Hirsch. "This award provides much-needed assistance to help fire departments prepare and train for hazmat emergencies to keep our front-line responders and their communities safe."
"At CHEMTREC® we recognize that the first responder community is critical to hazmat response and we remain dedicated to working closely and effectively with responders when an incident occurs, as we have proudly supported the industry over the past 50 years. We are delighted to offer the HELP awards for a second year and pleased to continue our partnership with the NVFC. These awards represent our appreciation of the volunteer fire service and will continue to be an ongoing reminder of our commitment to emergency responders for many years to come," said CHEMTREC's chief executive John Modine.
Learn more about the CHEMTREC HELP Award.
About CHEMTREC®
CHEMTREC® is the leading source of 24/7 call center support and information during hazardous materials incidents. CHEMTREC is the single point of contact that connects emergency responders with everyone involved  ̶  manufacturers, shippers, consignees, carriers, and government agencies. CHEMTREC is equipped to handle any situation and any class of hazardous material.
CHEMTREC's team of trained, experienced Emergency Service Specialists provide emergency responders with the information they need to safely and effectively manage chemical shipping incidents, including guidebooks, training opportunities, and industry resources. CHEMTREC's service is complimentary for emergency responders.
About the NVFC
The National Volunteer Fire Council (NVFC) is the leading nonprofit membership association representing the interests of the volunteer fire, emergency medical, and rescue services. The NVFC serves as the voice of the volunteer in the national arena and provides critical advocacy, resources, programs, and education for first responders across the nation. Learn more at www.nvfc.org.