Cabot Creamery Co-operative and the NVFC Partner to Thank Volunteer Firefighters
January 26, 2021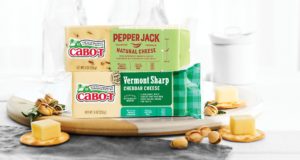 Cabot Creamery Co-operative and the National Volunteer Fire Council (NVFC) teamed up in January to thank volunteer firefighters and EMS providers for their service through the Happy New Year Giveaway. 250 volunteer responders were recognized for their service with a $25 gift box from the farmers who own Cabot.
"Volunteer firefighters and EMS providers dedicate so much time and service to help their neighbors, and it is wonderful to see a company like Cabot Creamery Co-operative showing their appreciation through this special giveaway program," said NVFC chair Steve Hirsch. "Especially with all that responders today are facing, we are happy to partner with Cabot to bring a little joy to some of our dedicated boots-on-the-ground volunteers."
In addition to the individual giveaway, Cabot also provided department support by donating cheese to fire departments to nourish their responders who are at the station for duty or training.
This is just the latest way that Cabot has recognized volunteers for their hard work and dedication. The ongoing Cabot Reward Volunteers program allows volunteers to log in their hours of service for the chance to win great prizes as well as cash for their organizations. NVFC members can participate in this free program by going to rewardvolunteers.coop to create an account and choosing National Volunteer Fire Council as the "on behalf of" organization when logging hours. Add your local fire department in the comment box so they are also eligible to win.
In 2019, Cabot held a special Community Celebrity Cruise to show their appreciation of volunteers from all disciplines. NVFC member and volunteer firefighter Todd McKinney was one of the volunteers to win a place on the cruise.
About Cabot Creamery Co-operative
Cabot Creamery Co-operative has been in operation since 1919, making a full line of award-winning cheddar cheese and dairy products. Cabot is owned by 800 dairy farm families throughout New England and New York. A certified BCorp, they are committed to the planet, its people, and returning profits to its farmer owners.