Bills Introduced in Congress to Improve the Wellbeing of Firefighters
June 27, 2023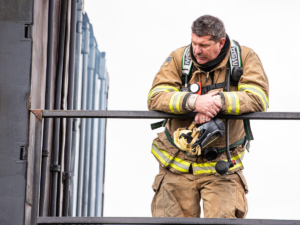 Over the past month, three bills have been introduced in Congress that would improve the wellbeing of firefighters. These include a National Firefighter Registry reauthorization bill (H.R. 3821/S. 2119), the Volunteer First Responder Housing Act (S. 1988), and the Helping Emergency Responders Overcome Act (HERO) Act (H.R. 3671). A House version of Volunteer First Responder Housing Act and a Senate version of the HERO Act are expected to be introduced in the coming weeks.
H.R. 3821/S. 2119 would reauthorize the National Firefighter Registry (NFR) at $5.5 million annually through 2028, an increase from the previous authorization level of $2.5 million. The NFR's mission is to collect relevant historical and occupational information that can be linked to existing state cancer registry data. This information will improve our knowledge of how and why firefighters contract cancer. The NFR is a policy priority for the National Volunteer Fire Council (NVFC). In addition to supporting its reauthorization, the NVFC requested $7.125 million in FY 2024 funding for the NFR. The NVFC has also issued a position statement encouraging all members of the fire service to enroll in the NFR.
The Volunteer First Responder Housing Act would increase access for qualified volunteer firefighters and EMS personnel to two existing federal housing assistance programs. The bill would expand eligibility for qualified volunteers to receive a loan through the Single Family Housing Guaranteed Loan Program, administered by the U.S. Department of Agriculture. It would also make qualified volunteers eligible to participate in the Good Neighbor Next Door Program, through the U.S. Department of Housing and Urban Development.
"Many fire, EMS, and rescue departments are finding it increasingly difficult to recruit and retain volunteer personnel," said NVFC chair Steve Hirsch regarding the bill's reintroduction. "Helping volunteer emergency responders buy or renovate homes is a fantastic retention incentive that makes it easier for volunteers to continue living in the communities they serve."
The HERO Act is another legislative priority for the NVFC and would do the following:
Create a grant program for peer-support behavioral health and wellness programs at fire and EMS departments.
Direct the U.S. Fire Administration, in coordination with the Department of Health and Human Services, to develop and make publicly available resources to be used by the federal government and other entities to educate mental health professionals about the unique behavioral health issues that firefighters and EMS personnel face.
Establish a system for collecting data on suicide deaths of public safety officers.
The NVFC is grateful to Rep. Pascrell (D-NJ), Sen. Menendez (D-NJ), Sen. Baldwin (D-WI), Rep. Garbarino (R-NY), Rep. Bera (D-CA), and Sen. Rosen (D-NV) for introducing these important bills. We look forward to working with them and their colleagues in Congress to get these bills passed.