Apply Now to Receive a $10,000 Grant to Enhance Hazmat Preparedness and Response
June 13, 2023
CHEMTREC to provide $40,000 in assistance to local volunteer fire departments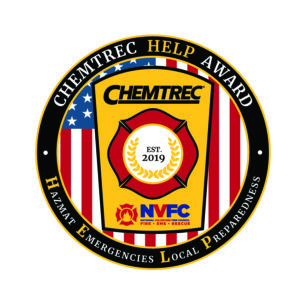 It is essential that volunteer fire departments are prepared to respond to hazardous materials incidents. According to the National Fire Protection Association, fire departments responded to over 433,000 hazardous materials calls in 2021. The number of hazmat incidents occurring annually continues to increase, based on 10-year incident summary data from the Pipeline and Hazardous Materials Safety Administration, which underscores the need for firefighters to be trained and ready before an incident occurs. However, many volunteer departments cannot afford the additional equipment, resources, and training. That is why CHEMTREC® teamed up with the National Volunteer Fire Council (NVFC) to offer the CHEMTREC HELP (Hazmat Emergencies Local Preparedness) Award.
Through the HELP Award, CHEMTREC will grant $10,000 to four volunteer fire departments in 2023 to enhance their hazardous materials response capabilities and improve responder safety. This is the fifth year of the program. To date, 12 departments have received a total of $115,000 through the CHEMTREC HELP Award to bolster their hazmat incident response capabilities and increase local readiness for hazmat events.
The 2023 application period is now open until September 1. Departments must meet the following eligibility requirements to apply:
Be composed of more than 50% volunteers
Serve a population of 25,000 or less
Department's annual revenue must not exceed $250,000
Be located in the United States and legally organized under state law. Tribal entities servicing a tribe recognized by the Bureau of Indian Affairs (BIA) that are chartered pursuant to IRA Section 17 or organized by a tribal government pursuant to a tribal code or resolution are eligible to apply.
Chief or individual applying on behalf of the department must be a member of the NVFC. Not a member? Learn about member benefits and join at: www.nvfc.org/join
Explain in the application essay what they would do with the award to increase their hazmat response and preparedness capabilities
View full criteria at www.chemtrec.com/helpaward. Only one application per department will be accepted.
Learn more and apply by September 1 at www.chemtrec.com/helpaward.
About CHEMTREC
CHEMTREC is the leading source of 24/7 call center support and information during hazardous materials incidents. CHEMTREC is the single point of contact that connects emergency responders with everyone involved – manufacturers, shippers, consignees, carriers, and government agencies. CHEMTREC is equipped to handle any situation and any class of hazardous material.
CHEMTREC and its team of trained, experienced Emergency Services Specialists provide emergency responders with the information they need to safely and effectively manage shipping incidents, including guidebooks, training opportunities, and industry resources. CHEMTREC's service is complimentary for emergency responders.
About the NVFC
The National Volunteer Fire Council (NVFC) is the leading nonprofit membership association representing the interests of the volunteer fire, emergency medical, and rescue services. The NVFC serves as the voice of the volunteer in the national arena and provides critical advocacy, resources, programs, and education for first responders across the nation. Learn more at www.nvfc.org.