Apply for a Travel Stipend for the NVFC's Regional Wildland Symposium
November 1, 2022
First round applications due December 1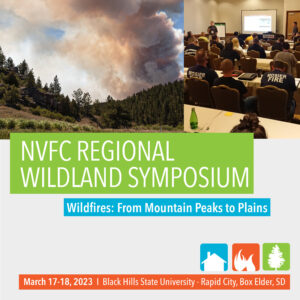 The National Volunteer Fire Council's (NVFC) inaugural Regional Wildland Symposium takes place March 17-18, 2023, in Box Elder, SD. To help offset travel expenses, the NVFC is offering members travel stipends that reimburse for up to $600 of eligible conference-related expenses. Apply now.
This event will provide an opportunity to attend valuable classroom training and share ideas and best practices with wildland firefighters and other stakeholders from across the Plains region. Attendees will participate in a variety of breakout sessions that address key topics in wildland fire mitigation and response. The event will also feature keynote speakers, general sessions, networking events, and a mini vendor expo. The registration fee is $129, which includes two days of training from industry leaders, a networking reception with vendor expo, and most meals. The full agenda will be available in late 2022. Pre-register for the Symposium to stay informed of new event details.
Travel stipends reimburse up to $600 of conference expenses, including hotel, transportation (airfare, mileage, cab/shuttle/rideshare), and the event registration fee. To be eligible for a travel stipend, you must be a current member of the NVFC. If you're not a member, join for $21 at www.nvfc.org/join.
There are two opportunities to apply for a travel stipend. The first application deadline is December 1, with notifications by December 20. The second and final deadline is January 1, with notifications by January 20. Apply now for priority consideration.
Visit the conference web site at www.nvfc.org/symposium for more details. Questions? Contact Rachel Buczynski, conference planner, at Rachel@nvfc.org or 202-887-5700 x130.
About the NVFC
The National Volunteer Fire Council (NVFC) is the leading nonprofit membership association representing the interests of the volunteer fire, EMS, and rescue services. The NVFC serves as the voice of the volunteer in the national arena and provides critical advocacy, resources, programs, and education for first responders across the nation. Find out more at www.nvfc.org.