Amanda Thibodeaux – Chauvin, LA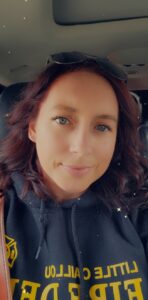 Name: Amanda Thibodeaux
Title: Administrative Assistant
Department: Little Caillou Fire Department
Location: Chauvin, LA
Why are you an NVFC member?
I was awarded the membership for one year, but the benefits and resources of being a member have been incredible. I will continue to be a member after the year, and I have begun to encourage others to join also.
What is your occupation?
Administrative assistant/captain
Why are you a fire service volunteer?
I am a 3rd generation firefighter and there is nothing better than helping someone who needs it. I love working with the community and being able to make a difference.
What year did you join the fire or emergency services?
2001
What are your memorable moments as a firefighter or EMS provider?
I remember moving from the city of Westwego to Chauvin. It was a huge culture change, but the fire service welcomed me with open arms. A month or so later Hurricane Rita passed and responding in a fire boat in the height of the storm to someone in need was exciting and a little risky. I thought the whole time, what did I get myself into and my mom is gonna kill me. But I found a love here and stayed since 2005.
What contributions have you (and your department) made in your community?
Working with many organizations to bring community risk awareness to our citizens. Helping to organize events throughout the year to share education and knowledge. I was able to organize a new annual fire prevention fair, I recently started a community safety trunk-or-treat on Halloween night, and I'm working on creating a community safety partnership with businesses to purchase smoke detectors in our area.
Interested in serving your community? Find volunteer fire service opportunities at www.MakeMeAFirefighter.org.