AFG, SAFER, and USFA Authorizations Lapse: Contact Your Member of Congress and Senators
October 17, 2023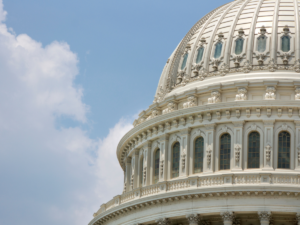 On September 30, 2023, the authorizations for the Assistance to Firefighters Grant (AFG), Staffing for Adequate Fire and Emergency Response (SAFER) grant, and U.S. Fire Administration (USFA) lapsed. While this lapse in authorization will likely not affect AFG, SAFER, and USFA within the next year, it does leave them more vulnerable to being eliminated per a provision in the House of Representatives and Senate rules regarding the funding of unauthorized programs. With the programs' authorization now lapsed, a one-year countdown has begun to AFG and SAFER potentially being permanently sunset if not reauthorized by September 30, 2024.
Though the Senate's reauthorization bill (S. 870) passed the Senate 95-2 in April and the House's reauthorization bill (H.R. 4090) unanimously passed the House Committee on Science, Space, and Technology in June, there are still obstacles that are impeding this reauthorization's further movement. The House's rules for the 118th Congress make it difficult to pass this reauthorization due to the constraints on length and expense of reauthorizations. Additionally, the House has lost valuable time to consider legislation due to the pause of legislative business in the absence of a Speaker. Some key Senators have also objected to including AFG, SAFER, and USFA's reauthorization in key legislative packages.
The best way to overcome these obstacles is education. Your legislators in the House and Senate need to be reminded of the importance of AFG and SAFER. The NVFC and other national fire service organizations have been active advocates of these programs through various means. In April, NVFC chair Steve Hirsch spoke to the matter on Newsmax ahead of the Senate's passage of S. 870. In May, NVFC Georgia director Dave Bullard testified before the House Committee on Science, Space, and Technology regarding the importance of AFG and SAFER. On September 20, the NVFC, Congressional Fire Services Institute (CFSI), International Association of Fire Chiefs, International Association of Fire Fighters, National Fallen Firefighters Foundation, and National Fire Protection Association hosted a successful Congressional open house, at which the NVFC was represented by its Maryland director, Eric Bernard. On October 12, the NVFC and the aforementioned fire service organizations co-hosted a press conference in Washington, DC, to raise awareness of this issue; NVFC Rhode Island director Kevin Quinn represented the NVFC.
While the NVFC remains actively engaged in Washington, DC, we need your help to magnify the message. Your Representatives in Congress need to hear directly from you as their constituents, especially if you have received an AFG or SAFER grant or have benefited from the USFA's curriculum. It is very effective when members of Congress and Senators hear directly from constituents about a program's success stories in their state or district.
Additionally, the NVFC encourages you to reach out to the local offices of your Senators and Representative to set up a meeting regarding these programs. The NVFC's chief of legislative and regulatory affairs, Ryan Woodward, can provide you with Congressional calendar information, Congressional office contact information, talking points, and anything else you may need for the meeting. Please let him know if you have scheduled a meeting with your member of Congress or Senator, need help with scheduling, or have already had a meeting so he can do additional outreach. He can be reached at ryan@nvfc.org.
The NVFC also has an active Action Alert that allows you to send a letter to your Senators and member of Congress to advocate for increased funding and the reauthorization of AFG, SAFER, and USFA with just a few clicks. CFSI has also set up a landing page for AFG, SAFER, and USFA reauthorization, where you can learn more and submit a success story related to an AFG or SAFER grant you have received. The more specific examples Congress hears about AFG and SAFER's successes, the more successful our advocacy efforts will be. Submit your success story here.
Thank you to everyone who has already reached out to their Representative and Senators regarding AFG, SAFER, and USFA funding and reauthorization. Please continue to urge others to do the same. The NVFC will continue to fight for the existence of these crucial programs.