Wildfire Safety Toolkits Now Available
July 21, 2015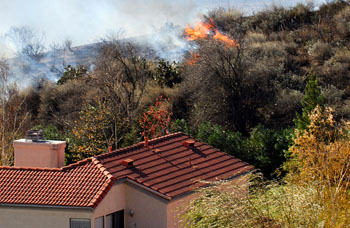 Each year, wildfires damage and destroy homes in the wildland-urban interface. As more people choose to buy homes in picturesque areas known to be in danger of wildland fires, it is important to continue the push for homeowners and community leaders to take responsible measures to make their properties and communities less vulnerable to the dangers wildfires present.
Several agencies and organizations, including the National Volunteer Fire Council (NVFC), formed the Fire Adapted Communities (FAC) coalition to address this need. FAC provides multimedia support for groups looking to put together a fire adapted communities program including networking guides, DVDs, reference guides, brochures, and a self-assessment tool.
Ready.gov recently released another toolkit to help get the wildfire safety message out. The Wildfire Safety Toolkit provides shareables that emergency managers can post to their social media ac¬counts. It provides a list of hashtags for Twitter, graphics for Facebook cover pho¬tos, a list of links for more information, content for sharing through social media, and social media writing tips when discussing emergency preparedness. This resource and others are also available on the PrepareAthon's Wildfire page.
In addition, the NVFC and the U.S. Forest Service offer a toolkit, training, customizable templates, and more as part of the Wildland Fire Assessment Program. This program is designed to help volunteer fire departments and Fire Corps teams conduct a home assessment program in wildland-urban interface communities to assist homeowners in identifying risks and what steps they need to take to increase their safety and protect their homes from the next wildfire.
Sources: EMR-ISAC InfoGram; PrepareAthon