Why Health Care Reform Could be a Problem for Volunteer Fire/EMS Agencies
August 5, 2013
The Patient Protection and Affordable Care Act (PPACA), frequently referred to as "Obamacare," attempts to make it easier for people who don't have health insurance to obtain it. The law focuses on making the individual and small-group insurance markets more affordable by creating insurance "exchanges" – regulated marketplaces where people can shop for the best deal – and establishing subsidies to help pay part of the cost of insurance. The idea is that everyone who doesn't receive insurance through their employer or from the government will purchase affordable insurance through the exchanges.
Close to 60 percent of workers currently receive employer-sponsored health insurance. To prevent employers from using the exchanges and subsidies available through PPACA as an excuse to not offer health insurance coverage, something called the "employer mandate" was established. The employer mandate requires large employers with more than 30 full-time employees to offer health insurance benefits to full-time employees or pay a penalty. "Full-time" employees are defined as anyone working at least 30 hours per week on a consistent basis. "Large employers" are defined as any employer with 50 or more full-time equivalent employees, which includes full-time employees and part-time employees whose hours added together amount to 30 hours per week.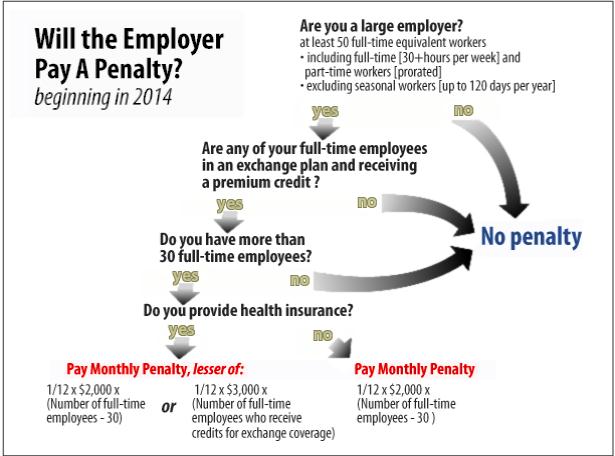 Source: Congressional Research Service analysis of P.L. 111-148 and P.L. 111-152

The employer mandate is likely to impact at least some volunteer and combination emergency services agencies. PPACA relies on the Internal Revenue Service (IRS) to define "employee," and the IRS has long maintained that for tax purposes volunteer emergency responders are considered employees. Consequently, departments that rely on individual volunteers to work for an average of 30 or more hours per week over an extended period of time could be penalized for not offering health insurance coverage.
It is hard to imagine that the drafters of PPACA intended to require volunteer fire and EMS agencies to offer health insurance benefits. One of the main reasons that emergency services agencies rely on volunteers is that they often lack resources to pay full-time salaries and benefits. Volunteer emergency responders commonly serve in rural communities with small tax bases and higher-than-average rates of poverty.
Injury rates in emergency services professions are much higher than for other occupations, and it is critical that volunteer firefighters and EMS personnel have access to affordable health insurance coverage. Most volunteer firefighters and EMS personnel have full-time jobs outside of the department which, ideally, would offer health insurance benefits. Those without access to employer-provided insurance should be able to purchase affordable coverage through the exchanges if they don't qualify for Medicaid.
Last month the Obama administration announced that it would not enforce the employer mandate until January 1, 2015. This one-year delay temporarily pushes off any potential penalties from being levied but it also means that the IRS' final implementing regulations for PPACA are probably not forthcoming. The National Volunteer Fire Council (NVFC) had hoped that the final regulations would contain an exemption or at least clear guidance for emergency services agencies to follow to avoid incurring penalties.
Until the final implementing regulations are published it will be difficult to estimate how many agencies will be impacted. Very large volunteer agencies, combination departments, and departments that are part of a unit of government that employs people on a full-time basis are the most likely to be considered large employers. Without clear guidance, even agencies that do not have enough personnel working enough hours on a regular basis to be considered large employers under PPACA may take steps to protect themselves, potentially including eliminating recruitment and retention incentives or restricting volunteer membership and/or hours worked.
Congress is going to be out of session for the month of August, during which time most U.S. Representatives and Senators will be back in their home states meeting with constituents. This month, the NVFC is calling on our members to personally contact their congressional representatives, either by phone, e-mail, or showing up at office hours or a town hall meeting, to let them know that volunteers must be clearly exempted from being considered "employees" under PPACA. Click here to view the NVFC's Guide for Communicating with Elected Officials to help with these efforts.