Volunteer Spotlight: Renee Wasco
October 7, 2019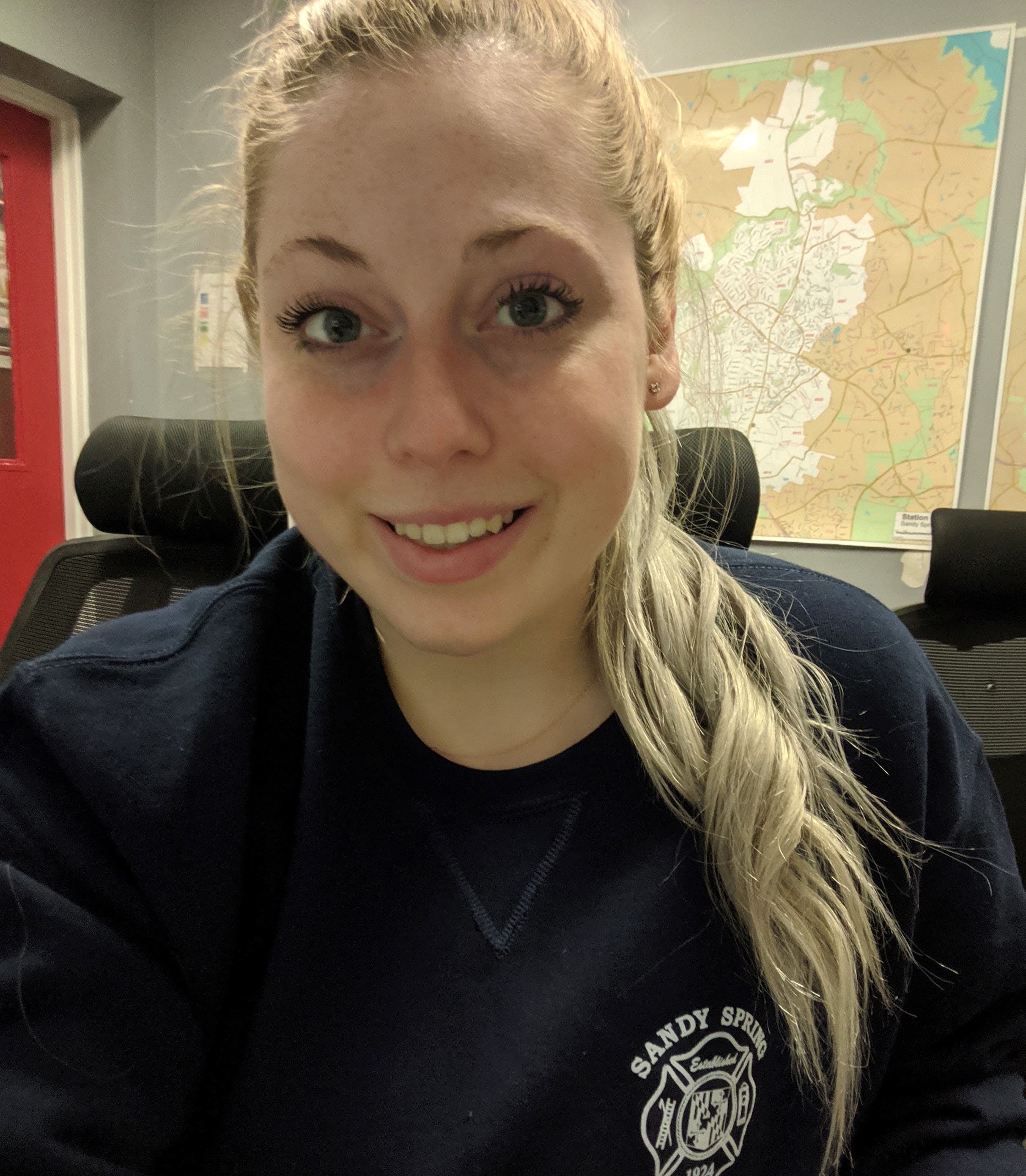 Name: Renee Wasco
Title: EMS 2, Ambulance Driver
Department Name: Sandy Spring Volunteer Fire Department
Location: Olney, MD
What is your occupation?
Hospital corpsman/laboratory technician, petty officer third class [U.S. Navy]
What year did you join the fire or emergency services?
I became a volunteer the day I turned 16 in September 2011. I started with the Wheaton Volunteer Rescue Squad.
Why did you join your local volunteer fire department?
Becoming a volunteer had been my dream since I was 12 years old. When I was 16, it was the only thing I wanted to do. I used to watch the ambulances go by my house with patients in them on the way to the hospital. I wanted to help people when they need it the most.
What kind of training was required to join the department?
The training was extensive, mainly at my specific station. The initial requirements are manageable. You have HAZMAT, PEAF, Radio, and EMT as the base requirements for riding in the ambulance. The great thing is you can ride in the back of the unit while you're getting classes done – you just won't be the main patient provider. This gives you the opportunity to watch and learn what the provider is doing so when you're in their position, you can do it too. It essentially took about 9-12 months to finish all the classes.
What is your role within your department?
My role within the station is to either drive the ambulance or be the aide on the ambulance. Being in a higher-ranking position means it is your responsibility to train your fellow volunteers. If you don't train as a team, you are not going to function as a team on calls. I like to focus on scenario-based training so my team can actively think about how we would go about treating a certain situation.
What are your most memorable moments in the volunteer fire or emergency services?
One of my most memorable moments as a volunteer was when a man came to our business meeting to thank us for helping fulfill his promise to his parents. His parents were elderly, and when they started showing signs of illness, he promised them he'd take care of them and make sure they got the best treatment for the rest of their lives. He explained that because of his work, he wasn't always able to be around, and when he wasn't able to be there, we were there to help keep his promise. When his parents passed, he wanted to thank us for what we did. This meant so much because you never know what situation we're walking into when we go on a call. Sometimes you don't realize how much you're affecting the lives of the people you encounter.
What are the benefits of being an emergency service volunteer?
Along with life experience, character building and the lifelong friendships that you create at the station. Montgomery County also provides a lot of resources for their volunteers: free training at the training academy, free certifications, uniforms, tuition assistance, and an annual length of service awards program stipend after two years of volunteering. Depending on the station, you can also apply to be a live-in volunteer and live at the station rent-free if you pull a certain number of hours a week or ride a specific position.
Why do you think it is important for young people to get involved with their local volunteer fire department?
I think it is important for young people to get involved with their local fire department because it has so many benefits, and it can help set up your life with certificates and national registry certifications. A lot of EMS and fire station jobs require you to have the national registry, which you receive for free through the county as a volunteer.
If you're in high school, it is an extremely meaningful way to receive volunteer hours. The amount that I have learned from the fire department and my peers have far exceeded what my other peers were doing outside of school. Being a young volunteer also opened so many job opportunities for me and set me far above where I would have been out of high school if I had not volunteered.
What contributions have you (and your department) made in your community?
Aside from providing life-saving medical and fire services to the community, we also participate in community events, such as educating the community on fire suppression or the importance of fire alarm systems. We also make visits to schools to educate children and teenagers on what a firefighter is and what we do. Another community event that my station participates in is called the "Santa runs," where we deliver toys with a Santa to local, low-income housing complexes.
Do you have any advice on balancing the demands of volunteering with your job/family?
Personally, being able to run calls and help other people helps me with the stress of my regular job. I find it easy to explain to my family that I need to spend a certain amount of time at the station, and they are more than willing to let me have my time there. The classes are also built around the understanding that people have jobs during the day, and most of them are provided during weekends or weeknights.
Anything else you would like to add?
Joining the fire department has improved my life. I have made such strong bonds with people who I now call family. The station and the county have given me so much, and I am extremely grateful I took those first steps and joined my department when I was 16.
Interested in serving your community? Find volunteer fire service opportunities at www.MakeMeAFirefighter.org.