Volunteer Fire Departments in TX and NJ Receive the Inaugural CHEMTREC HELP Award
January 7, 2020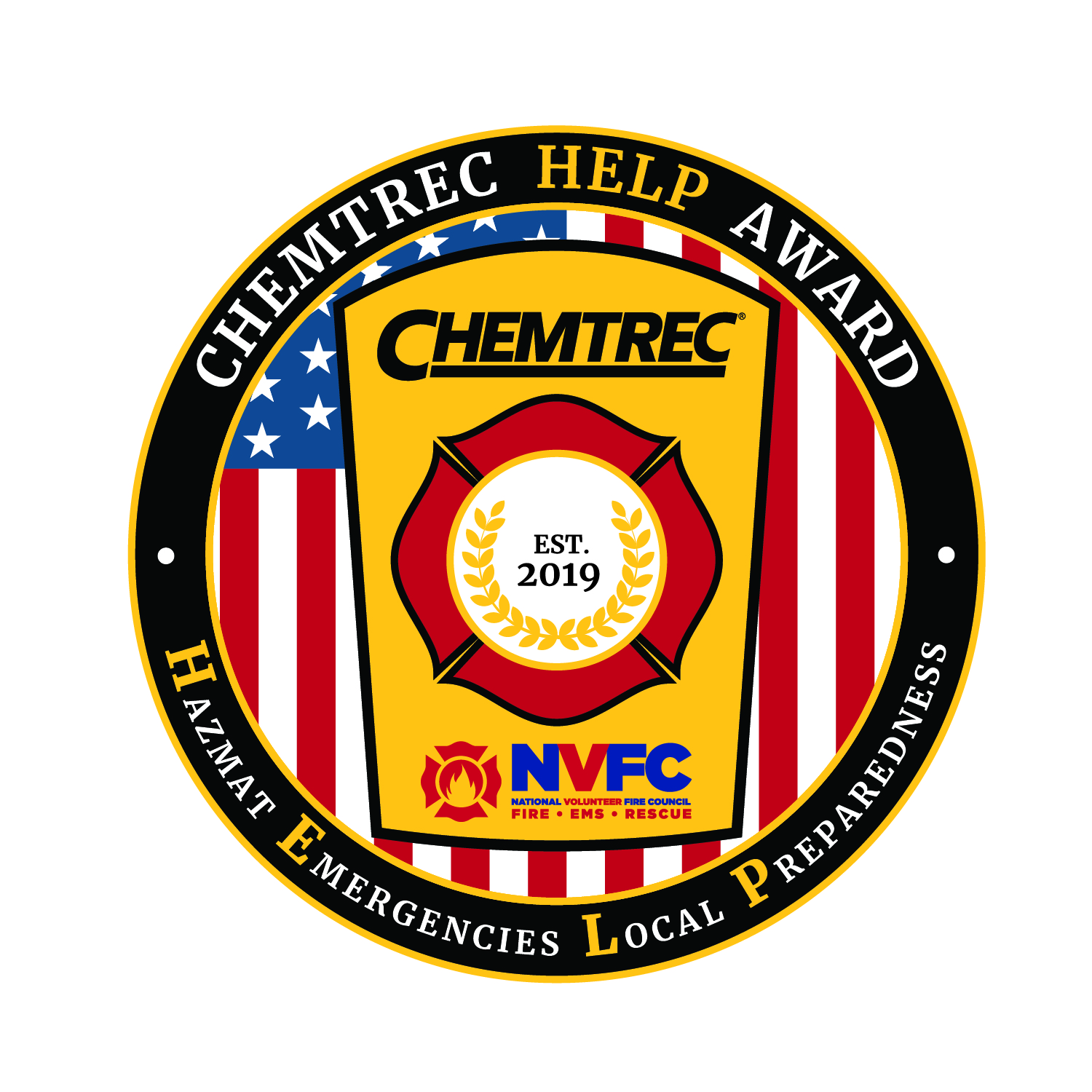 CHEMTREC® and the National Volunteer Fire Council (NVFC) have selected the Prairie View (TX) Volunteer Firefighting Association and the Willow Grove Fire Company (Pittsgrove, NJ) as the recipients of the 2019 CHEMTREC HELP (Hazmat Emergencies Local Preparedness) Award. Each department received $7,500 to bolster their hazardous materials incident response capabilities and increase local readiness for hazmat events. Award presentations were held at both departments in December.
"We are thrilled to partner with CHEMTREC to launch the HELP Award," said NVFC chair Steve Hirsch. "This program will enable more volunteer fire departments to get the training, resources, and equipment they need to be fully prepared to respond to hazmat incidents. We received an overwhelming response to the inaugural awards, demonstrating the great need for this type of assistance. We thank CHEMTREC for their commitment to supporting the volunteer fire service."
John Modine, CHEMTREC's chief executive, couldn't be more proud. "Since 1971, CHEMTREC has worked closely with emergency responders; however, I sensed that we needed to have a stronger connection with practical benefits for fire and emergency medical services, so we created the annual HELP Award. This award allows us to make a significant financial impact on the communities in most need of our support."
To be eligible to apply, departments had to be all or mostly volunteer, serve a population of 25,000 or less, be located in the U.S., be a member of the NVFC, and demonstrate a need for the award. The next HELP Award application period will open in the summer of 2020.
Prairie View (TX) Volunteer Firefighting Association
Prairie View Volunteer Firefighting Association serves a rural community of approximately 8,000 along with Prairie View A&M University, which has about 10,000 students. The campus contains agricultural, architectural, and engineering facilities, in addition to a science lab and medical equipment. Also located within the community is a commercial oil and gas facility that stores and utilizes hazardous materials. A major railroad and a U.S. highway corridor run through Prairie View, with hazardous materials vehicles utilizing both modes of transportation.
The department does not currently have the means or training to handle a moderate or major hazmat incident without mutual aid assistance from other jurisdictions. This leaves community members, students, and first responders at risk should there be a hazardous materials incident, pipeline explosion, or gas release. The department will use the HELP Award to purchase needed hazmat response equipment and PPE as well as provide critical training to their firefighters.
"Having this hazmat equipment and training will enhance our hazmat capabilities immensely to protect the citizens of Prairie View, Waller County, the students of Prairie View A&M University, and our first responders," says Assistant Fire Chief Vedron Bordeaux.
Willow Grove Fire Company (Pittsgrove, NJ)
Willow Grove Fire Company serves a mostly rural community with 11,000 year-round residents along with educational and recreation facilities that bring in more people. The area served by the department includes commercial and agricultural businesses as well as highways, railroad, and agricultural aviation, which increases the likelihood of hazardous materials incidents.
With limited resources, the department does not currently have the proper tools to track personnel and equipment effectively should a hazmat emergency arise. They will use the grant to obtain four incident commend system cases to enable the incident commander to properly track the responders and resources operating on-scene as well as establish command earlier in the incident.
As Chief Tim O'Donnell explains, "This newer equipment will allow our personnel to work effectively in keeping the community and environment safe for years to come."
About CHEMTREC
CHEMTREC® is the leading source of 24/7 call center support and information during hazardous materials incidents. CHEMTREC is the single point of contact that connects emergency responders with everyone involved – manufacturers, shippers, consignees, carriers, and government agencies. CHEMTREC is equipped to handle any situation and any class of hazardous material. CHEMTREC's team of trained, experienced emergency service specialists provide emergency responders with the information they need to safely and effectively manage chemical shipping incidents, including guidebooks, training opportunities, and industry resources. CHEMTREC's service is complimentary for emergency responders. Learn more at www.chemtrec.com.
About the NVFC
The National Volunteer Fire Council (NVFC) is the leading nonprofit membership association representing the interests of the volunteer fire, EMS, and rescue services. The NVFC serves as the voice of the volunteer in the national arena and provides invaluable resources, programs, education, and advocacy for first responders across the nation. Learn more at www.nvfc.org.