VFIS Introduces ResponderHelp.com
August 13, 2019
VFIS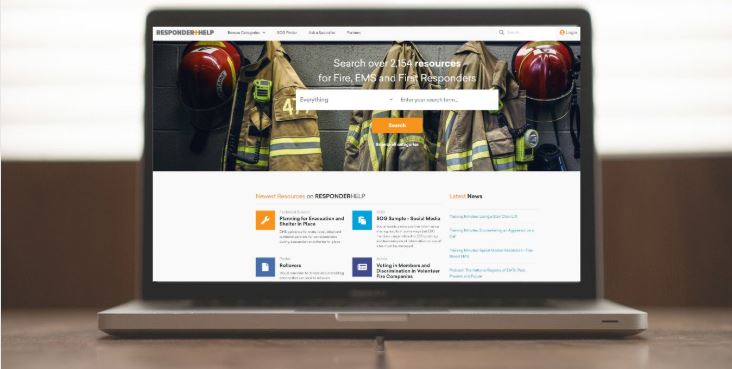 has launched ResponderHelp.com, a free online resource for emergency responders. ResponderHelp.com was developed and administered by VFIS but offers content sourced from a broad variety of leading industry specialists.
The web site was developed to serve as a gift to the emergency service community in celebration of VFIS' 50th anniversary. There is no other known system that contains such a vast array of emergency service-related content available in today's marketplace. VFIS saw this as an opportunity to create a tool that would have a positive and meaningful impact on a group of people who help others and serve their communities every day.
ResponderHelp.com currently houses 2,000+ free resources for emergency service organizations, including standard operating guidelines, technical bulletins, training materials, articles, checklists, and videos – and new content is being added weekly. While most of the web site's resources will be free to everyone, select materials will either be available for free to VFIS clients or available for purchase to non-clients.
Responders can browse topics based on what's new, what's trending, or what's on their mind. The top-level content categories were selected based on what experts believe to be the biggest issues that responders will face over the next 25 years, including:
Community Risk Reduction
Emergency Medical Services
Facilities
Fire Rescue Operations
Governance
Human Resources, Organization, and Administration
Safety Vehicle Operations
Safety and Health
Training
The resources on ResponderHelp.com will provide answers and insight, and there will also be the opportunity to create a free account and ask subject matter experts additional questions, as well as to read questions that have been asked by other users. Those who register will also have the ability to build personal resource libraries, which could be especially useful for leaders/trainers who are building training and educational programs for their members.
To provide the most comprehensive resource library, ResponderHelp.com offers content from not only VFIS, but the United States Fire Administration, Cumberland Valley Volunteer Firemen's Association/Emergency Responder Safety Institute, National Fallen Firefighters Foundation, IAFC Volunteer and Combination Officers Section, Drexel University, and selected National Fire Academy Executive Fire Officer applied research papers.
"We are honored to be in a position where we can give back to an industry that welcomed us with open arms and allowed us to serve alongside them over the years. In return, we wanted to create a truly state-of-the-art resource that would assist them in their efforts to serve their communities," said Troy Markel, President of VFIS. "Our mission to serve as true partners to emergency responders has remained consistent and true over the last 50 years and will continue for 50 more and beyond."
About VFIS + ResponderHelp.com
ResponderHelp.com is an emergency responder's one-stop free resource offering a robust library of valuable resources. This web site was developed and administered by VFIS, but offers content sourced from a broad variety of top industry leaders and specialists.
VFIS is the largest provider of insurance, education, and consulting services for fire departments, ambulance and rescue squads, and 911 centers in North America, having pioneered the first tailored insurance package for this industry in 1969. A part of Glatfelter Program Managers, one of the largest insurance program managers in the US, VFIS offers property and casualty coverage, benefits programs including LOSAP, and risk management and safety resources to the emergency service industry.