USFA, IAFC Release National Safety Culture Change Initiative Report
April 7, 2015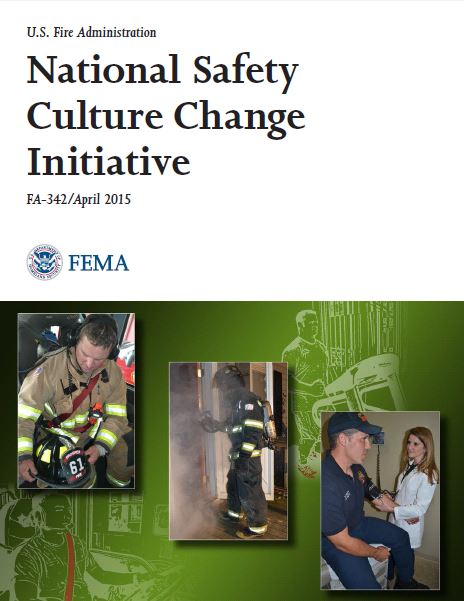 The U.S. Fire Administration (USFA) and the International Association of Fire Chiefs (IAFC) have released the
National Safety Culture Change Initiative (NSCCI) report
providing the findings of a study that identified and examined types of individual and organizational behaviors that adversely impact firefighter health and safety and the sound strategies and programs developed based on these findings. The IAFC's Safety, Health and Survival (SHS) Section along with numerous other national-level fire service organizations provided key support to the study.
"The findings of this study are designed to promote a stronger health and safety culture in the fire service to reduce on-duty fatalities and injuries," said U.S. Fire Administrator Ernest Mitchell. "USFA is grateful for the contributions of the IAFC and the other organizations which supported this initiative."
This report provides information that advocates the need of a culture change in the fire service – incorporating organizational leadership and personal responsibility. It supports the National Fallen Firefighters Foundation (NFFF) Life Safety Initiative #1: Define and advocate the need for a cultural change within the fire service relating to safety; incorporating leadership, management, supervision, accountability, and personal responsibility.
The most frequent cause of on-duty firefighter fatalities is cardiovascular events. A notable number of other firefighter fatalities are as a result of vehicle incidents, and many others occur at operational incidents. As a result, this initiative focused on:
Annual medical exams for all fire/EMS personnel
Vehicle operations
Incident risk management
"Despite many years of safety equipment and apparatus improvements, more availability of firefighter training, and greater emphasis on health and wellness, the rate of on-duty firefighter death and injury has remained relatively unchanged in the past four decades," said Chief G. Keith Bryant, IAFC President and Chairman of the Board. "The NSCCI is a needed resource to promote positive behaviors and effectively lead to the further reduction of firefighter fatalities and injuries. The IAFC is pleased to partner with USFA and work with our fire service organizational partners in this initiative."
In addition to USFA and the IAFC, representatives of other federal agencies and national fire service organizations that worked on this initiative include the National Institute for Occupational Safety and Health, International Association of Fire Fighters, National Volunteer Fire Council, National Fallen Firefighters Foundation, National Fire Protection Association, and Cumberland Valley Volunteer Firemen's Association.