The NVFC & NBC's Chicago Fire Have Teamed Up to Keep First Responders Safe
October 2, 2012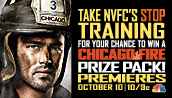 The National Volunteer Fire Council (NVFC) and NBC's new drama CHICAGO FIRE have teamed up to keep firefighters, EMS personnel, and rescue workers safe. Take the NVFC's online STOP vehicle safety training during October and November to be entered for a chance to win a CHICAGO FIRE prize pack.
The STOP training educates first responders on safe vehicle operations. Safety Tops Our Priorities and the STOP training is for all first responders – both volunteer and career. Two STOP courses are available for this promotion – STOP: Intersection Safety and STOP: Seatbelts Top Our Priorities. Take both courses to double your chance of winning! Each course lasts about 30 minutes and demonstrates why vehicle safety must top the priorities of all first responders.
Click here to take STOP training and be entered for a chance to win.
To attend an advance screening of CHICAGO FIRE in a market near you, click on the following link, select your market, and RSVP: http://gofobo.it/chicagofirenvfc
No screening in your market? Don't worry! NBC's CHICAGO FIRE premieres on Wednesday, October 10 at 10/9c!