Support the NVFC on #GivingTuesday
November 19, 2019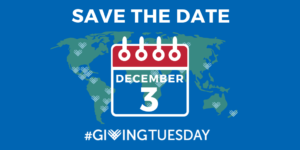 December 3 is #GivingTuesday, and people from around the world will be supporting causes that they believe in. It is our hope that the National Volunteer Fire Council (NVFC) will be included on the list of organizations that you'll be donating to this holiday season.
At over 600,000 strong, volunteers in the fire and emergency services sacrifice a great deal to keep their communities safe. They give their time, energy, and expertise to complete strangers with the understanding that their efforts are performed without pay. This population of exceptional people is the reason that the NVFC exists. We are here to support the volunteer first responder community, but we can't do it alone.
It is expected that volunteers are prepared, well-trained, healthy, and equipped with the technology and tools to get the job done safely. The reality is that budgetary constraints often leave departments operating without the necessary resources to provide these needs. That is why the NVFC serves as a unified voice for volunteer departments, providing advocacy on Capitol Hill and in federal agencies to garner legislation and support that benefits the volunteer fire service. Our programs and initiatives address critical needs such as cancer prevention, recruitment and retention, funding, behavioral health, safety, training, and much more to ensure the volunteer fire and emergency services thrive.
We ask that you support our mission by making a donation to help us further our efforts. Your commitment will enable us to provide tools, training, and materials to volunteers – so they can be strong for their crew, be prepared for every situation, and be ready to serve their communities.
Please include the NVFC in your #GivingTuesday plans this year by making a donation here.