Robert "Red" McKeon Receives E. James Monihan Director Award
May 5, 2014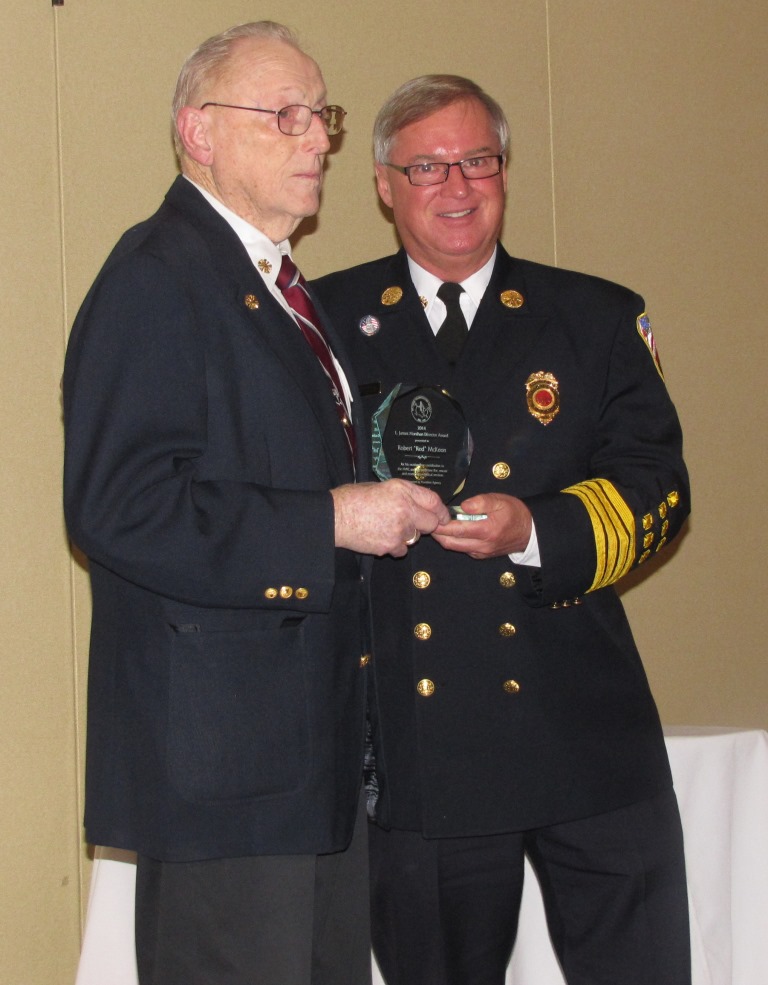 Red McKeon (left) received the E. James Monihan Award from NVFC First Vice Chair Kevin Quinn.
Robert "Red" McKeon was presented with the National Volunteer Fire Council's E. James Monihan Director Award on May 2 in conjunction with the NVFC 2014 spring board meeting. McKeon is a founding member and past Chairman of the NVFC whose contributions have had a profound impact on the Council and the volunteer fire and emergency services.
Sponsored by Provident, the E. James Monihan Director Award honors current or former board members whose remarkable achievements on the NVFC board exemplify outstanding performance and have gone above normal expectations. The selection of the award recipient is determined by the NVFC Executive Committee and is not necessarily awarded annually. The award is named after founding Board Member and former NVFC Chairman Jim Monihan, who actively served on the NVFC Board and Executive Committee until his death in 2009.
Red McKeon has been a dedicated member of the fire service for 70 years. He joined the Occum (CT) Volunteer Fire Department and EMS in 1944, where he served as chief for 34 years and remains a life honorary member. He has also served as President and Treasurer of the Connecticut State Firefighters Association and was appointed by the Governor as Commissioner on a variety of fire/EMS task forces.
McKeon played a critical role in the formation of the modern field of EMS. He was among the group of fire personnel that developed the EMT/MRT courses between 1964 and 1989, and he was the first person in Connecticut to become a certified EMT/EMT-I in 1970. He also helped develop HIV/AIDS training and special training for nuclear power plants.
In 1975, McKeon coordinated with 13 states to begin the development of the NVFC. Not only was he a founding member of the NVFC, but he has remained active in the Council for its entire history, including serving as Chairman from 1991-1994. As part of his efforts to promote the volunteer fire services on the national level, he has testified before the Senate and Congress that fire, EMS, and police are the home guard. He also played a role in developing the Public Safety Officers' Benefits Program.
McKeon has been invited to the White House on three occasions and has held special audiences with three Popes.
About Award Sponsor
For over 70 years, Provident Agency, Inc. has been providing benefits to emergency service personnel who put their lives on the line for their fellow Americans every day. Responders are entitled to the best. Provident Agency offers dependable, comprehensive accident & health protection meeting the changing needs of today's emergency responders. Learn more at www.providentbenefits.com.