Register with the NVFC's Recruitment Campaign – New Features Available!
August 4, 2015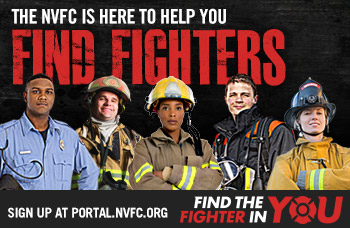 The National Volunteer Fire Council (NVFC) has launched new features in the department portal of the Make Me a Firefighter volunteer recruitment campaign.
Register for the campaign now
to take advantage of the resources available.
The Make Me a Firefighter campaign, funded through a federal SAFER grant, is designed to help local fire and EMS departments across the national recruit and retain personnel. Departments can register in the department portal at
portal.nvfc.org
to post their volunteer opportunities and access resources and materials to conduct a local recruitment campaign. Prospective volunteers can visit
MakeMeAFirefighter.org
to find volunteer opportunities and learn what it takes to be a firefighter or EMT.
Departments who register for the portal can now access the following resources:
Feature your department's volunteer opportunities in a database searchable by prospective volunteers. Volunteers will be able to find your opportunities from the public MakeMeAFirefighter.org web site as well as other volunteer search engines including All for Good.
View the profiles of the volunteers who have applied for your opportunities and follow up with them directly.
Customize campaign materials such as posters and handouts for your department's needs through an easy-to-use materials generator.
Additional resources and campaign materials will be available soon;
sign up with the campaign
to receive updates as new items are rolled out.
The Make Me a Firefighter campaign is free for all departments and prospective volunteers. Register today at
portal.nvfc.org
to learn more and start finding recruits for your department.