Register Now for Free Diversity & Inclusion Workshop on September 25
August 18, 2020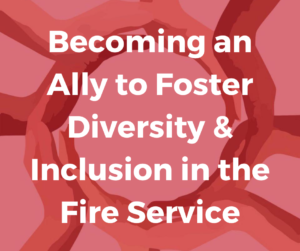 What is your role in fostering fire department diversity and inclusion? Dive deeper during a free online training hosted by the National Volunteer Fire Council (NVFC) on Friday, September 25, from 3:00 – 5:30 pm EDT. Becoming an Ally to Foster Diversity & Inclusion in the Fire Service is presented by instructor Dr. Candice McDonald and sponsored by First Arriving and Verizon. Register now.
The path to becoming an ally is a lifelong process of fostering relationships that are built on trust, consistency, advocacy, and accountability. Inclusive leadership is an integrated set of skills that is required to channel the power and potential of a diverse workforce for the benefit of the organization and the communities we serve. It is key for fire service leaders to understand their role in fostering diversity and inclusion. This workshop will provide you with deeper insights to yourself and the benefits of inclusion at all levels of your department. The presentation will be followed by discussion and Q&A.
This course is a preview of just one of the NVFC's 2021 Recruitment & Retention Experience trainers. McDonald, along with other subject matter experts from around the country, will provide recruitment and retention focused training on September 17-18, 2021, in Cleveland, OH. Learn more. Questions? Contact Rachel Buczynski, conference planner, at rachel@nvfc.org or 202-887-5700.