Recruiting and Retaining New Volunteers: It's Personal
February 10, 2015
By Eric Bernard
Many volunteer departments across the country are struggling with recruiting and retaining new members. Recruiting can be difficult and often requires time, dedication, and innovation. As the Executive Director of the Montgomery County (MD) Volunteer Fire Rescue Association (MCVFRA) and a member of the National Volunteer Fire Council's (NVFC) SAFER Work Group, I have spent countless hours focusing on this important issue. I believe it to be the most critical, misunderstood, and maligned issue in the volunteer fire/rescue and EMS service.
The NVFC has been working with Salter>Mitchell, a behavior change marketing firm, to develop the campaign branding, messaging, and strategy for a national recruitment and retention campaign. All aspects of the campaign are based on extensive qualitative and quantitative research. The research collected thus far indicates that there is a large population of individuals across all spectrums who are interested in volunteering. The million dollar question is, how do we best reach those individuals and drive them to act on those interests?
Research from the NVFC's campaign has shown that personal invitations are extremely effective when recruiting potential volunteers and that the absence of an invitation is cited as a key reason for non-action. The research also showed that sampling, or allowing potential volunteers to gain first-hand experience of the emergency services, is more likely to lead to a commitment to serve. Sampling allows interested volunteers to get a "taste" of what it is like to be a responder through experience-centered activities such as ride-alongs or interacting with current volunteers.
The MCVFRA has been very successful in recruiting volunteers due to activities that are in line with these research findings. Our first contact with a prospective new member, which is usually via email or a call, ends with a scheduled ride-along in a station, a visit to our store-front recruiting station, or a personal visit by a volunteer recruiter in uniform. We want to create a sense of urgency, a sense of belonging, and make that prospect compelled to follow through and join.
Invitations
Personal invitations are more likely to result in action than a less personal outreach attempt. This doesn't mean that methods such as advertisements, posters, and signs are completely ineffective, but a personal invitation is more meaningful and ultimately more effective. Using your member's spheres of influence – people they know and talk to – and providing each of them with professional flyers, business cards, and information packages on the department are vital to set the success of the ask. Most people don't know or understand that the fire and rescue service has volunteers, and worse yet, they have no idea that we want more and need more – and that we want and need THEM! Failure to ASK is failure to recruit and ultimately a failure of the department.
Sampling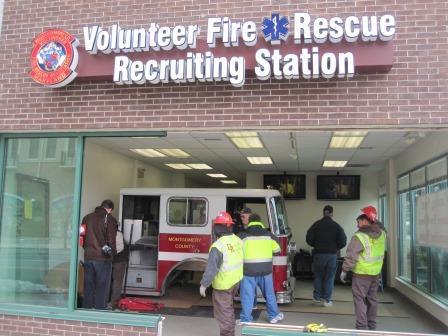 In 2010, we launched a volunteer fire-rescue recruiting station to help meet the needs of the 19 volunteer fire and rescue departments in Montgomery County. Our store-front recruiting station features the volunteer experience with hands-on activities and current volunteers available to answer questions and share their experiences. The station offers hands-on equipment including a fire engine cab, fire hydrant, a hose to hook-up, fire gear, and other equipment that potential volunteers can try. It is an inviting atmosphere where potential recruits can always receive valuable information without dealing with the chaos and confusion of a fire/rescue station.
Hooking and Retaining New Members
Follow-up is critical when recruiting and retaining new volunteers. It is important to have processes in place to ensure applicants don't fall through the cracks. Likewise, it is essential to engage new volunteers and to create a welcoming and supportive environment. Receiving support from peers and family members will go a long way in helping a new volunteer feel comfortable and confident. In our case, a potential new member who makes an online inquiry receives a call from a trained volunteer recruiter within 24 hours. We then add the prospect to an online data management system which is available free of charge to nonprofit organizations (SalesForece.com). The software tracks their every move through the application, membership, training, and volunteering process in real-time and in the cloud.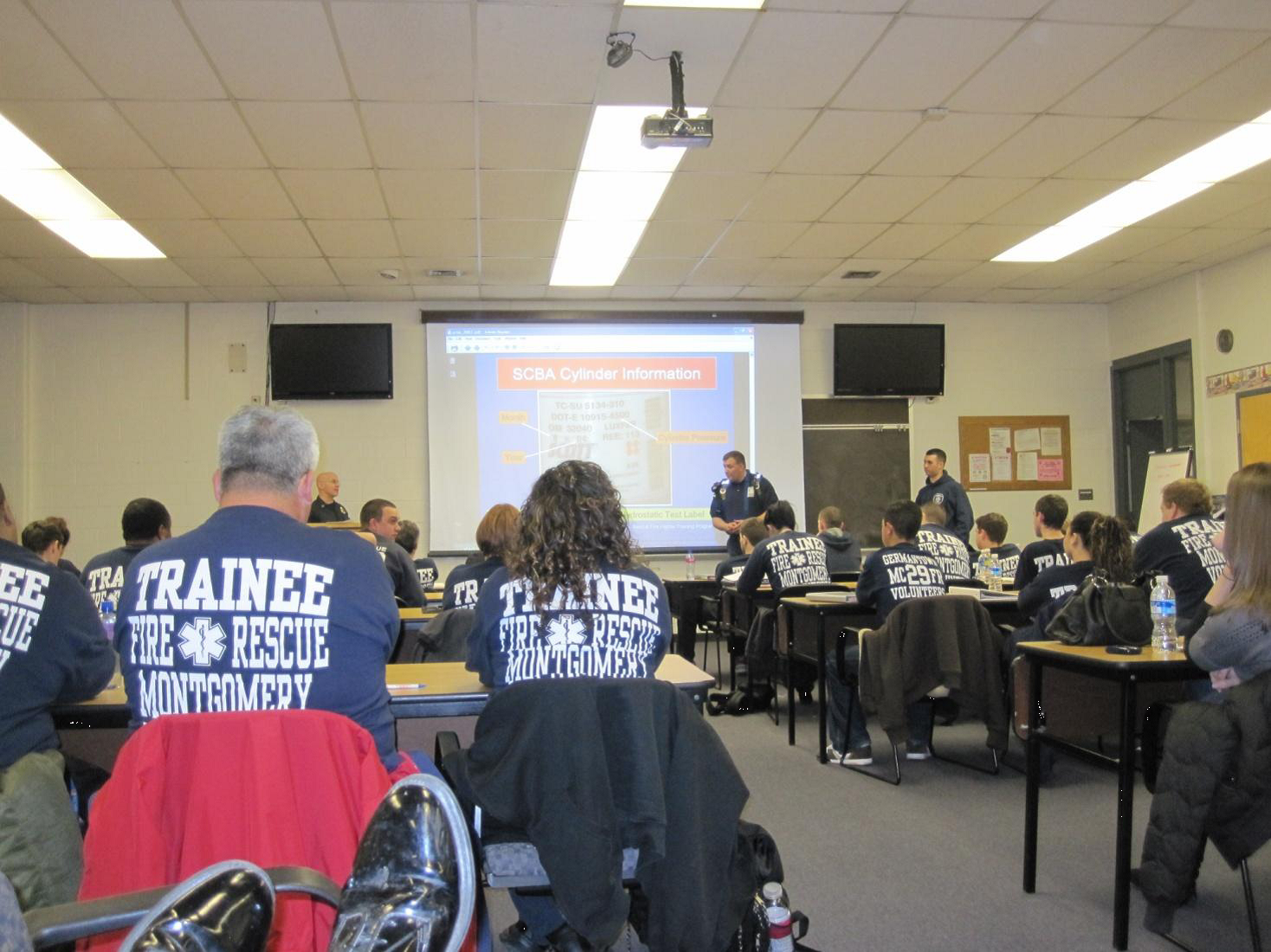 We then match them with other new recruits and expose them to the service via a volunteer planned, created, and run boot camp called the Volunteer Basic Orientation Course (VBOC). This is an 11-week, Friday night course held at our training academy. We provide a free communal dinner, drinks, and a dessert which is followed by a paramilitary evening of learning, experiencing, and most importantly, engraining that person into the volunteer service. The course includes members from all of our 19 independent volunteers departments and is in addition to activities they provide for new recruits.
Our experience shows that a new member who follows this track is over three times as likely to complete their first year of training and remain an active volunteer. Further, the member is twice as likely to retain membership and activity in each successive year. Hook them early and they will stay longer, will be happier, and will be better trained. Best of all, they will likely extend personal invitations to their friends and family, ultimately helping to continue the advancement of the recruitment process.
Recruiting and retaining new volunteers can be challenging, but progress can be made when efforts are focused on proven motivators and tactics. Ultimately, recruiting and retaining is about personal relationships and meaningful interaction. It takes effort and dedication to engage prospective volunteers and oversee the transition from general interest to new member, but it's an important and necessary job. The future of the fire service is directly tied to our efforts, and inaction is not an option.
Eric N. Bernard began volunteering as an EMT at the age of 15 in Pittsburgh, PA. He moved to Rockville, MD, in 1987 while serving in the U.S. Navy and became a volunteer with the Montgomery County Fire and Rescue Service and the Rockville Volunteer Fire Department. He has remained an active volunteer firefighter, rescuer, instructor, and EMT, holding positions including sergeant, lieutenant, board member, and president. In 2005, he was selected as the first Executive Director for the Montgomery County Volunteer Fire Rescue Association. He works with the County Fire Chief, County Executive, County Council, other elected officials, and the public representing the needs, efforts, and work of the over 1,500 volunteer fire, rescue, and EMS professionals in 19 local departments.