Plan Now for National Volunteer Week, April 12-18
March 17, 2015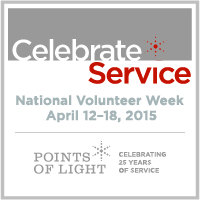 National Volunteer Week is less than a month away. Utilize the week of April 12-18 to recognize your department's volunteers and let community members know how they can help your department by volunteering.
Volunteers are a crucial component of our nation's fire service. 69% of firefighters are volunteers, and there are many additional volunteers providing support through local auxiliary programs such as Fire Corps or junior firefighter programs. However, a recent survey by the NVFC showed 41% of respondents did not know if their local department used volunteers, and 79% did not know if their department was seeking new volunteers.
National Volunteer Week is a perfect time to recognize the amazing volunteers you already have as well as to raise awareness in your community about the work these volunteers do and the need for additional volunteers. Potential activity ideas for National Volunteer Week include:
Nominate volunteers for department, local, state, or national awards, such as the President's Volunteer Service Award.
Give volunteers a pin, challenge coin, certificate, handwritten note, or other token of appreciation for their service to your department.
Host a department banquet, appreciation ceremony, family day, or other activity to show your volunteers how important they are to your department or community.
Issue a press release with your local media showcasing the important work volunteers are doing in your community and highlighting the need for additional volunteers.
Utilize your fire department's web site, social media, blog, billboards, or other outreach tool to acknowledge the efforts of your volunteers and get the word out that additional volunteers are needed.
Ask your community's mayor or elected officials to issue a National Volunteer Week proclamation recognizing the volunteers in your community.
Send out or post recruitment flyers for volunteer opportunities available in your department.
Host an open house, exhibit at a local event, and/or give presentations to community groups highlighting the work of volunteers in your department and how community members can help.

Find additional ideas for National Volunteer Week as well as sample templates you can customize from Points of Light. Fire Corps provides these additional ideas for recognizing and rewarding volunteers. Find more resources for recruitment from the NVFC, Fire Corps, and the National Junior Firefighter Program.