Phoenix Society for Burn Survivors Conducts a National Phoenix SOAR Campaign for Firefighters
June 9, 2015
By Karen Badger PhD, MSW, and Phil Tammaro, FF-EMT
Phoenix SOAR Supports Burn Injured Firefighters and Their Families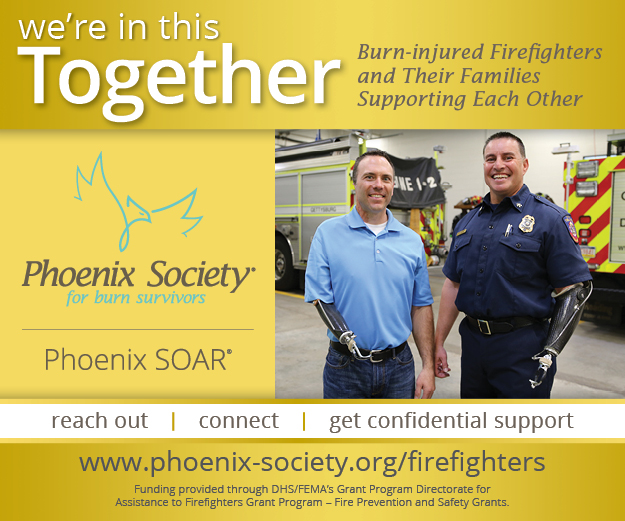 Phoenix SOAR® (Survivors Offering Assistance in Recovery®) is a hospital-based, one-on-one peer support program developed by Phoenix Society for Burn Survivors in conjunction with a national committee of experts, that connects people with burn injuries to survivors and family members who have "been there."
The healing journey of a burn-injured firefighter can have its unique challenges. Phoenix Society understands how the healing paths of the firefighter survivor and their family can be vastly different. A firefighter survivor often hopes to return to the profession where the burn injury occurred, while family members may struggle with the fear of loss. The physical recovery is challenging, but psychological recovery can be overwhelming.
The International Association of Fire Fighters (IAFF) Charitable Foundation and the National Fallen Firefighters Foundation (NFFF) partnered with the Phoenix Society to develop a firefighter peer support component for the national Phoenix SOAR program. Phoenix SOAR now offers burn-injured firefighters and their families one-on-one support from a trained firefighter peer supporter.
"Firefighters are trained to fight fires and handle challenges. But, as Phoenix SOAR peer supporters, we want to make other burn- injured firefighters aware of challenging phases of recovery – emotional and psychological. When a survivor is able to reach out to someone who really understands what they are going through, and understands the culture of the fire service – it helps. It helps being around other firefighters who have faced similar trauma or challenges." – Luis Nevarez, Division Chief, City of Tulare Fire Department; burn survivor; Phoenix SOAR-trained peer supporter
As part of the project funded through DHS/FEMA's Grant Program Directorate for Assistance to Firefighters Grant Program – Fire Prevention and Safety Grants, Phoenix Society formed a steering committee to guide the development of a national outreach and education campaign designed to broadly publicize peer support and other resources available for those in the fire service who have been affected by a burn injury.
In March, Phoenix Society hosted a two-day meeting in Chicago to plan the launch of this initiative, which is furthering the work that Phoenix Society and project partners—IAFF, NFFF, and the University of Kentucky—have accomplished in this area. In addition to the project partners, members working in healthcare organizations, Phoenix SOAR programs, and fire departments, as well as burn-injured firefighters and their spouses, participated in the meeting to offer their diverse perspectives to help build a successful national campaign and help expand awareness of these peer support services within the fire service and healthcare communities.
Thanks to their efforts, the national campaign has been launched with a newly developed promotional video, personal videos by burn-injured firefighters, outreach materials, and social media announcements.
Look for news about the Phoenix SOAR for the Fire Service campaign at www.phoenix-society.org/firefighters/.

Karen Badger, PhD, MSW, is an Assistant Provost and Associate Dean in Undergraduate Education and Associate Professor of Social Work at University of Kentucky. Phil Tammaro, FF-EMT is a Professional Firefighter in Billerica, Massachusetts, and 3rd District Burn Coordinator for the IAFF Charitable Foundation Burn Fund.
Funding for this project provided through DHS/FEMA's Grant Program Directorate for Assistance to Firefighters Grant Program – Fire Prevention and Safety Grants.