NVFC Staff Accepts Challenge, Donates to Firefighter Support Fund
September 15, 2014
The staff of the National Volunteer Fire Council (NVFC) was recently challenged by the staff of the International Association of Fire Chiefs (IAFC) to participate in the ALS Ice Bucket Challenge. There are many worthy charities, including the ALS Association, that need funding to continue their work. The NVFC staff accepted the challenge by donating to a charity of their choice, including the
NVFC Volunteer Firefighter Support Fund
.
"The ALS Ice Bucket Challenge has raised awareness that all charities need help in meeting their mission. The NVFC Volunteer Firefighter Support Fund is currently depleted and now is a time to give back to those who give so much to their community," said Heather Schafer, NVFC Executive Director. The NVFC staff encourages others to find a charity they believe in and contribute.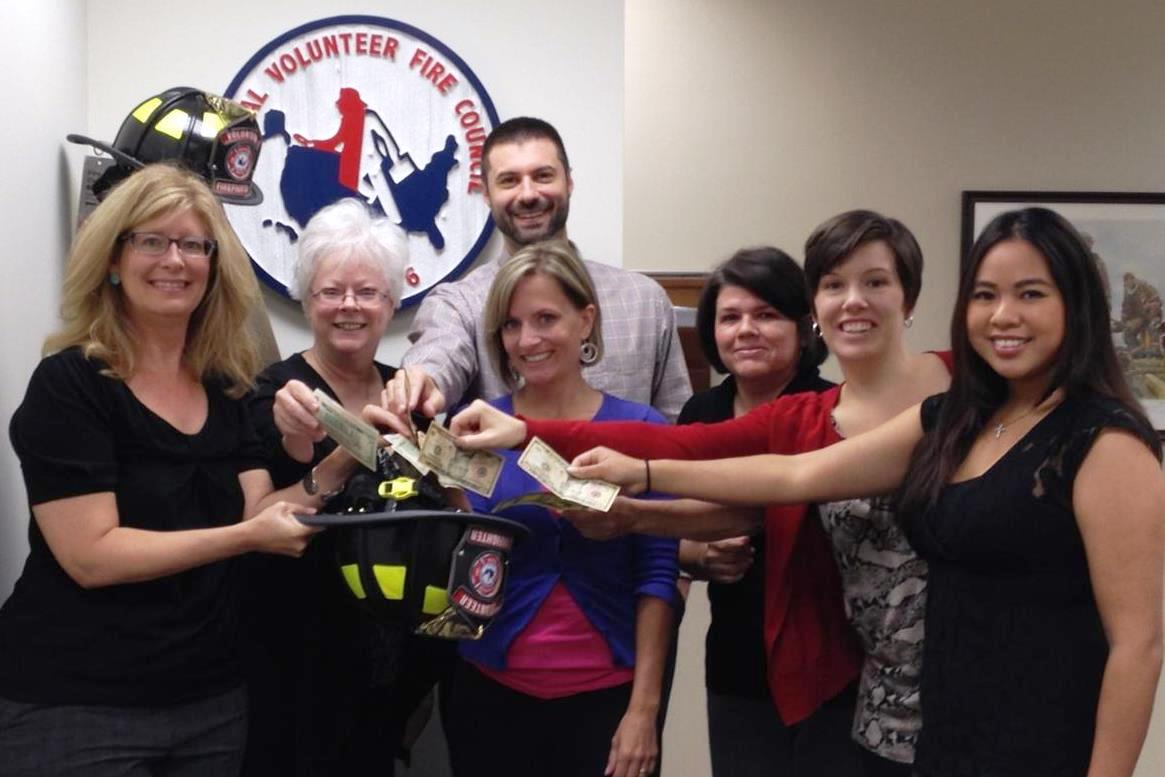 Every day, volunteer firefighters and emergency personnel put their lives on the line to protect their communities, but what happens when the tragedy strikes home? Many first responders are impacted each year by disasters such as hurricanes, flooding, tornadoes, and others. These men and women dedicate themselves to serving their communities. When their homes and families are affected by tragedy, they rely on the community to give back. You can assist in helping these first responders in need by contributing to the NVFC Volunteer Firefighter Support Fund.
The NVFC Volunteer Firefighter Support Fund provides a stipend of $250 to volunteer first responders whose homes have been impacted by a state- or federally-declared disaster. The stipend helps these firefighters and emergency personnel meet their basic needs in the aftermath of the disaster. Recipients who are not already NVFC members also receive a complimentary one-year Individual Membership into the NVFC.
The Volunteer Firefighter Support Fund was created in response to the devastation caused by Hurricanes Katrina and Rita in 2005. Since then, the fund has also assisted volunteer first responders impacted by flooding in New York and along the Mississippi River, tornadoes in different parts of the country, Super Storm Sandy, and other large-scale disasters. So far, more than half a million dollars have been distributed to volunteer firefighters in need. Find out more about the fund at
www.nvfc.org/supportfund
.
Please donate today! The fund relies on the support of individuals and organizations to assist volunteer first responders in need.
Click here
to make your contribution to the Volunteer Firefighter Support Fund.
About the NVFC
The National Volunteer Fire Council (NVFC) is the leading nonprofit membership association representing the interests of the volunteer fire, EMS, and rescue services. The NVFC serves as the voice of the volunteer in the national arena and provides invaluable tools, resources, programs, and advocacy for first responders across the nation. Learn more at
www.nvfc.org
.