NVFC Signs Memorandum of Understanding with TRANSCAER
April 21, 2015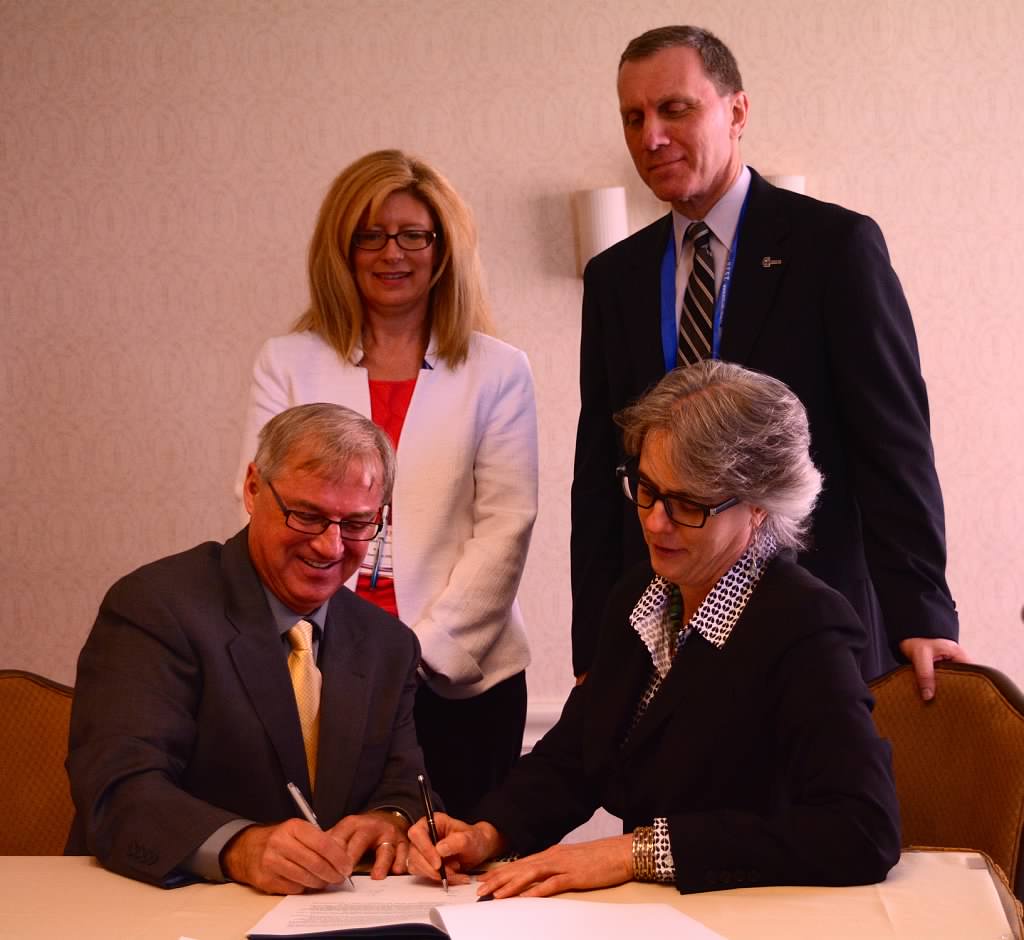 NVFC Chairman Kevin D. Quinn and TRANSCAER Staff Executive Donna Lepik sign the memorandum of understanding as Heather Schafer, NVFC Chief Executive Officer, and Frank Reiner, President of the Chorine Institute, look on.
Representatives from the National Volunteer Fire Council (NVFC) and Transportation Community Awareness and Emergency Response (TRANSCAER) signed a memorandum of understanding during the NVFC's spring meeting on April 17.
TRANSCAER is a voluntary national outreach effort that focuses on assisting communities to prepare for and respond to a possible hazardous materials transportation incident. Members of TRANSCAER include representatives from the chemical manufacturing, transportation, distributer, and emergency response industries, as well as the government.
TRANSCAER training for first responders includes programs on anhydrous ammonia, chlorine, ethanol, and crude oil. All costs associated with the training are covered by TRANSCAER member companies and provided at no cost to first responders. Classroom and hands-on trainings are available, as are drills and even state training tours, such as the anhydrous ammonia and petroleum crude oil training tours recently held in North Dakota. Since TRANSCAER began in 1986, tens of thousands of responders have received training.
"TRANSCAER training increases the safety of first responders by making them more prepared and better equipped when responding to hazardous materials incidents," said NVFC Chairman Kevin D. Quinn. "The NVFC is pleased to enter into this memorandum of understanding to help promote the training and resources offered by TRANSCAER to the nation's first responders."