NVFC Represents U.S. at International Conference on Women in the Fire Service
October 20, 2014
The International Association of Fire and Rescue Service's Women in the Fire Service Commission (CTIF) met in Tokyo, Japan, on September 29. Representatives from Canada, Finland, Japan, Russia, Serbia, Slovenia, Sweden, and the U.S. attended the meeting.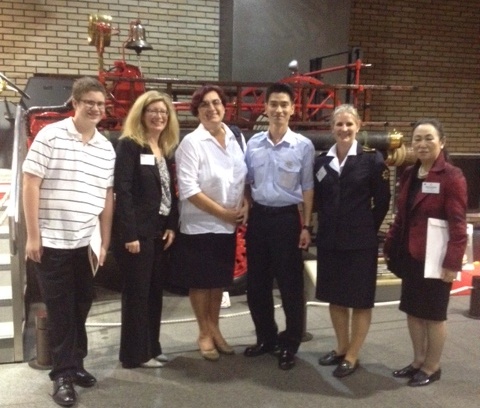 NVFC Executive Director Heather Schafer (second from left) attended the CTIF meeting in Tokyo, Japan, in September.
The National Volunteer Fire Council (NVFC) was invited to represent the U.S. at the meeting and was asked to join the Commision. Heather Schafer, NVFC Executive Director, participated in the meeting on behalf of the NVFC. The Commission discussed focusing on two areas: operational and non-operational roles that women play in the fire and rescue services globally. Individuals were selected to lead these two task areas.
CTIF had also conducted an international survey to determine the statistics, roles, challenges, and unique projects that women play in the international fire service community. It was noted that because of the language barrier and terminology issues, some of the survey answers were skewed. The NVFC will assist in developing a second international survey and help the Commission analyze the results.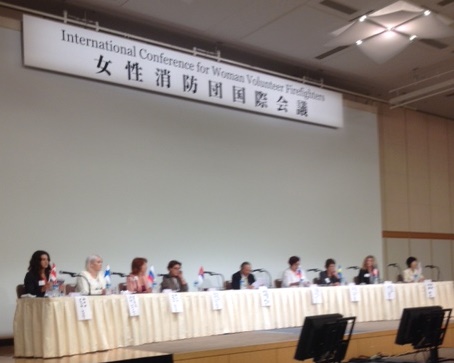 Heather Schafer represented the U.S. on a panel during the International Conference for Women in the Fire Service.
In addition to the meeting, CTIF members participated in the International Conference of Women in the Fire Service which was organized by the Japan Firefighters Association and took place in Tokyo from September 28-October 1. Three representatives from each of Japan's 47 prefectures, along with other guests, attended the conference. Representatives from each country presented on the statistics of women in the fire service in their country, the challenges they face, and possible solutions to overcoming those challenges.
Schafer gave an overview from the U.S. perspective. There are approximately 50,000 women firefighters in the U.S., or four percent of the total fire service. The challenges women face include sexual harrassment, retention and recruitment, and adequate facilities for each gender (i.e., restrooms, bunk rooms). Challenges are evident in the other countries as well. Russia, for example, does not allow women firefighters to participate in operational firefighting. Schafer provided the group with information regarding the NVFC's national recruitment and retention program, which is currently in development and will include a component to help departments reach a more diverse audience. The NVFC received a $2.39 million SAFER grant earlier this year to implement this program.
The next meeting of the Comission will be held in Stokholm, Sweden, in April 2015. More information about CTIF and the Commission can be found at www.ctif.org.