NVFC Recognizes Achievement in the Junior Fire Service with Two Awards
April 21, 2015
The National Volunteer Fire Council (NVFC) presented James Thomas "Jimmy" Johnson with the 2015 Junior Firefighter of the Year Award and the Hedgesville 4-H Junior Volunteer Fire Company with the Junior Firefighter Program of the Year Award during a special banquet at the NVFC spring board meeting on April 17. Both awards were made possible with support from Tyco.
"The achievements of these junior firefighters are truly remarkable," said NVFC Chairman Kevin D. Quinn. "They exemplify the spirit of volunteerism and have shown tremendous dedication to serving their communities. Looking at the accomplishments of Jimmy Johnson and the Hedgesville 4-H Junior Volunteer Fire Company gives me great confidence in the future of our nation's fire service."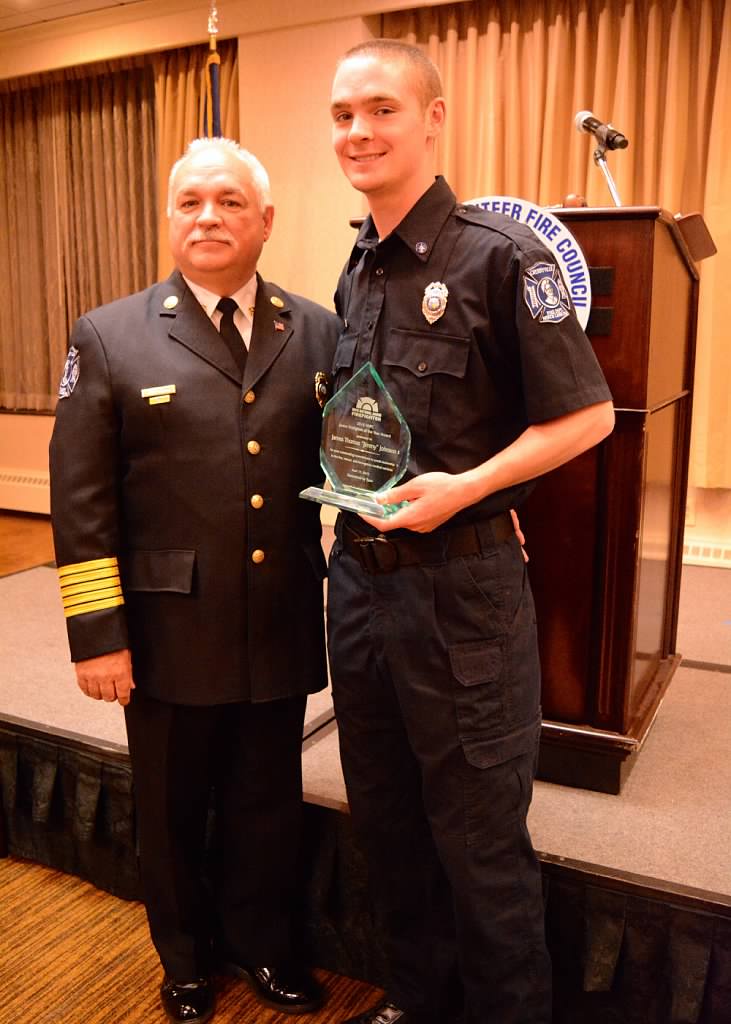 Cherryville Fire Department Chief and NVFC NC Director Jeff Cash (left) with 2015 Junior Firefighter of the Year Jimmy Johnson.
Johnson, now a high school senior, joined the Cherryville (NC) Fire Department junior firefighter program in 2011. Since then, he has volunteered over 500 hours of official duty and spends his spare time at the fire station, always ready to lend a helping hand. Johnson is eager to learn and seeks out opportunities to train and respond to calls. He has a reputation among department members and teachers as being respectful, genuine, driven, positive, and someone who truly cares about others more than himself. Throughout his time as a junior firefighter, Johnson hasn't focused on what might be fun to do – he only asks to be put where he is most needed. His dedication led to him being chosen as the 2014 Cherryville Fire Department Firefighter of the Year, which is voted on by all department members. It was the first time a junior firefighter has received this distinction.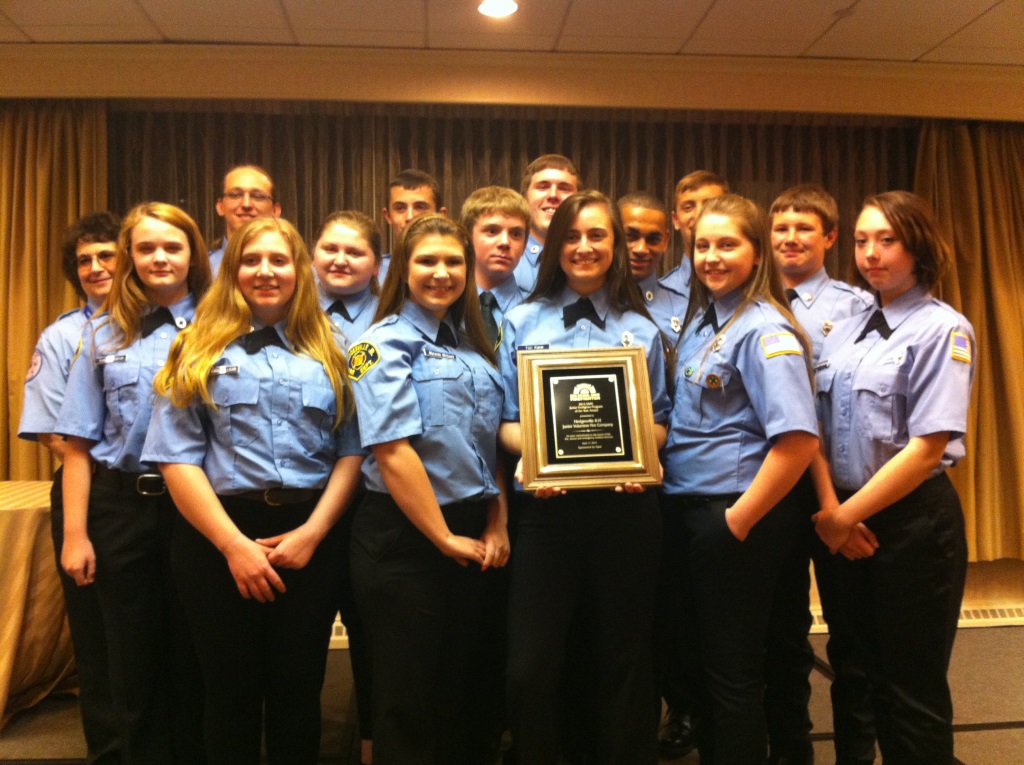 Members of the Hedgesville 4-H Junior Volunteer Fire Company accept the 2015 Junior Firefighter Program of the Year Award.
The Hedgesville (WV) 4-H Junior Volunteer Fire Company has been giving back to the community for approximately 40 years. Their junior firefighters conduct public education at area schools, the fire station, and at other clubs' meetings and are also known for their Pet Safety and Emergency Awareness Day, an event that provides a rabies clinic and informs the public how to handle an emergency with their pets. Training is an important component of the program, and members have attended the West Virginia Junior Firefighter Academy and the Fire Service Class at the Tri-county Technical School. Juniors have taken many courses, ranging from CPR and First Aid to Infections Control and Water Rescue, and two members recently received their Firefighter I and Firefighter II certificates. They also participate in the county fair and a variety of community service projects.
This was the sixth year that the NVFC, with support from Tyco, has presented the Junior Firefighter of the Year and Junior Firefighter Program of the Year awards. For more information about past recipients and the award process, visit www.nvfc.org/awards.
About Award Sponsor
Tyco (NYSE: TYC) is the world's largest fire protection and security company. Tyco provides more than three million customers around the globe with the latest fire protection and security products and services. A company with $10+ billion in revenue, Tyco has more than 57,000 employees in more than 1,000 locations across 50 countries serving various end markets, including commercial, institutional, governmental, retail, industrial, energy, residential, and small business. Learn more at www.tyco.com.