NVFC Receives Funding to Continue Wildfire Mitigation Efforts through the Wildland Fire Assessment Program
July 21, 2020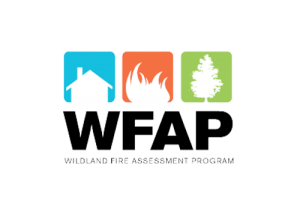 The National Volunteer Fire Council (NVFC) was recently awarded additional funding from the U.S. Forest Service (USFS) to continue wildfire mitigation efforts through the Wildland Fire Assessment Program (WFAP).
More structures are being built in the wildland-urban interface (WUI), and fuel loads make the nation more vulnerable than ever before. Wildfire mitigation can improve the chances of a home surviving, and one of the most important sources of information that prompts residents in the WUI to take action is guidance from local fire departments and county wildfire specialists. Volunteer firefighters make up nearly 70 percent of the U.S. fire service, so they play an essential role in educating communities about how to make their homes and personal property ready before the next wildfire strikes.
The WFAP prepares volunteer members of the fire service to engage residents in wildfire mitigation through training, an award-winning toolkit, outreach materials, and data-tracking tools to help departments conduct a successful home assessment program. This additional funding from the USFS will allow the NVFC to train more volunteers, provide updated resources and current information, amplify community engagement, promote the voices of the volunteer fire service in the wildland arena, and reinforce USFS mitigation efforts, which will help bridge wildfire prevention gaps that currently exist at the local level.
"The NVFC is grateful to the U.S. Forest Service for their continued support of the WFAP," said NVFC Chair Steve Hirsch. "Wildfire mitigation at the grassroots level is critical not only for residents in the WUI, but also but also to those who volunteer to protect those communities."
Click here to learn more about the WFAP, access resources, and start training today.