NVFC Presents Patrick Hlavaty with the E. James Monihan Director Award
April 21, 2015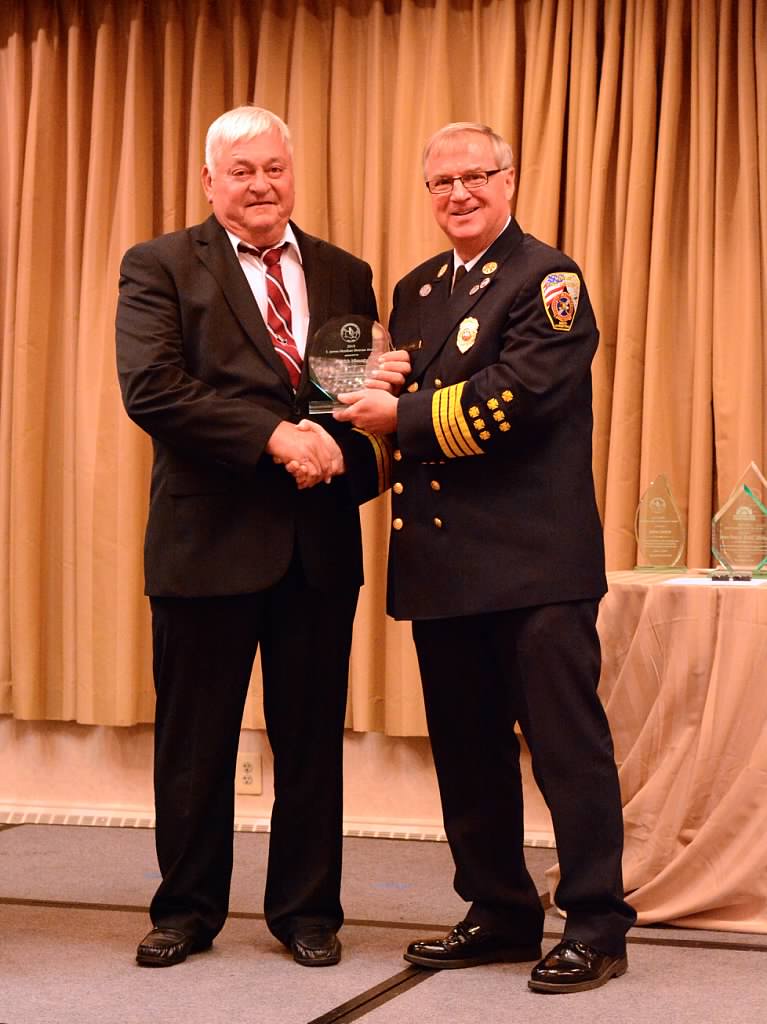 NVFC 1st Vice Chair (now Chairman) Kevin D. Quinn presents Pat Hlavaty the E. James Monihan Director Award.
Patrick Hlavaty, former NVFC Director from Texas, received the National Volunteer Fire Council's (NVFC) E. James Monihan Director Award during the NVFC's spring board meeting on April 17, 2015.
The award, sponsored by Provident, honors a current or former board member whose remarkable achievements on the NVFC board exemplify outstanding performance and have gone above normal expectations. The selection of honorees is determined by the NVFC Executive Committee and is not necessarily awarded annually. The award is named after founding board member and former NVFC Chairman Jim Monihan, who actively served on the NVFC board and Executive Committee until his death in 2009.
"There is no doubt that Pat exemplifies the spirit of volunteerism and is always there to lend a helping hand, whether to his department, local organizations, or to further the efforts of the NVFC," said NVFC 1st Vice Chair (now Chairman) Kevin D. Quinn during the awards ceremony. "In honor of all Pat Hlavaty has done for the NVFC and the fire service in Texas, I am pleased to present him with the E. James Monihan Director Award."
Hlavaty provided 16 years of service on the NVFC board and has tirelessly advocated for the volunteer on issues ranging from safety legislation to benefits. He served on the Executive Committee for seven years, was a founding member of the International Relations Committee, and served as Liaison to the Finance and Membership and Awards Committees.
Hlavaty played a key role in organizing the NVFC's 2013 board meeting in College Station, TX, as well as the State Benefits Summit held in conjunction with the meeting. He has represented the NVFC at many events, including the memorial service held for the West, TX, firefighters in 2013. Through his work with TEEX, he has hosted international fire service delegations at the fire training facilities at Texas A&M University, including delegations from Japan in 2012 and 2014.
Hlavaty's commitment to service extends beyond the NVFC. He received a Purple Heart and two Bronze Stars for his service to our country during Vietnam. He served 15 years as President and 10 years as Treasurer of the El Campo Volunteer Fire Department, is active in many local and regional fire service organizations, and is a Past President of the State Firefighters' and Fire Marshals' Association of Texas. He has received the Firefighter of the Year Award from El Campo VFD (1999), West Wharton County (2005), Texas State Firefighters' and Fire Marshals' Association (2005), and the NVFC (2005).
About Award Sponsor
For over 70 years, Provident Agency, Inc. has been providing benefits to emergency service personnel who put their lives on the line for their fellow Americans every day. Responders are entitled to the best. Provident Agency offers dependable, comprehensive accident and health protection meeting the changing needs of today's emergency responders. Learn more at www.providentbenefits.com.