NVFC Presents 2012 Junior Firefighter Program of the Year Award to Cherryville (NC) Fire Department
May 2, 2012
The Cherryville (NC) Fire Department junior firefighter program has been named the National Volunteer Fire Council's (NVFC) Junior Firefighter Program of the Year. The award is sponsored by Tyco International and annually honors a junior firefighter program or Explorer Post that has demonstrated significant community impact, innovation, and creativity. Representatives from the Cherryville Fire Department received the award during a special ceremony on April 28 at the NVFC spring board meeting in Alexandria, VA.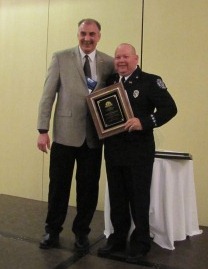 Cherryville

junior firefighter program coordinator Chris Cash (right) receives award from

NVFC

board member Bob

Timko
"I'm honored to accept this award on behalf of the Cherryville Fire Department and our junior firefighters," said program coordinator Chris Cash. "We currently have a group of 12 that go the extra mile in community service, firefighter certification training, and continue to maintain excellence in academics. Several are also local standouts in our high school athletics program. Our community and especially our department are very proud of our juniors."
The Cherryville Fire Department junior firefighter program was established in 1983. Approximately 90 percent of their junior firefighters continue in the fire service after high school. In fact, program coordinator Cash was the first junior firefighter in the department in 1983.
The Cherryville junior firefighters follow a yearly training schedule that focuses on safe, effective training through hands-on drills and classroom training. They cover donning and doffing personal protective equipment, deployment of hose and appliances, personal safety, first aid, smoke reading, and more. In 2011 alone, the 12 junior firefighters completed over 1,200 hours of scheduled training.
Community outreach is another important component of the program. Each October, the Cherryville junior firefighters play a crucial role in providing a fire prevention day for the approximately 3,500 students in their local schools. During the event, they help with logistics as well as educate their peers about fire safety and prevention. They also help with fire prevention through a free smoke detector program for low income and elderly community members.
Other community organizations, such as the town's Little League, rely on the juniors' assistance with running their programs. They are taught that their role as a firefighter doesn't end with fighting fires, but also involves helping and serving their community in any way possible.
Award Sponsor
Tyco International is a diversified, global company that provides vital products and services to customers in more than 60 countries and has more than 100,000 employees worldwide. Tyco is a leading provider of electronic security products and services, fire protection and detection products and services, and valves and controls. For more information, visit www.tyco.com.