NVFC Mourns Passing of Deputy U.S. Fire Administrator Glenn Gaines
April 14, 2015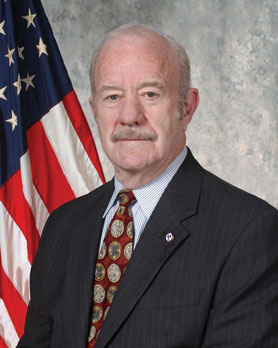 Chief Glenn Gaines, Deputy U.S. Fire Administrator, passed away on Sunday, April 12, after falling ill while doing yard work at his house in Virginia. Funeral services will be held on Friday, April 17 at 11am at McLean Bible Church in Vienna, VA. There will also be a visitation at the church on Thursday from 2-4pm and 6-8pm. More details are available here.
The National Volunteer Fire Council joins with the entire fire service community in mourning the passing of Chief Gaines. He was a frequent guest speaker at the NVFC's annual spring board meeting and was a strong supporter of volunteer fire and emergency service issues.
"Glenn was such a kind, nice man who worked quietly on behalf of the fire service. He brought common-sense ideas to the table and worked to foster relationships among the fire service. He will be sorely missed," said NVFC Chairman Philip C. Stittleburg.
"In addition to the tremendous leadership he demonstrated at the U.S. Fire Administration, just about everyone in the nation's fire service knew Glenn," said Chief Ernest Mitchell, U.S. Fire Administrator. "There are few firefighters or departments that haven't been touched – directly or indirectly – by this extraordinary fire chief throughout his career."
Chief Gaines served as Deputy U.S. Fire Administrator since March 2009 and was responsible for managing USFA programs and training activities conducted at the National Emergency Training Center. He was a tireless advocate for firefighter health and safety, particularly through the Assistance to Firefighters Grant (AFG) program. From 2001 until taking the position of Deputy U.S. Fire Administrator in 2009, Chief Gaines served with the Assistance to Firefighters Grant Program for the Department of Homeland Security and was a key player in developing the program's three critical fire service grants.
Learn more about the incredible career of Chief Gaines here.
In lieu of flowers, contributions may be made in Chief Gaines' memory to one of the following organizations:
Mid-Atlantic Burn Camp
5430 Harris Farm Lane
Clarksville, MD 21029
National Fallen Firefighters Foundation
P.O. Drawer 498
Emmitsburg, MD 21727