NVFC Members Receive Discount to Firehouse Expo 2019
July 7, 2019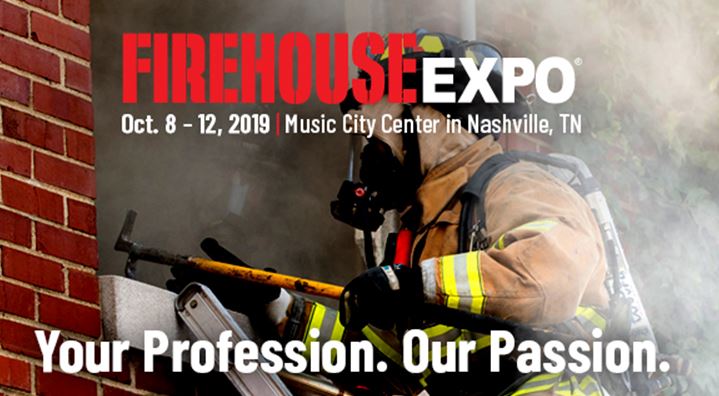 The National Volunteer Fire Council (NVFC) has teamed up with Firehouse to offer members a discount to Firehouse Expo, taking place October 8–12, 2019, at the Music City Center in Nashville, TN. NVFC members will receive an additional $50 off the published price and free exhibit hall admission. To take advantage of this discount, enter promo code NVFC when you register at FirehouseExpo.com. Click here for pricing options.
This year's conference features over 80 educational sessions, including classes geared toward volunteer departments. View full agenda.
Some highlights from this year's lineup include the following:
Sizzle Factor for Fire Instructors
Kevin Quinn, First Vice Chair, National Volunteer Fire Council
We know that today's learners, especially our next generation of volunteer and career firefighters, learn differently than the more veteran firefighters. The change in multi-tasking, curiosity, and other interests warrant those in education (which the fire service is deeply rooted) to develop new teaching methods and strategies to optimize the shared knowledge. This will be a fast-paced and exciting learning environment. Students will leave with new methods for effective teaching and learning.
Fire Department Staffing and Funding
Harry Carter, Chair of the Board of Fire Commissioners, Howell Twp. (NJ) Fire District
Fire departments are not operating as efficiently as possible, owing to lapses in marketing knowledge and concepts by those in top positions of responsibility. This seminar will discuss the need for creative staffing and funding as the basis for effective municipal fire protection services. The basic concepts of strategic planning will be covered and then blended with the marketing concepts. The importance of marketing in the long-range health of the fire service will be emphasized. This seminar has at its core a PowerPoint program for training members of the fire service in the ways of assessing, establishing, and implementing effective staffing and funding procedures.
Managing the Rural Fireground
Justin Bailey, Fire Chief, Oliver Springs (TN) Fire Department
The rural fireground provides responders with many challenges, including lack of manpower, long response times, and limited water supply. This class will address these challenges and detail how to manage these obstacles to provide for more successful outcomes.
The Consequences of Not Knowing What You Don't Know
John Cagno, Battalion Chief (ret.), North Providence (RI) Fire Department
In this presentation, the instructor will highlight the need for knowing the job by sharing his personal story of being nearly electrocuted while operating on an aerial ladder. In a candid manner, the presenter will openly discuss the severity of his injuries and the recovery process. Emphasis will be placed on discussing the consequences of a catastrophic injury event and its impact on the individual, families, and the department. Attendees will then participate in a Q&A relative to the event and if they've experienced a similar incident.
This year's exhibit hall hours are:
Thursday, October 10, 10:00am – 4:00pm
Friday, October 11, 10:00am – 4:00pm
Saturday, October 12, 10:00am – 2:00pm
Stop by and see the latest in products, services, and technology from more than 300 exhibitors. For more information and to register, visit FirehouseExpo.com.