NVFC Member and Volunteer Firefighter Todd McKinney Honored with an All-Expense Paid Cruise Courtesy of Cabot Creamery Co-operative
July 30, 2019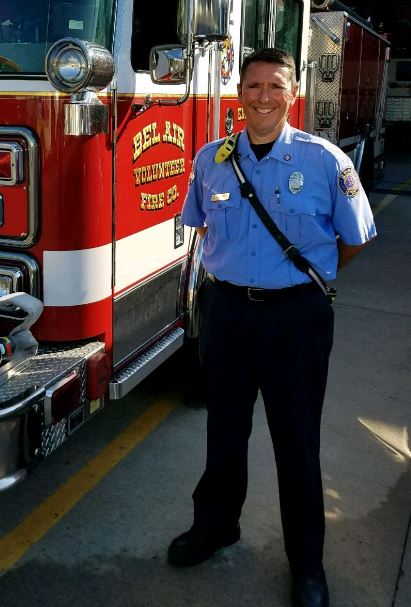 Todd McKinney, a volunteer firefighter with the Bel Air (MD) Volunteer Fire Company and member of the National Volunteer Fire Council (NVFC), will join more than 60 other hard-working volunteers and their guests on an all-expense-paid cruise courtesy of Cabot Creamery Co-operative. McKinney will be recognized as a 2019 Community Celebrity by Cabot, the New England and New York farm-family owned dairy co-operative, as someone who makes a significant difference in his community.
"The Cabot farmers have a different perspective on what defines a true celebrity," says Cabot CEO Ed Townley. "For them, the kind, giving souls who make a significant difference in their communities each and every day are the real celebrities. That's why, in 2010, Cabot created the Community Celebrity Cruise, to honor the achievements and contributions of those hard-working volunteers and to encourage more people and organizations to join us in applauding and recognizing their efforts."
McKinney has been a volunteer and PRO certified firefighter for 34 years. With the Bel Air Volunteer Fire Company, he pulls duty approximately once a week and run calls during times in between, riding the engine and driving an ambulance for EMS providers. He is also the recruitment and retention chair for the department as well as the chair of the county association's recruitment and retention committee representing 12 fire/EMS departments.
"I am truly honored to be named a 2019 Cabot Community Celebrity, and I look forward to being a part of what is sure to be a remarkable group of volunteers who strive to make their communities better for everyone," McKinney said.
Cabot and the NVFC partnered to recognize volunteer firefighters as part of Cabot's Reward Volunteers program. Through this program, volunteers log their hours of service for the chance to win monthly prizes and cash for their organization. As the national association representing volunteer firefighters, EMS providers, and rescue personnel, the NVFC was a natural fit for the program. NVFC members from across the country were encouraged to track their service hours from November 2018 to April 2019, with one outstanding volunteer to be selected for the Cabot Community Cruise.
The Bel Air Volunteer Fire Department, a combination fire and EMS department that answers more than 10,000 emergency calls a year, has been part of the community since the 1890s. The organization has a dedicated group of 175 individuals who provide 24/7 service to the residents of Bel Air and the surrounding communities. As a member of NVFC, McKinney is able to access meaningful support for himself and his department through the NVFC's educational programs, emphasis on health and safety, and resources for volunteer recruitment.
"Most people don't realize that volunteers make up 65% of the fire service," said NVFC Chair Steve Hirsch. "These men and women respond to all types of emergencies to protect their communities and keep residents safe. We appreciate Cabot's support in honoring these heroes and recognizing the importance of the volunteer fire and emergency services. Thank you to Todd McKinney and all of our nation's volunteers for making our communities a better place."
Fire department volunteers provide critical and life-saving services in their communities, yet many local departments are in great need of more volunteers, both as responders and as support personnel. Anyone interested in giving back to their community can visit www.MakeMeAFirefighter.org to find a local fire service volunteer opportunity.
The 2019 Community Celebrity Cruise sets sail from Boston on September 29, 2019, making stops in Portland, Bar Harbor, St. John, and Halifax. This marks the seventh Community Celebrity Cruise; more than 200 volunteers have been honored thus far for making a positive impact on their communities. For more information, visit cabotcelebritycruise.com.
About Cabot Creamery Co-operative
In 2019, Cabot Creamery Co-operative celebrates a century of continuous operation in Vermont, and makes a full line of cheeses, Greek yogurt, sour cream, cottage cheese and butter. Widely known as makers of "The World's Best Cheddar," in 2012 Cabot became the first dairy co-op and cheese maker in the world to become a certified B Corps. Cabot is owned by the 850 dairy farm families of Agri-Mark, with farms located throughout New England and upstate New York.
About National Volunteer Fire Council
The NVFC is the leading nonprofit membership association representing the interests of the volunteer fire, EMS, and rescue services. The NVFC serves as the voice of the volunteer in the national arena and provides invaluable resources, programs, education, and advocacy for first responders across the nation. Learn more at www.nvfc.org.