NVFC Launches New Courses to Help Departments with Reputation and Financial Management
March 24, 2015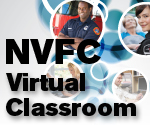 The National Volunteer Fire Council (NVFC) has released two new courses in its online Virtual Classroom to help fire departments address two important reputation management topics: Fire Service Ethics and Identifying Fraud in Fire Departments. Both courses are free for a limited time.
Fire Service Ethics
The fire service is a respected institution that has earned a positive reputation and the public's trust. Maintaining that status requires an understanding of ethics and a willingness to adopt ethical standards. This webinar examines ethical practices and poses thought-provoking questions to help define the role of ethics within a department.
Identifying Fraud in Fire Departments
The Association of Certified Fraud Examiners estimates that fraud and abuse cause billions of dollars of losses per year, roughly equivalent to five percent of gross revenues on average. Nonprofit organizations, including volunteer fire departments, are particularly vulnerable. Presented by Thomas J. Sneeringer, CPA, this informative webinar is based on years of experience auditing nonprofit organizations. Topics covered include how to overcome issues related to the separation of duties in small environments and battling the "it can't happen here" mentality. This course is designed to help position boards to be able to assess risk and address concerns in order to protect their organization's valuable resources.