NVFC Honors Recipients of Annual Achievement Awards
April 30, 2019
Updated: May 13, 2019
The National Volunteer Fire Council (NVFC) honored outstanding members of the fire service with its annual achievement awards during a special banquet on April 26 in Alexandria, VA, in conjunction with the NVFC spring meeting.
"The recipients of these awards represent the best of the fire service, from those just getting started to those who have devoted a lifetime to helping others," said NVFC Chair Steve Hirsch. "They have shown an unwavering commitment and dedication to their communities as well as to helping fellow responders thrive. We are thrilled to recognize their achievements and inspirational work with these national awards."
Late Maryland Director James P. Seavey Sr. was recognized with the James E. Monihan Director Award. This award is bestowed upon board members who go above and beyond in their service to the NVFC and is not necessarily given out each year. Seavey's wife, Mary, and son, Jimmy Jr., accepted the award on his behalf.
The Lifetime Achievement Award was presented to Wylie L. Donaldson, Jr., the inaugural James P. Seavey Sr. Health and Wellness Leadership award was presented to Brian McQueen, and the Junior Firefighter of the Year award was presented to Robert Dowd. Dowd will also receive a $500 training/education stipend.
The Westport Fire Department Explorer Post #774 is the recipient of this year's Junior Firefighter Program of the Year award. This was presented at a special ceremony at the department on May 10 so that all members of the program could attend.
The NVFC commends all of our award winners and thanks award sponsors California Casualty, Provident, Rosenbauer America, Ward Diesel, and VFIS for their support.
Read on to learn about the 2019 NVFC award recipients.
Chief James P. Seavey Sr.
E. James Monihan Director Award
Award sponsored by Provident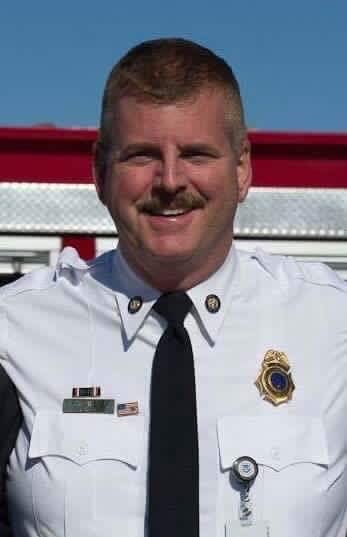 Chief James P. Seavey, Sr. went above and beyond in his service to the NVFC and the entire fire service community. After participating in a junior firefighter program, he became a firefighter at the age of 16. He went on to spend almost 30 years as a career firefighter with the D.C. Fire Department while also serving as chief of the Cabin John Park (MD) Volunteer Fire Department, becoming the longest serving fire chief in the department's history.
Seavey was a strong advocate for the rights of career firefighters to volunteer during their off-duty hours. He fought tirelessly to change restrictions encountered by many of these "two-hatters" who want to keep their career positions while also serving their local community as a volunteer.
Seavey worked to raise awareness of occupational cancer risks in the fire service and to protect firefighters from cancer. As co-chair of the NVFC cancer focus area and chair of the IAFC Volunteer and Combination Officers Section cancer committee, he played an integral role in developing the Lavender Ribbon Report: Best Practices for Preventing Firefighter Cancer, which details 11 actions firefighters need to take to lessen their risks of occupational cancer.
He also worked to further the U.S. fire service on an international level. He created an opportunity for cultural, technological, and educational exchange between the U.S. and German fire services, and in recognition of these efforts the German Fire Service awarded him with the Bronze, Silver, and Gold Medals as well as the German Silver Cross.
In August 2009, Seavey received the Volunteer Fire Chief of the Year award from Fire Chief Magazine in recognition of his achievements and his lifelong devotion to the fire service.
Wylie Donaldson Jr.
Lifetime Achievement Award
Award sponsored by Rosenbauer America
Wylie L. Donaldson Jr. joined the Odenton (MD) Volunteer Fire Company in 1952 at the age of 14, following in the footsteps of his father and grandfather, who was a founding member. Throughout his 66 years of continuous service, Donaldson has held every administrative and operational position in the Company, including president from 1968-1974 and chief from 1974-1989. Today, Donaldson remains an instrumental part of the company's success in his current role as vice president.
In addition, Donaldson has held leadership roles with the Anne Arundel County Volunteer Firefighters Association, including serving as president from 1998-99 and a volunteer representative to the Fire Advisory Board from 1982-1990. During his term as president, he followed a vision of bringing new life to the volunteer fire service and initiated a volunteer cadet program within the Anne Arundel County public school system. Most recently, Donaldson helped lead efforts to greatly enhance the Volunteer Length of Service Award Program (LOSAP) to reward volunteers for their service and provide a retention tool to retain active volunteers.
Donaldson is also an active participant with the Maryland State Firemen's Association (MSFA). He has served on many committees, most notably as Anne Arundel County's representative on the MSFA Executive Committee from 1998 until 2012. He presently serves as chair of the Convention Exhibits Committee and as one of the assistant treasurers, acting as the association's liaison to the Maryland Military Department and overseeing the administration of a $20 million loan program for MSFA member companies.
Chief Brian McQueen
James P. Seavey Sr. Health and Wellness Leadership Award
Award co-sponsored by Ward Diesel and VFIS
On December 24, 2013, Brian McQueen was diagnosed with non-Hodgkin's B-cell lymphoma. It was soon determined that his cancer was due to his job as a volunteer firefighter.
Following his cancer treatments, McQueen co-founded the Believe 271 Foundation Inc., a nonprofit aimed at assisting volunteer firefighters and their families in the battle with cancer. To date they've assisted 63 firefighters. McQueen also developed a cancer training and awareness program that he conducts throughout his home state of New York and nationally. He has educated over 6,270 firefighters and their families from across the country.
McQueen worked tirelessly to help get a presumptive law passed in New York that would provide volunteer firefighters with assistance in the event of a cancer diagnosis. The bill went into effect in January 2019. He also was a strong advocate to get the Firefighter Cancer Registry Act introduced and passed in Congress. It was signed into law in July 2018.
McQueen became co-chair of the NVFC's cancer focus area along with his close friend Jim Seavey. From this partnership, and through Seavey's leadership on the cancer committee of the IAFC's Volunteer and Combination Officers Section (VCOS), the plan and design for the Lavender Ribbon Report: Best Practices for Preventing Firefighter Cancer became a reality. The report was unveiled on August 8, 2018, just weeks before Seavey's untimely death from occupational cancer. McQueen carries on the work as part of an NVFC and VCOS team developing a webinar series and train-the-trainer program that will help embed the 11 Best Practices in fire stations across the United States.
Robert Dowd
Junior Firefighter of the Year Award
Award Sponsored by California Casualty
Robert Dowd grew up watching his father respond to calls as a member of the Syosset (NY) Fire Department, so it was not surprising when he joined the junior firefighter program and displayed a strong passion for the fire service. Soon thereafter, he stepped up to lead this group and make it a place where others wanted to spend their time. He rose quickly through the junior ranks: first as a secretary, then on to lieutenant, and then to captain, which is a position he holds today. His peers could see how excited he was to be a part of this program, and his leadership is considered to be the reason membership increased by 50% within his first year.
Based on Dowd's commitment and dedication to the Syosset Juniors, he was asked to run for secretary of the Nassau County Junior Firefighters Association (NCJFA) and was elected in 2O17. Again, he rose quickly to become president of the association in 2018. During his term, he participated in the coordination of events such as the annual fire camp at the Fire Service Academy, visits to the FASNY Firemen's Home in upstate New York, and NCJFA monument clean up. He currently serves on the organization's board of directors.
As a member of a committee that worked on an international exchange program between junior firefighter programs in the United States and Germany, Dowd participated in a week-long trip to Germany where he addressed 10 different junior companies about the fire service in the United States. In a two-hour meeting with the deputy director of the German Fire Service, Dowd spoke about the importance of having an exchange program and laid out a detailed plan for the program. Because of his efforts, a group of juniors from Germany will be attending the NCJFA's fire camp this July.
Westport Fire Department Explorer Post #774
Junior Firefighter Program of the Year Award
Award Sponsored by California Casualty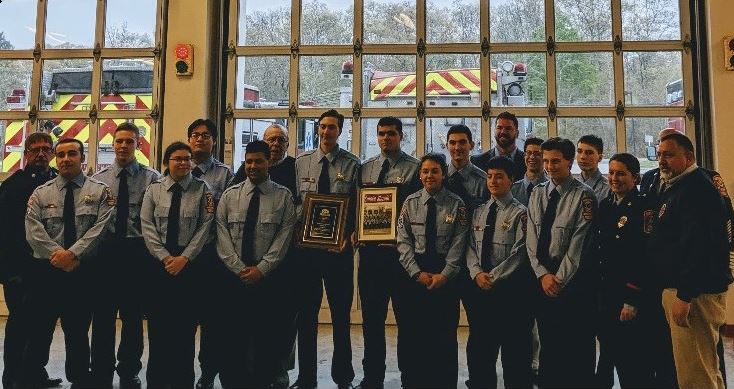 Established in 2016, Westport (MA) Fire Department's Explorer Post #774 seeks to inspire its members and mentor them with the goal of creating future leaders in the fire service.
The program has grown to 16 active youth members and has a dedicated adult leadership staff with years of experience in the fire service to share. Youth members go through a comprehensive fire and EMS training curriculum. They become first responder certified and once certified are eligible to join the department's Emergency Management Agency (EMA). They are then allowed to operate with ancillary duties during fire incidents that keep them outside of the "hot zone." EMA Explorers have provided more than 100 community service hours over the last 12 months to fire department incidents and trainings and have participated in various community events as volunteers for festivals, open houses, and department functions. Members learn important life skills, responsibilities, and accountability as well as an unmatched camaraderie that can only be experienced in the emergency services.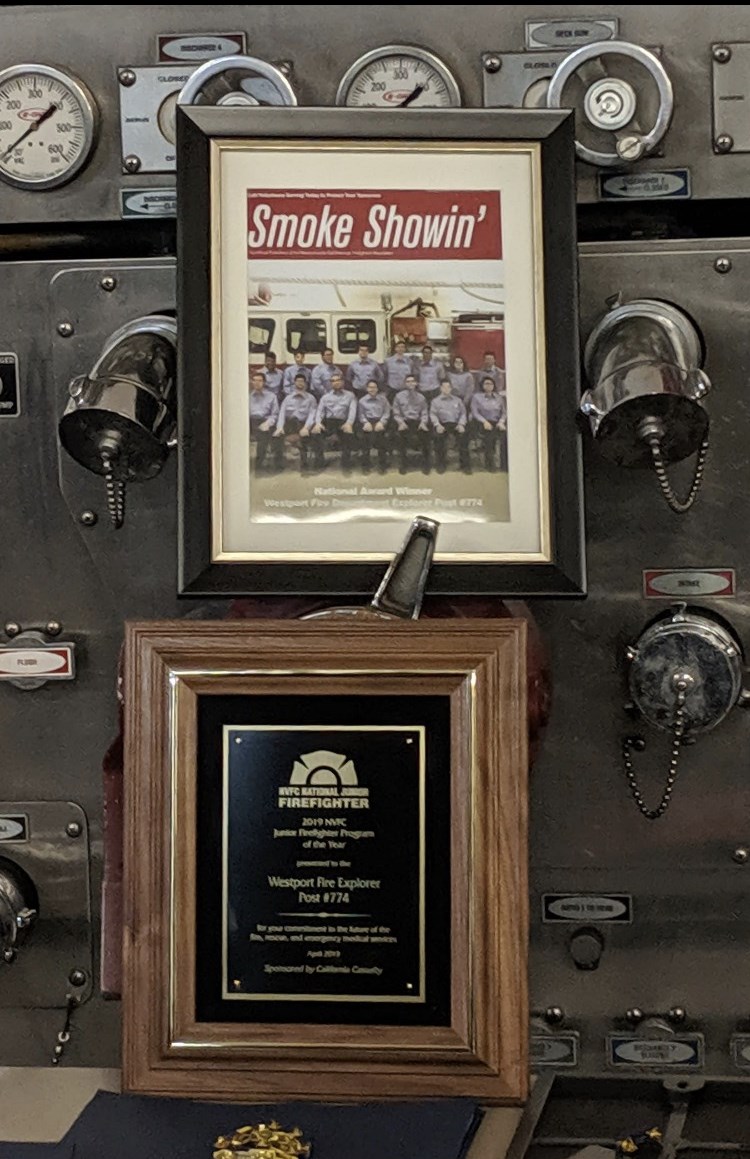 Each year, the Westport Explorers put on a week-long training camp and have involved other Fire Explorer Posts from Massachusetts and nearby states. The training camp has included various agencies such as other local fire departments, the Bristol County Technical Rescue Team, State Forest Fire Control, and the Massachusetts Firefighting Academy.
The program has also helped to shape a new internship program at Westport High School; youth members are allowed to continue their training and ride along at the department while obtaining school credits. Since launching in November, fire department interns have completed over 60 training hours in addition to their weekly Post trainings. Explorers also participate in local fire department musters and bring a new energy to these events.