NVFC Honors Chief Lawrence Plumer for Lifetime Achievement
May 2, 2012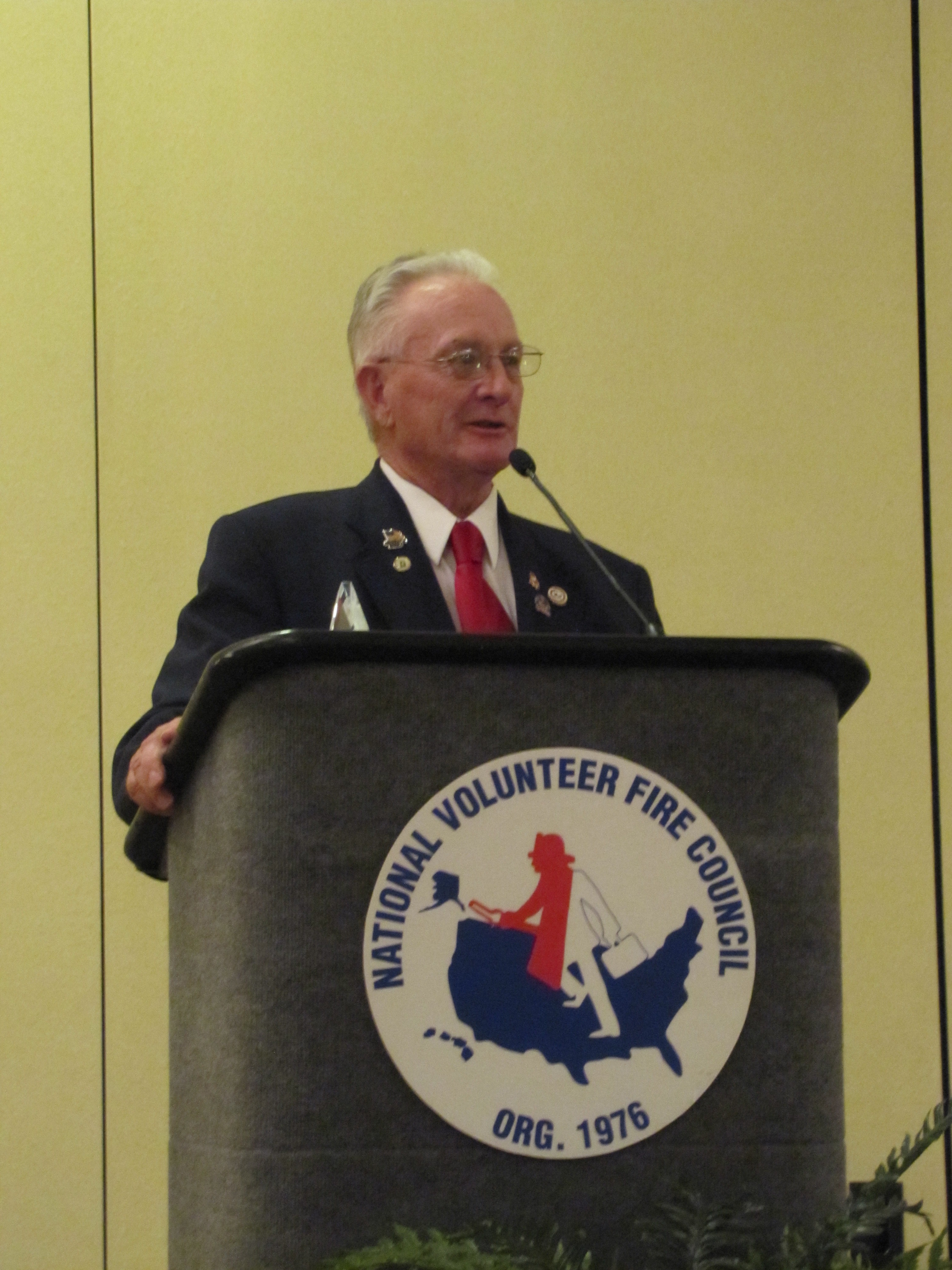 Lifetime Achievement Award winner Larry

Plumer
The National Volunteer Fire Council (NVFC) bestowed the 2012 Lifetime Achievement Award to Chief Lawrence Plumer of the Durand (WI) City/Rural Fire Department. The award, sponsored by Rosenbauer America, annually recognizes an individual whose remarkable achievements in the fire service and community exemplifies outstanding performance. To be considered for the award, nominees must have been a volunteer firefighter for at least 20 years.
"This is a lifetime achievement award, and Larry, you have indeed filled your lifetime with achievements," said NVFC Chairman Philip C. Stittleburg, also of Wisconsin, when presenting the award during a special ceremony on April 28 during the NVFC spring meeting in Alexandria, VA.
Chief Plumer has been a firefighter at the Durand City/Rural Fire Department for over 45 years and has been Chief for the past 29 years. Until retiring, he also served for 38 years as an EMT on the Durand Municipal Ambulance Service, including 23 years as Director. Chief Plumer was named President of the Wisconsin State Firefighters Association (WSFA) in 1984, a position he still holds today, and is the Wisconsin Alternate Director on the National Volunteer Fire Council Board of Directors.
Within his fire department, Chief Plumer has worked diligently to raise money and apply for grants to purchase equipment, including defibrillators. He was instrumental in securing and providing training on defibrillators for all Durand area first responders and Durand area schools. For over two decades, he has worked with local schools to share fire prevention information with youth. He presents the Smokey Bear fire safety program to third graders, takes them on tours of their local fire department, and shows them equipment and gear that firefighters use to do their jobs.
Chief Plumer has served as Chairman of the Wisconsin Fire and EMS Legislative Leadership Coalition since it was founded in 1996. Through this coalition and his position with the WSFA, he regularly represents the Wisconsin fire service to their state government officials. Each year, he travels to Washington, DC, to represent Wisconsin's fire service on Capitol Hill. In his local government, he served 18 years on the Durand City Council.
In addition, Chief Plumer has been an active member of the Chippewa Valley Technical College (CVTC) Fire Service Advisory Committee for over 26 years. In this role, he was instrumental in promoting the building of the CVTC Emergency Service Education Center, implementing progressive programming, and advancing fire service training throughout western Wisconsin.
Chief Plumer was recognized as the Firefighter of the Year by the Wisconsin State Firefighter's Association in 2004. He and his wife Joan have seven children, thirteen grandchildren, and two great-grandchildren.
Award Sponsor
Rosenbauer America is the world's leading manufacturer of firefighting vehicles and equipment. With locations all over the globe, the North American operations are based in Lyons, South Dakota; Wyoming, Minnesota; and Fremont, Nebraska. Rosenbauer incorporates the international strength and innovation of a global company with top American manufacturing firms to build firefighters what they need to help keep their communities safe. For more information, please visit www.rosenbaueramerica.com.