NVFC Holds Press Conference to Launch Recruitment Campaign
December 8, 2015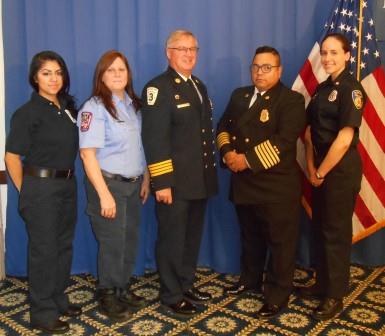 Volunteer fire service members Carla Barrera, Tracey Berry, Chief Kevin D. Quinn, Chief Juan Bonilla, and Meghan Quinn spoke at the press conference launching the NVFC's Make Me A Firefighter volunteer recruitment campaign.
The National Volunteer Fire Council (NVFC) held a press conference in Washington, DC, on December 1 to officially launch the new Make Me A Firefighter volunteer recruitment campaign. The launch was held in conjunction with #GivingTuesday and alerted the public that they can give back to their community by volunteering with their local fire and emergency service department.
The press conference kicked off the public outreach phase of the campaign. NVFC research has shown that many people are interested in volunteering in the emergency services, but are unaware that these opportunities are available. The new Make Me A Firefighter campaign helps to bridge this gap through a national awareness campaign and by providing local fire and EMS departments tools to hold a successful local recruitment campaign.
Departments can register for the campaign for free at http://portal.nvfc.org to post their volunteer opportunities, create customized recruitment materials, track potential recruits, and access tools and resources to reach a diverse range of volunteers. Members of the public can go to www.MakeMeAFirefighter.org to learn more about the fire and emergency services, find volunteer opportunities, and connect with their local department. Make sure your department is registered so that potential volunteers can find you.
If you missed the live press conference stream, watch it now. You can also view specific clips below:
Video Clip: Chief Kevin D. Quinn, Chairman of the NVFC and volunteer with the Union Fire District in Rhode Island, explains the national Make Me a Firefighter recruitment campaign.
Video Clip: Chief Juan Bonilla, Idaho Director of the NVFC and Fire Chief of the Donnelly Rural Fire Protection District, discusses recruitment challenges departments face and resources available to overcome the obstacles.
Video Clip: Tracey Berry, volunteer with the Odenton Volunteer Fire Company in Maryland, explains why she chose to volunteer and what the experience has meant to her.
Video Clip: Carla Barrera, volunteer with the Gaithersburg Washington Grove Volunteer Fire Department in Maryland, shares her story of being saved by a volunteer EMT, her decision to become a volunteer, and the life-changing benefits of joining a department.
Video Clip: Meghan Quinn, volunteer with the Glen Echo Fire Department in Maryland, medical student, and Ensign in the U.S. Navy's Medical Corps, discusses why volunteering is important and the impact it has had on her life.