NVFC Continues International Outreach
October 22, 2012
The National Volunteer Fire Council (NVFC) has been expanding its international outreach efforts for many years, meeting with members of the fire service worldwide to promote cooperation, information-sharing and idea-exchange, and increased communications between the world's firefighters and emergency responders. These initiatives include recent meetings with members of the Japanese and Italian fire service as well as preparations for the launch of an international membership option.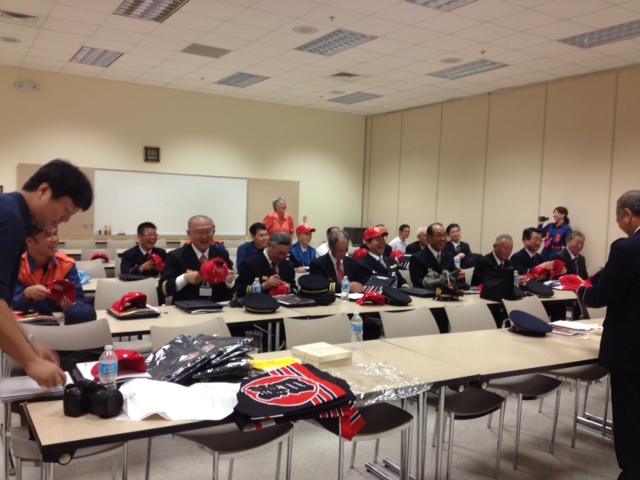 The Japanese delegation visited the TEEX training facility in Texas.
This month, the NVFC helped coordinate a visit to the U.S. by a delegation of firefighters from Japan. The delegation started their trip in Seattle, where the NVFC's Washington Director T.J. Nedrow developed a memorial service honoring those that were lost during the 2011 earthquake and tsunami as well as orchestrated visits to EMS centers. The visiting firefighters then headed to Texas where NVFC board members Pat Hlavaty and Dallas Renfrew and NVFC Executive Director Heather Schafer showed them the hands-on training capabilities available at TEEX, followed by a stop in Phoenix where NVFC Arizona Director Bob Hooker set up a tour of the Phoenix Command Center and the Tusayan Fire Department. The trip ended in Los Angeles, California, where the NVFC coordinated a tour of the LA County Fire Museum.

In July, NVFC Chairman Phil Stittleburg and board member Kevin Quinn (RI) traveled to Italy to participate in a training exercise and to exchange ideas. The trip was hosted by the Association Edelweiss.

International outreach and idea-exchange is important for the fire service as it enhances the capabilities and knowledge of all involved. The NVFC is taking their efforts a step further this fall by introducing an international membership level to enhance communications and collaborations with counterpart organizations in other countries.