NVFC Spring Meeting 2022
Skip to: Agenda | Meeting Highlights | Special Events | Registration | Meeting Location and Accommodations | Meeting Sponsors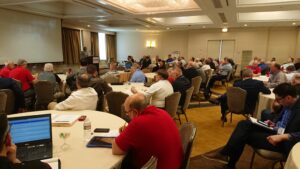 Please join us for the National Volunteer Fire Council's (NVFC) Board Meeting taking place April 7-9 at the Renaissance Arlington Capital View Hotel in Arlington, VA.
This is an in-person event with more than 100 NVFC board of directors from across the U.S., state fire service association leaders, government representatives, and other invited guests to discuss emerging issues, establish priorities, take care of Council business, and work on tasks supporting the volunteer fire, EMS, and rescue community. We will also be honoring outstanding achievements at the annual awards dinner and presentations.
The goal is to bring this national leadership together to work with purpose and passion to set a common course of action to best serve and meet the needs of the volunteer boots on the ground. Be sure to be part of the conversation and decision making while it's happening.
The spring meeting is 2.5 days of committee work, general sessions, and presentations. There is ample time for networking, sharing ideas, and learning while putting forth a formula for success.
Agenda
The schedule of activities and meetings changes periodically and some committee work will be taking place virtually ahead of the meeting. Click here for the current agenda.
Virtual Committee Meetings:
| | | |
| --- | --- | --- |
| March 28 | 1:30pm ET | Diversity & Inclusion Committee |
| March 30 | 1:00pm ET | Hazmat Response Committee |
| March 30 | 1:00pm ET | Membership/Awards Committee |
| March 31 | 2:00pm ET | Volunteer Advocacy Committee |
| April 1 | 1:00pm ET | Homeland Security Committee |
| April 4 | 1:00pm ET | Bylaws Committee |
| April 4 | 3:00pm ET | Finance Committee |
DAY 1:  Thursday, April 7
| | |
| --- | --- |
| 1:00pm-4:00pm | Registration and Check-In |
| 2:00pm-3:30pm | Wildland Committee Meeting |
| 4:05pm | Take Me Out to the Ballgame! Washington Nationals vs New York Mets |
| 5:00pm | CFSI Bus Departs |
DAY 2: Friday, April 8

| | |
| --- | --- |
| 6:45am | Morning Walk |
| 7:30am | Executive Committee Meeting |
| 9:00am | Opening Ceremonies and General Session (Welcome provided by Chief David Povlitz, Arlington County (VA) Fire Dept.) |
| 11:00am | Ken Willette, Executive Director, North American Fire Training Directors |
| 11:15am | Tina Godfrey, SAFER/FP&S Section Chief |
| 12:15pm | Chair's Lunch |
| 1:15pm | National Fire Academy, Eriks Gabliks, Superintendent |
| 1:30pm | Dr. Lori Moore-Merrell, U.S. Fire Administrator |
| 2:30pm | Health, Safety, and Training Committee Meeting |
| 4:00pm | EMS/Rescue Section Meeting |
| 6:00pm | Awards Celebration |
DAY 3: Saturday, April 9
| | |
| --- | --- |
| 7:00am | Morning Walk |
| 8:30am | Standards and Codes Committee Meeting |
| 10:15am | Legislative Committee Meeting |
| 12:00pm | Networking Lunch |
| 1:00pm | Recruitment and Retention Committee Meeting |
| 2:15pm | General Session with Committee Actions and Report Outs |
| 4:00pm | Meeting Adjourns |
| 6:30pm | Optional Dinner (organized by directors) |
Meeting Highlights
Keynote Address
April 8, 1:30pm
Dr. Lori Moore-Merrell was appointed by President Joseph Biden as the U.S. fire administrator on October 25, 2021. Prior to her appointment, Lori served nearly three years as the president and chief executive officer (CEO) of the International Public Safety Data Institute, which she founded after retiring from a 26-year tenure as a senior executive in the International Association of Fire Fighters (IAFF).
Dr. Moore-Merrell is considered an expert in executive leadership, emergency response system evaluation, public safety resource deployment, community risk assessment, data science/analytics, strategic planning, costs and benefits analysis, advocacy, consensus building, policy development and implementation, and generational differences in the workplace.
As a doctor of public health and a data scientist, Dr. Moore-Merrell recently served on the Biden-Harris Transition Team to conduct agency review for the U.S. Department of Homeland Security/Federal Emergency Management Agency (FEMA) as part of the COVID-19 response planning. She has also served on the Public Safety Committee of the transition teams for both the mayor of New York City (2013) and the mayor of the District of Columbia (2015).
Dr. Moore-Merrell serves on national and international boards of directors and advises elected officials, CEOs, and local metropolitan fire chiefs in areas of her expertise while providing them scientific data to make fact-based decisions. She was recently awarded Honorary Membership in the Metropolitan Fire Chiefs Association for her expertise in areas of fire prevention, fire suppression or other related disciplines. Lori is only the fourth individual to be presented this honor in the 54-year history of the organization.
Dr. Moore-Merrell is an international speaker, presenter, and author. She has also been awarded the James O. Page Achievement Award by the Emergency Medical Services (EMS) Section of the International Association of Fire Chiefs (IAFC) (2001), twice awarded the IAFC President's Award for commitment to firefighter safety (2009, 2019), the Dr. John Granito Award for Excellence in Fire Leadership and Management Research (2010), the Metropolitan Fire Chiefs President's Award of Distinction (2013), the Mason Lankford Award from the Congressional Fire Services Institute (2019), and the Homeland Security Today Mission Award (2020).
She is a principal member of the National Fire Protection Association (NFPA) 3000 Technical Committee and is an advisor to the chair of the NFPA 1710 Technical Committee. She served 9 years as a commissioner to the Commission for Fire Service Accreditation and 3 terms as a board member for the Center for Public Safety Excellence. Dr. Moore-Merrell is a member of the International Fire Service Training Association Executive Board, as well as the Underwriters Laboratories (UL) Fire Council.
During her 26 years at the IAFF, Dr. Moore-Merrell spent more than 17 years leading a research team made up of international fire service organizations and other partners, including the National Institute of Standards and Technology, the UL, the Urban Institute, the University of Texas, Worcester Polytechnic Institute, and the Commission on Fire Accreditation International. As principal investigator and senior project manager on projects funded by FEMA/Assistance to Firefighters Grants totaling more than $23 million, she led the team to produce landmark reports and other tools to improve residential and high-rise fireground operations, community risk assessment, fire and EMS resource deployment, and "Big Data Analytics" — all to help drive executive decision-making. These reports and other resources have changed the face of fire and EMS deployment in countries throughout the world.
Dr. Moore-Merrell has also managed emergency response system evaluation project teams, including secure data procurement, geographic information systems analysis and workload analysis in hundreds of fire departments throughout North America.
Dr. Moore-Merrell began her fire service career in 1987 as a fire department paramedic in the City of Memphis (TN) Fire Department.
NVFC Awards Celebration
April 8, 6:00-9:00pm
Each year, the NVFC honors outstanding achievements for a lifetime of service, health and wellness leadership, and the next generation of firefighters with the Junior service and program recognition. These well-deserving individuals will be recognized during this evening of celebration. NVFC board of director service awards will also be given. Click here to read about this year's award recipients.
Lifetime Achievement Award
Sponsored by ADT
This award honors an individual who has been a volunteer firefighter for at least 20 years and whose remarkable achievements in the fire service and community exemplify outstanding performance.
Chief James P. Seavey, Sr. Health & Wellness Leadership Award
Co-sponsored by VFIS and Ward Diesel Filter Systems
This award honors a volunteer firefighter, EMS provider, or rescue worker who has served as a leader in creating or promoting emergency responder health and wellness programs or initiatives in areas including, but not limited to, firefighter cancer, heart health, behavioral health, and overall health and wellness.
Junior Firefighter of the Year and Junior Firefighter Program of the Year Awards
Sponsored by California Casualty
Junior firefighters are the next generation of leaders and champions of the fire service. An outstanding Junior will be honored who has demonstrated a passion for the fire service and has been a strong force in their department. The NVFC also honors a Junior Firefighter Program. This award is given at a presentation with the department.
To learn more about awards, click here.
Special Events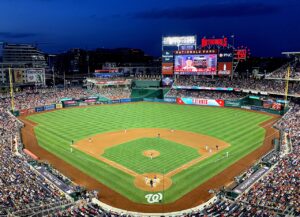 Take Me Out to the Ballgame! Washington Nationals vs New York Mets
Thursday, April 7
4:05pm
The NVFC is organizing a night at the ballpark! This is an optional event where pre-registration is required. Group tickets will be approximately $64, paid for in advance, and are nonrefundable. The park is easily accessible by the DC metro.
Update: There are only a few tickets left! For details, contact Lorraine Higgins at lorraine@nvfc.org.
Congressional Fire Services Institute (CFSI) Dinner
1919 Connecticut Ave., NW, Washington, DC
Thursday, April 7
NVFC bus provided
Reservation and tickets are required to attend the CFSI dinner. For those attending, the NVFC will be providing bus transportation to and from the Washington Hilton.
Saturday Dinner
Optional | Coordinated by directors
Staying over Saturday night? Group up and head out to dinner in Old Town Alexandria. Use the meeting app or the Gathering Room to make plans and meet up for a relaxing night with your colleagues.
Registration
To register, please click here.
Registration (March 8 – April 9)
| | |
| --- | --- |
| Director | $350 |
| State Association Representative | $350 |
| Spouse/Guest | $150 |
Corporate Members
Pricing for corporate members is based on membership and meeting sponsorship level. Please register and if there is a fee, the NVFC will contact you.
Purchase Orders and Invoices
Need an invoice? Please contact Lorraine Higgins at lorraine@nvfc.org.
*Payment must be received by the early bird deadline in order to get the discount.
Cancellations
All cancellations will be subject to a $50 administrative fee. Cancellations must be sent in writing via e-mail to nvfcoffice@nvfc.org by March 24, 2022, to receive a refund. Telephone cancellations will not be accepted. Substitutions will be allowed in the event the registrant is unable to attend – and telephone substitutions will be permitted. Extenuating circumstances will be reviewed on a case-by-case basis with written request received no later than April 13, 2022. Refunds are not available for "no shows."
Meeting Location and Accommodations
The spring meeting has a new location and is conveniently situated a mile from Reagan National Airport (DCA), is accessible via the blue/yellow DC metro lines, and has restaurants and shops in walking distance. The hotel is a Marriott Bonvoy property with a Discover LEED® Gold certified accommodation rating, has complimentary shuttle service to and from the airport, and offers a fitness center and business center.
Renaissance Arlington Capital View Hotel
2800 S. Potomac Ave., Arlington, VA
NVFC Group Room Rate: $175 (plus tax/services)
Group Discounted Parking: $15/day
Reservation Deadline: March 7, 2022
FREE Shuttle Service
Look for the white bus to take you to/from Reagan National Airport and the Crystal City subway station. It's free! Click here for instructions.
Amenities
Free Reagan National Airport Shuttle Bus
Free shuttle service to Crystal City Metro Station
Fitness Center
Business Center
Restaurant/Bar
Convenience Store
Other Hotel Information
Check-in: 3:00pm | Check-out: 12:00pm
One-night deposit required when making reservation
Smoke free
No pets allowed
Looking for things to do in the DC-area? Click here.
Airports
Ronald Reagan Washington National Airport (DCA)
One mile from the Renaissance Arlington Capital View Hotel
Free shuttle service provided by the hotel (click here for instructions)
Washington Dulles International Airport (IAD)
28 miles from the Renaissance Arlington Capital View Hotel
Questions and Meeting Contact
Questions can be directed to Meg Goldberg, meeting planner at 202.887.5700 ext.117 or meg@nvfc.org.
Thank You Sponsors
We could not do it without the support of our corporate members and partners. Thank you! Support of the meeting provides networking opportunities, visibility, and a voice at the table. If you would like information on how to participate and sponsor the meeting, please contact Meg Goldberg at 202-887-5700 ext.117 or meg@nvfc.org​
| | |
| --- | --- |
| | Established in 1975, the Anheuser-Busch Foundation focuses on supporting organizations that help individuals and communities thrive. The Foundation contributes to countless community organizations every year in support of disaster preparedness and relief, economic development, education, environmental sustainability, military personnel and responsible drinking. Anheuser-Busch and its foundation are united by an unwavering commitment to supporting the communities that they call home and over the last 30 years, Anheuser-Busch and the Anheuser-Busch Foundation have donated more than $600 million to charitable organizations across the country. For more information, visit www.anheuser-busch.com. |
| | |
| | FirstNet is the dedicated wireless communications ecosystem built with and for first responders. It provides so much more than just the ability to make and receive calls. Together with first responders, we are working to make your communications simpler, faster, and more direct in order for you to focus on what's important.  For more details, please visit www.firstnet.com. |
| | |
| | California Casualty has been the chosen Auto & Home Insurance provider for first responders across the nation for over four decades. We offer our members affordable customized coverage and exclusive benefits tailored uniquely to their profession, like turnout gear coverage for firefighters. We proudly show our support for first responders by partnering with organizations like the NVFC for sponsored events, and awards like the NVFC's Junior Firefighter of the Year Award and the Junior Firefighter Program of the Year Award. Find out why thousands of firefighters choose California Casualty to protect their families at www.calcas.com/nvfc. |
| | |
| | Clarion UX's Fire & Rescue Group provides critical cutting-edge firefighting and emergency medical service news, education, equipment, and hands-on training. Through our industry-leading publications, digital media, and events, Clarion UX's Fire & Rescue Group covers the latest developments and standards in apparatus and equipment, clinical breakthroughs, and training for firefighters, EMTs, paramedics, and those professionals serving in the Fire & EMS Industries. We at Clarion UX's Fire & Rescue hold ourselves to the strictest of standards, ensuring that our service to the first responders equals the industry's tireless service to us all while maintaining our long-standing mission to "Train and Inform the Fire & EMS Industry." |
| | |
| | Columbia Southern University – Take the next step in your career – enroll today in one of our five completely online fire science programs. The fire science degree programs at CSU provide the foundation for leadership and administration of fire service organizations. From learning about fire prevention to fire service equipment, our programs provide a comprehensive view of the fire science industry. Visit www.columbiasouthern.edu to apply today and open the doors to an exciting and rewarding future in fire science! NVFC members and their families receive a 10% discount on tuition. |
| | |
| | Emergency Services Insurance Program (ESIP) – In a world of insurance driven by bargain pricing, arm's length service, and one-size-fits all policies, only ESIP offers the depth of knowledge and industry expertise to serve the real needs of fire and rescue service organizations. For more than 25 years, we have lived and breathed emergency services, developing industry-tailored coverages, risk management, and a proactive approach that helps anticipate issues before they occur. ESIP offers the attention and expertise you can only expect from people who live your business, and we're ready to create an insurance package customized to fit your organization's needs. |
| | |
| | Lincoln Financial Group provides advice and solutions that help empower people to take charge of their financial lives with confidence and optimism. Today, more than 17 million customers trust our retirement, insurance, and wealth protection expertise to help address their lifestyle, savings, and income goals, as well as to guard against long-term care expenses. In 2012 Lincoln Financial Group's Retirement Plan Services business announced the introduction of a new National LOSAP HEROPLUSSM Program. This first of its kind Length of Service Award Program was designed for individual Fire and Emergency Services departments to help recruit, retain, and reward dedicated volunteers with a program that will help boost their retirement readiness. The National LOSAP HEROPLUSSM offers sponsors ongoing program support in an employer-sponsored retirement plan, and is customizable at the local level to meet the specific needs of the plan sponsor. For more information about the HEROPLUS Program please visit www.losap.com. |
| | |
| | National Fire Protection Association is a worldwide leader in fire, electrical, building, and life safety. The mission of the international nonprofit organization founded in 1896 is to reduce the worldwide burden of fire and other hazards on the quality of life by providing and advocating consensus codes and standards, research, training, and education. NFPA develops more than 300 codes and standards to minimize the possibility and effects of fire and other hazards. All NFPA codes and standards can be viewed at no cost at www.nfpa.org/freeaccess. |
| | |
| | NPPGov is a national cooperative procurement organization offering publicly solicited contracts to government entities nationwide. Our contracts are created through a public solicitation and award process by a Lead Public Agency. Access to our cooperative contracts is complimentary with no purchasing obligations. NVFC members can save time on purchasing by "piggybacking" off our 100+ contracts including PPE, medical equipment and supplies, defibrillators and wireless, and more. NFVC members, join now: www.nppgov.com/associations/nvfc. |
| | |
| | Provident has been offering custom insurance solutions for ESOs for over 90 years. Programs include Property & Casualty, Accident & Health, 24-Hour Accidental Death & Dismemberment, Group Life, Group Critical Illness, and Cancer policies. Please visit us at https://www.providentins.com or contact us at info@providentins.com to learn more. |