NVFC Attends Interschutz Trade Show in Germany
June 23, 2015
From June 8-13, the National Volunteer Fire Council (NVFC) represented the United States volunteer fire service to 157,000 attendees at INTERSCHUTZ 2015 in Hannover, Germany. INTERSCHUTZ is the world's flagship exhibition and networking hub for the fire prevention, disaster relief, and safety and security sectors. The NVFC was one of approximately 1,500 exhibitors from 51 nations at the trade show, which is held once every five years in Germany. The outreach event was possible thanks to support from Rosenbauer, Provident, the NVFC Foundation, and the NVFC 21st Century Fund.
The NVFC represents the U.S. volunteer fire and emergency services on the national level and provides tools, resources, and information to support the nation's emergency services. Since the organization's inception in 1976, fire and emergency response personnel in other countries have reached out to the NVFC to share best practices and learn more about the American fire service. Building these international relationships is critical to fostering open dialogue, sharing ideas and innovations, and strengthening the global fire service community.
At INTERSCHUTZ, NVFC board members and staff hosted a booth and met with fire service leaders from throughout the world to discuss firefighter health and safety, disaster relief efforts, junior firefighter programs, and ways to collaborate for the benefit of the fire service worldwide.
NVFC Chairman Kevin D. Quinn, Executive Committee member Robert Timko, and NVFC Program Manager Rachel Buczynski met with Dr. Ralf Ackermann, Vice President of the Deutscher Feuerwehrverband (German Fire Services Association). Quinn and Timko also attended a meeting of the presidents of national associations and institutions from the European Union. NVFC Chief Executive Officer Heather Schafer participated in a meeting with Comité Technique International de prévention et d'extinction du Feu (CTIF – International Association of Fire and Rescue Service).
Throughout the week, Quinn, Timko, Schafer, Buczynski, First Vice Chair Steven Hirsch, Executive Committee member Mike Bird, and board member Brian Seymour also met with NVFC partners and other fire service industry companies, firefighters, and EMS personnel from countries around the world.
Visit www.nvfc.org/join/renew/international-membership for more information on NVFC International Membership. Click here to read more about INTERSCHUTZ 2015.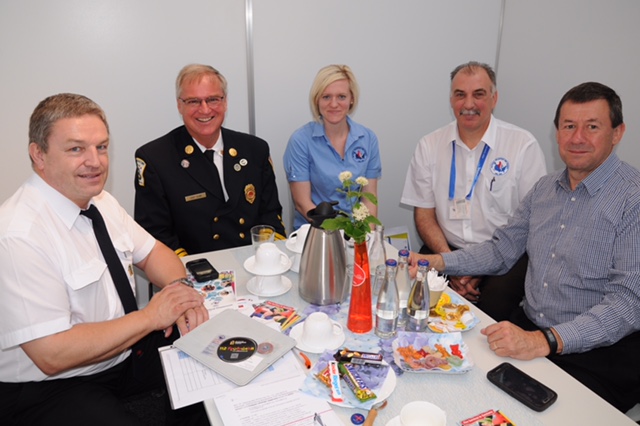 Dr. Ralf Ackermann meets with Chief Kevin Quinn, Rachel Buczynski,
Bob Timko, and Ulrich Mauser (Provident).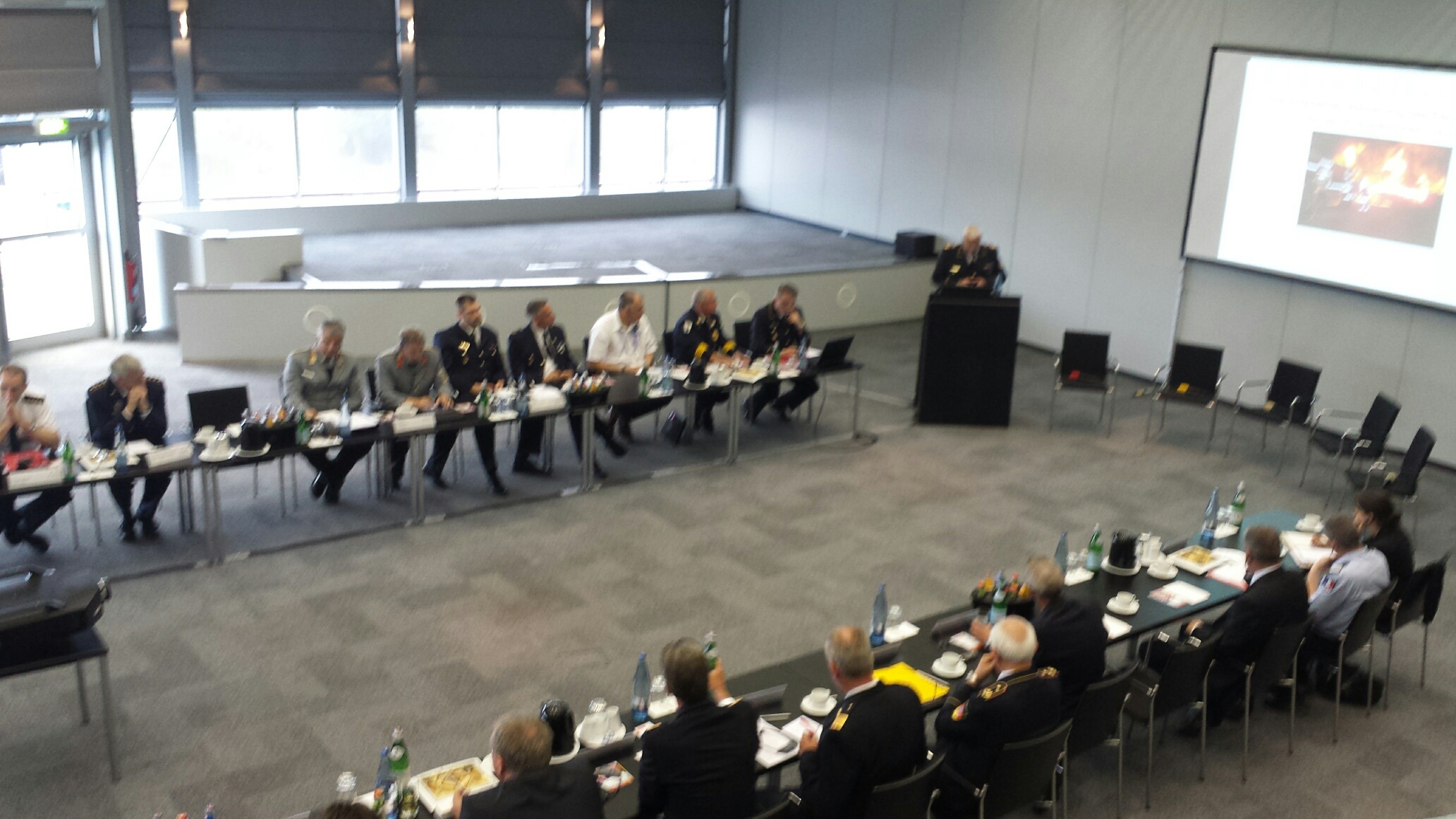 Chief Kevin Quinn and Bob Timko attended a meeting of fire service
leaders from the European Union.