NVFC Announces 2014 Award Winners
March 10, 2014
Article updated on May 12, 2014
The National Volunteer Fire Council (NVFC) has announced the winners of its four national fire service awards. A special banquet to honor the recipients of the Lifetime Achievement, Fire Prevention, Junior Firefighter of the Year, and Junior Firefighter Program of the Year awards took place during the NVFC's spring meeting on May 2, 2014, in Alexandria, VA.
"The quality of the applications we receive each year speaks to the excellence of the fire service nationwide," said NVFC Chairman Philip C. Stittleburg. "The recipients that were chosen this year exemplify outstanding service and commitment to the fire and emergency services. Their achievements reflect a proud past and exciting future."
Award recipients receive a trip to Alexandria to attend the award ceremony, a personalized award, and a complimentary one-year membership in the NVFC, among other items. In addition, the Junior Firefighter of the Year will receive a $500 training/education stipend and the Junior Firefighter Program of the Year will receive a $500 grant for their program.
Learn more about the NVFC's awards program at www.nvfc.org/awards.
The recipients of the NVFC's 2014 awards are:
Chief Charles Singleton
NVFC Lifetime Achievement Award
Award sponsored by Rosenbauer America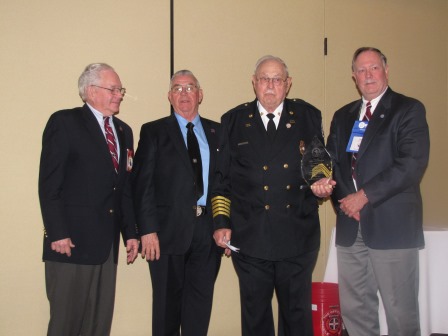 Chief Charles Singleton (second from right) received the Lifetime Achievement Award from NVFC board members (l-r) Joe Guyotte, LeRoy Koopman, and Chairman Phil Stittleburg.
Chief Charles Singleton has been an active member of the Virginia volunteer fire service for over 62 years. He has moved throughout the state, serving almost 30 years with the Vienna Fire Department before retiring and continuing his service with the Ebony (VA) Volunteer Fire Department and then the Amherst County (VA) Emergency Services Board. In addition, Chief Singleton has dedicated over 50 years to the Virginia State Firefighters Association (VSFA), where he currently represents over 50 volunteer fire departments in six counties on the VSFA Executive Committee. He spent over 30 years representing the voice of Virginia volunteers in Richmond as Chairman or Co-Chairman of the VSFA Legislative Committee. He has also been active in addressing firefighter needs at the national level.
Chief Singleton was honored with the Lifetime Achievement Award from the Virginia Fire Service Board in 2011. Supporting him in his many ventures is his wife of 48 years, two daughters, one son, three grandchildren, and five great-grandchildren.
Jim Pickett
NVFC Fire Prevention Award
Award sponsored by First Alert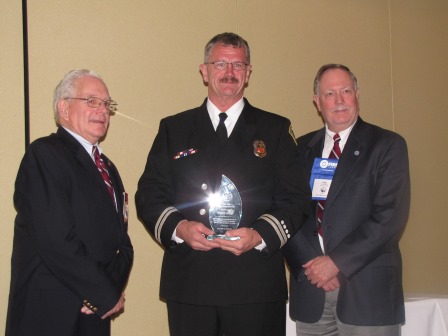 Jim Pickett (center) receives the Fire Prevention Award from NVFC Membership/Awards Committee Chair Joe Guyotte (left) and NVFC Chairman Phil Stittleburg (right).
For two decades, Jim Pickett has volunteered as a firefighter and fire prevention educator in Kodiak, AK, with a mission to make his community a better, safer place to live. Each year, he provides fire prevention presentations and station tours to over 500 children in local schools. In addition to building props and visuals for the presentations, Pickett raised funds to purchase a Sparky the Fire Dog® costume, 911 Simulator, and Hazard House to enhance the children's program. He initiated a "Birthday Ride-Along with Sparky" to reward kids for fire-safe behavior. Pickett also established a smoke alarm installation program, receiving funding through the state to purchase and provide free smoke alarms to any members of the community who request one. He has installed as many as 900 alarms in one year.
Pickett's safety and prevention outreach is not limited to fire: another key accomplishment in his service was implementing a citywide child injury prevention program, including car seat, bike, and pedestrian safety. Pickett secured children's bike helmets, reflectors, and reflective zipper pulls for staying safe when walking or biking. He even keeps extra reflectors in his vehicle to give to children he sees by the road without one.
Pickett was named the Firefighter of the Year by the state of Alaska in 2011. He and his wife, Kiela, have two sons and four grandchildren, and have recently adopted one of their grandchildren.
Jennifer Schaefer
Junior Firefighter of the Year Award
Sponsored by Tyco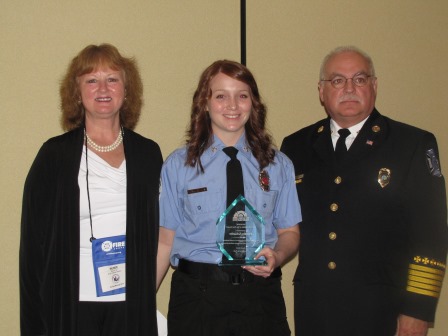 Jennifer Schaefer (center) receives the Junior Firefighter of the Year Award from NVFC board members Renee Loh (left) and Jeff Cash (right).
Jennifer Schaefer has been a junior firefighter with the Burlington (ND) Rural Fire Department for over four years. Schaefer spends as much time as possible at the station, helping with truck checks, building maintenance, filling out reports, shoveling snow – whatever is needed to keep the department ready for the next call. She has also been actively involved with the department's fire prevention program. She broke a record in North Dakota as the youngest person to take and pass the Firefighter One Essentials Five test. In addition to Firefighter I, she holds certifications in extrication, Instructor I, first aid, CPR-AED, water rescue, fire ground communications, hazmat awareness, and more.
Crediting her father's excitement for the fire service as her inspiration for become a junior firefighter, Schaefer has stayed committed to the program to better herself, her community, and her fellow firefighters. When not at the department, she is also a member of the National Honor Society and President of her local chapter of the Future Farmers of America. After graduating in May, she plans to pursue a degree in fire science from Columbia Southern University.
Washington County (MD) High School Fire and Rescue Academy
Junior Firefighter Program of the Year Award
Sponsored by Tyco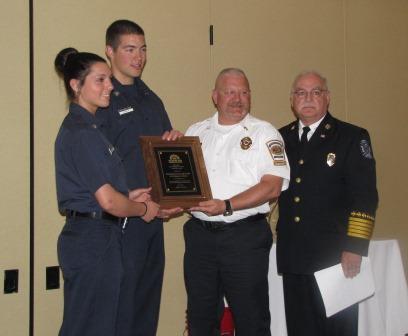 Washington County junior firefighters Journie Bartles and Jamie Drawbaugh and program advisor Phil Rowe accept the Junior Firefighter of the Year Award from NVFC board member Jeff Cash.
The Washington County (MD) High School Fire and Rescue Academy was established in 1999 as a recruitment tool for the county's volunteer fire companies. This innovative program enrolls high school juniors and seniors in a two-year cadet program. Upon completion, the cadets are eligible for up to 16 college credits, including certifications in Firefighter I & II, Maryland EMT, Rescue Tech, and others.
While in the Academy, all cadets are active volunteers in their community. They attend their main high school in the morning and the Academy each afternoon. Cadets in the program are active in fire prevention outreach in local schools, and promote fire safety throughout the community. They also participate in the National Fallen Firefighters Memorial Weekend held each October in Emmitsburg, MD, by assisting with weekend events to help honor the fallen. Cadets in the program are being trained to be future leaders in Washington County and beyond, and many graduates now serve as volunteer officers, career firefighters, EMTs, and paramedics throughout the Mid-Atlantic.
Award Sponsors
About the National Volunteer Fire Council
The NVFC is the leading nonprofit membership association representing the interests of the volunteer fire, EMS, and rescue services. The NVFC serves as the voice of the volunteer in the national arena and provides invaluable tools, resources, programs, and advocacy for first responders across the nation. Learn more at www.nvfc.org.
About First Alert
BRK Brands, Inc. (Aurora, IL), is a fully owned subsidiary of Jarden Corporation (Rye, NY) NYSE:JAH, a leading provider of niche consumer products used in and around the home. For 50 years, BRK Brands, Inc. has been the manufacturer of First Alert®-branded home-safety products, the most trusted and recognized safety brands in America. BRK® Brands designs and develops innovative safety solutions including Tundra® Fire Extinguishing Spray, ONELINK® wireless alarms and a comprehensive line of smoke alarms, carbon monoxide alarms, fire extinguishers, and escape ladders to protect what matters most. Such products are also marketed under the BRK Electronics® brand, The Professional Standard for the builder and contractor audiences. BRK Brands, Inc. products are found in more than 30 countries worldwide. For more information, visit www.firstalert.com, www.brkelectronics.com, or www.jarden.com.
About Rosenbauer America
Rosenbauer America is the world's leading manufacturer of firefighting vehicles and equipment. With locations all over the globe, the North American operations are based in Lyons, South Dakota; Wyoming, Minnesota; and Fremont, Nebraska. Rosenbauer incorporates the international strength and innovation of a global company with top American manufacturing firms to build firefighters what they need to help keep their communities safe. For more information, please visit www.rosenbaueramerica.com.
About Tyco
Tyco is the world's largest pure-play fire protection and security company. Tyco provides more than three million customers around the globe with the latest fire protection and security products and services. A company with $10+ billion in revenue, Tyco has more than 70,000 employees in more than 1,000 locations across 50 countries serving various end markets, including commercial, institutional, governmental, retail, industrial, energy, residential and small business. Learn more at www.tyco.com.