NVFC and Shell Partner to Promote Volunteer Fire Service at Richmond International Raceway
September 15, 2015
Photo courtesy of Shell Pipeline Company LLC
Shell Pipeline Company LP honored the National Volunteer Fire Council (NVFC) and the volunteer fire service on Saturday, September 12, during the Federated Auto Parts 400 Sprint Cup Series race at the Richmond (VA) International Raceway. The No. 22 Shell Pennzoil Ford Fusion, driven by Joey Logano, featured the NVFC logo and volunteer firefighter recruitment message on the decklid.
"We appreciate the support of Shell and their efforts to garner greater recognition for the volunteer fire service," said NVFC Chairman, Chief Kevin D. Quinn. "Volunteers make up a majority of the fire service, yet a recent NVFC survey found that 79% of Americans don't know their local department needs volunteers. Through this partnership, Shell has increased awareness among NASCAR fans, many of whom live in communities that rely on volunteer responders."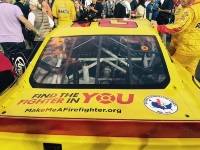 The NVFC recently launched a nationwide volunteer recruitment campaign, funded by a federal SAFER grant. Fire and EMS departments can register at portal.nvfc.org to post their volunteer opportunities, create customized recruitment materials, and find ideas and training to help make their recruitment campaign a success. Members of the public can go to MakeMeAFirefighter.org to learn more about the fire service and find volunteer opportunities available with their local department.
The Shell Pennzoil No. 22 Ford Fusion featured the recruitment campaign's message of "Find the Fighter in You," as well as the web site, MakeMeAFirefighter.org. In addition, driver Joey Logano recorded a public service announcement encouraging community members to join their local volunteer fire department.
"Thank you to all of the Volunteer Firefighters keeping us safe every day," said Joey Logano, driver of the No. 22 Shell-Pennzoil Ford. "It was a privilege to carry the NVFC logo on the 22 this past weekend at Richmond and to meet the group before the race."
NVFC Chairman Kevin D. Quinn, Chief Executive Officer Heather Schafer, and board members Henry Bozard (SC), Kenneth Brown (VA), Kenneth Knipper (KY), Paul Lukus (PA), and Robert Timko (PA) attended the race.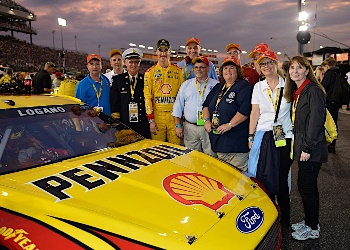 Representatives from the NVFC with driver Joey Logano.
Photo courtesy of Shell Pipeline Company LLC