NVFC and Partners Give Back to First Responders at FDIC
April 24, 2012
FDIC was a busy event for the National Volunteer Fire Council (NVFC). The organization launched new partnerships, conducted firefighter health screenings, held a unique raffle, and displayed an ATV at the NVFC booth during the fire industry's biggest conference in Indianapolis, IN, April 19-21.
Thanks to support from Pfizer, the NVFC screened over 500 attendees for chronic obstructive pulmonary disease (COPD), which is a lung disease that makes it difficult to breathe. The two main forms of COPD are chronic bronchitis and emphysema. While smoking is the most common cause of COPD, breathing in other kinds of irritants like pollution, dust, or chemicals, can also be a contributing factor. Firefighters need to be especially careful due to the nature of their work.
The NVFC partnered with Globe to raffle off a Heritage Coat, which is a reproduction of the first turnout coat ever made. Virgil Murphy from Stonelick Township in Ohio won the limited-edition Heritage Coat. In addition to the Heritage Coat, the NVFC booth displayed a set of modern, cutting-edge Globe gear to promote a special donation program now open to eligible fire departments. Globe invented firefighter turnout gear in 1887 and is celebrating its 125th anniversary by donating 125 sets of turnout gear to all-volunteer departments in need. The NVFC has teamed up with Globe and Dupont to manage the application process. Find criteria and apply at www.nvfc.org.
Also on display at the NVFC booth was a 2012 Polaris Sportsman 500. California Casualty, a partner of the NVFC, is giving away a Polaris ATV as part of the company's Work Hard Play Hard Sweepstakes. Show attendees could stop by the booth to take a look at what they can win by entering the sweepstakes. Learn more about the give-away and enter to win at http://go.calcas.com/polaris.
The NVFC joined with the Scott Firefighter Combat Challenge and Pro-Tech 8 to launch the new Pro-Tech 8 NVFC Relay at FDIC. Through this partnership, Pro-Tech 8 will sponsor up to six NVFC teams at all Scott Firefighter Combat Challenge events in 2012. At least three members of the five-person relay team must be members of the NVFC as of December 31, 2011 to participate in the Relay. To kick-off the partnership, a team of NVFC staff and members participated in the Exhibitor Relay on Thursday morning.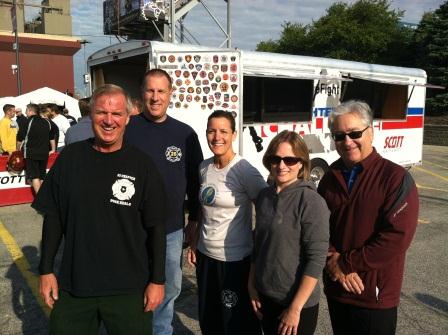 L-R: Kevin Quinn, Ron

Oettel

, Shannon Ryder, Sarah Lee, and Barry

Balliet

formed the

NVFC

team at the Exhibitor Relay.
"It was both rewarding and fun to participate in the Scott Firefighter Combat Challenge; it was a great team building experience," said NVFC Deputy Director Sarah Lee. "The NVFC, Pro-Tech 8, and the Scott Firefighter Combat Challenge are committed to firefighter health and safety, and the Challenge events help encourage firefighters to be at their best. I hope the NVFC membership will take advantage of the free registration and participate in the Relay this year."
Learn more about the Pro-Tech 8 NVFC Relay and register your team for an event at www.scottfirefighterchallenge.com.
In addition, NVFC staff and board members were at the booth to answer questions about all of the NVFC's initiatives. Attendees picked up free NVFC resources on a variety of topics from recruitment and retention to health and safety, including the 2012 International Fire/EMS Safety and Health Week poster.