Nominations for Red Bandanna Hero Award Due July 31
July 21, 2015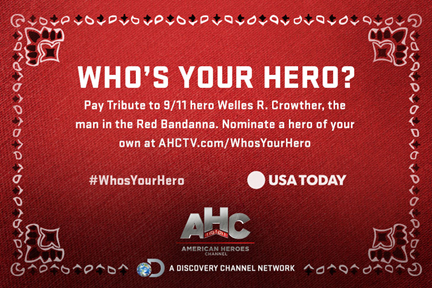 American Heroes Channel (AHC) in partnership with the Welles Remy Crowther Charitable Trust has kicked off its search for America's Red Bandanna Hero Award winner. Nominations are due by July 31, and the recipient will be honored on TV and win a $10,000 donation in their name to their charity of choice.
The award's name was inspired by volunteer firefighter Welles Remy Crowther, also known as "The Man in the Red Bandanna," who saved as many as 12 people, according to survivor accounts, following the attacks on the World Trade Center on September 11, 2001. While the world was watching but hope seemed lost, Crowther reminded us what's possible when courage is summoned and fear renounced, renewing our faith in humanity during one of the darkest days in American history.
The competition provides an opportunity to pay tribute to Crowther's intrepid actions, and the Red Bandanna Hero Award will acknowledge the ultimate, everyday hero who exemplifies the American spirit and defines us as a nation. Submit your nomination at
http://www.ahctv.com/redbandanna/
.