NFPA RESPONDER FORUM Aims to Bridge Gap Between Research and Practice
October 20, 2015
By Ken Willette

The National Fire Protection Association (NFPA) established its relationship with the fire service in 1896 through its work on fire sprinkler systems and electrical safety. Now it's taking that relationship to an entirely new level by working with the National Volunteer Fire Council (NVFC) and others to chart a path of action to develop powerful tools to help us navigate the future of responder safety.
In recent years, it became clear that the NFPA's engagement with the fire service needed to be refreshed and our commitment to it carved in the bedrock of our mission. An important step toward that goal was the formation of the Emergency Responder Advisory Committee (ERAC), created to provide insight into the needs of the fire service and to offer strategic advice in addressing those needs. Chief Jeff Cash, NVFC North Carolina Director, represents the NVFC on the ERAC along with representatives from the International Association of Fire Chiefs, International Association of Fire Fighters, Metro Chiefs, U.S. Fire Administration/National Fire Academy, and the NFPA Fire Service Section. From this initiative grew the idea of the NFPA RESPONDER FORUM.
The NFPA RESPONDER FORUM is an annual event focused on exposing the fire service to emerging technologies, research, and standards development. The inaugural event will be held October 26–28 in Indianapolis and will include a day-and-a-half of panel discussions, presentations, and small-group meetings. NVFC members Chief Joe Maruca, Jonathan Jones, and Shawn Snider, along with 36 other attendees, have received scholarships from NFPA to attend the FORUM for the next three years.
The vision is that the NFPA RESPONDER FORUM will help build a bridge from research into practice by highlighting emerging technologies that the fire service must understand, by providing a venue for researchers to share their findings, and by providing a forum for discussions on the pathways research can follow to inform NFPA codes and standards. At the conclusion of the event, a FORUM Findings report will be published, creating a public record of the discussion that can be used by our technical committees and others.
This is a critical moment in NFPA's engagement with the fire service and first responders, and it didn't happen overnight. For many years, NFPA partnered with the fire service to meet the evolving fire and life safety protection needs of society, as well as the changing role of firefighters, through codes that promote safety in the built environment and standards that provide a safety net for firefighters in their daily operations. Today, it is the norm for firefighters to be trained to a curriculum, wear personal protective equipment, and respond on apparatus that are all compliant with NFPA standards. Where the fire service goes, NFPA goes.
In the past decade, the fire service has gone in some challenging yet exciting directions. New building methods and technologies have led to new fire ground tactics, fire departments have become primary providers of emergency medical services, and economic and political factors have affected fire department operations, to name a few. It all contributes to a very different climate than the one our relationship was launched in back in 1896.
NFPA is investing its resources to support the transportation and conference expenses for attendees by making scholarships available for the 2015 NFPA RESPONDER FORUM. This will provide opportunities for those who otherwise could not afford to attend, a challenge shared by many NVFC members who represent under-funded volunteer fire departments. The return on this investment is the synergy that will develop when the fire service thought leaders of the future gather and envision what is possible and chart a pathway to achieve that vision.
As I stated before, where the fire service and first responders go, NFPA goes.
For more information on the NFPA FORUM, contact me at kwillette@nfpa.org.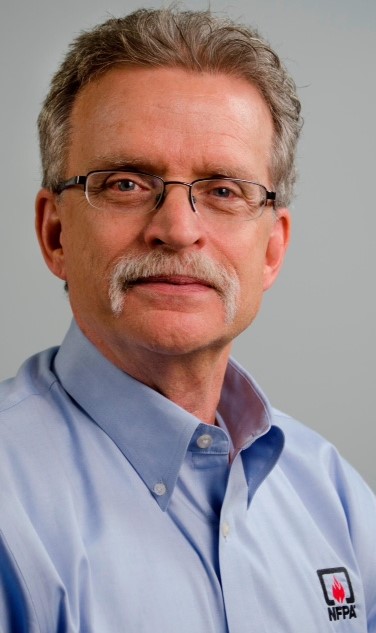 Kenneth R. Willette serves as Division Manager of the Public Fire Protection Division of the National Fire Protection Association and is responsible for managing a technical staff that supports over 90 Standards focused on the needs of the fire service and emergency responders. He has 35 years of diverse experience in the fire service and emergency preparedness planning, serving as an airfield and structural firefighter, shift commander, and Chief of Department and Emergency Manager for two communities. He earned a BS in Fire Protection Administration from Empire State University, Stony Brook, NY, and is a Past President of the Fire Chiefs Association of Massachusetts.