New Webinar Available – Cancer in the Fire Service: A Growing Epidemic
May 30, 2015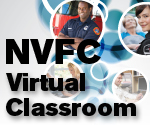 Firefighter cancer is a growing catastrophe for the fire service community. Cancer is the most dangerous and unrecognized threat to the health and safety of our nation's firefighters, according to the Firefighter Cancer Support Network. Numerous studies have shown that firefighters statically have higher rates of multiple types of cancers than the general population.
To educate first responders on this life-threatening topic, the National Volunteer Fire Council (NVFC) has released a new on-demand webinar to raise awareness among the fire service of the risks first responders face and offer tips and best practices for lessening these risks and preventing illness. The webinar was created with support from the Motorola Solutions Foundation.
The webinar is presented by NVFC board member Chief Brian McQueen, who highlights his own battle with cancer. Chief McQueen dedicates the webinar to all of the firefighters who have died from cancer and those that continue to fight the illness, and emphasizes the need for a culture change in the fire service. "Today, what we need to do as the fire service in this great nation is to change the culture… you are the ones responsible," he states.
The hour and a half session covers a variety of topics, including:
Chief McQueen's personal story of his battle with cancer
The scope of the firefighter cancer problem
What is known and not known about the cancer epidemic
Challenges we face as firefighters
Why we should keep exposure records
Role of the Fire Chief
Steps the governing jurisdiction can take to reduce cancer in firefighters
Immediate actions an individual can take to protect themselves

A variety of videos and media stories are highlighted throughout the webinar. Supplemental resources are also available to help firefighters extinguish this growing epidemic. The webinar is available through the NVFC's Virtual Classroom, and is being offered for free for a limited time.
Chief McQueen is a 38-year member of the Whitesboro (NY) Volunteer Fire Department, where he previously served as Chief and currently serves as President. He is a Director of the Firemen's Association of the State of New York, NVFC Alternate Director from New York, Deputy Fire Coordinator for Oneida County in charge of Training, retired school administrator, and current Board Member for Whitesboro Central School District.