New Online Trainings Now Available – FREE for a Limited Time Only
January 5, 2015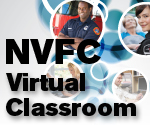 The National Volunteer Fire Council (NVFC) is offering three new online trainings. Learn about fire department sustainability, technology tools for sharing fire prevention messages, and department reputation management through the NVFC Virtual Classroom.
These classes are FREE for a limited time only.
Fire Department Sustainability
The fire service is experiencing an increase in the average age of the firefighter. With the aging of the fire service comes the need to prepare the younger generation and plan for succession within the department. This course will show how to plan for succession and prepare the younger generation to lead the department.
iShare: Technology Tools for Sharing Fire Prevention Messages
As faces and generations change, so does technology and the way we need to disseminate information to the public. Participants in this webinar will explore ways to use technology for communication, group collaboration, and best practices for information distribution. Participants will also learn FREE tools for the development and sharing of video messaging, presentations, webinars, and online courses.
Reputation Management in an Era of Citizen Journalism
The Internet has created an era of citizen journalism. One person now has the ability to have a dialogue with millions of people with just one click. This new platform of reporting brings another level to reputation management. Like preparing for emergencies, departments need to train to prevent and manage unexpected reputation threats. "Reputation Management in an Era of Citizen Journalism" will offer participants with strategies to safeguard the firehouse from damaging behaviors and protect the integrity of the fire service.