New Behavioral Health Training Now Available
September 1, 2015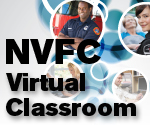 42.5 million Americans experience some form of mental illness each year, according to the Substance Abuse and Mental Health Services Administration. Firefighters, EMTs, and rescue personnel are at an even greater risk of suffering from anxiety, depression, burnout, post-traumatic stress syndrome, addiction, and suicide than the normal population. If left unaddressed, these issues can result in tragic consequences.
Behavioral health is just as important as physical health. Now more than ever, industry leaders need to promote a cultural change to ensure first responders are mentally ready to perform such a dangerous and stressful job and are able to seek help if needed.
To promote positive mental health and provide resources for those in need, the National Volunteer Fire Council (NVFC) has released a new course,
Behavioral Health in the Fire and Emergency Services
. Presented by Jeff Dill, founder of the
Firefighter Behavioral Health Alliance
, this one-hour course offers insight about what behavioral health means to emergency service personnel, its cultural progress and future potential, and some of the concerns responders and their families face. The presentation then covers a variety of tools and programs available to help those in need overcome existing or potential behavioral health issues, including the NVFC's award-winning
Share the Load™ program
.
Education is key. It is critical to know what factors influence behavioral health and what resources are available to help you and your fellow first responders. Take the online course to learn how to better protect yourself, your family, your brothers and sisters in the service, and those you serve.