National Traffic Incident Response Awareness Week is November 9-15
October 20, 2020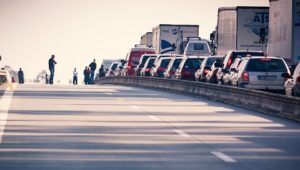 Every day, firefighters and EMS providers nationwide respond to thousands of traffic incidents. Yet while these responders are working to save lives, they face the risk of being struck and either injured or killed while on scene. National Traffic Incident Response Awareness Week takes place November 9-15 to raise awareness of this issue, reduce responder injuries and fatalities, and help emergency responders, drivers, and passengers understand the role they play.
"Our responders face many dangers when on the scene of a roadway incident, including drivers who are distracted, drowsy, or impaired," said National Volunteer Fire Council (NVFC) Chair Steve Hirsch. "It is critical we raise awareness in our communities that drivers need to remain alert and slow down or move over when they approach an emergency scene. It is just as critical that firefighters, EMS providers, police officers, tow operators, and other responders are properly trained for traffic incident response. If we all work together, we can prevent these tragedies and keep our responders safe on the roadways."
To help response agencies with public outreach during National Traffic Incident Response Awareness Week and beyond, the following resources are available:
While public education is important, it is also crucial to make sure your personnel are properly trained for traffic incident response. Free National Traffic Incident Management Responder Training is available online and in-person from the Federal Highway Administration. The Responder Safety Learning Network also offers a National Traffic Incident Management Training Certificate through its online program. Learn more and access training and resources here.
Additionally, the NVFC hosted a Facebook Live discussion on October 27, 2020 that focused on helping departments get ready for National Traffic Incident Response Awareness Week and best practices for improving safety at roadway incidents. NVFC Maryland director David Lewis, Joseph Tebo of the Federal Highway Administration, and Stephen Austin of the Emergency Responder Safety Institute discussed the threats posed to emergency responders during roadway incident response, the role firefighters and EMS providers play in roadway incident scene safety, and available training opportunities. Click here to watch the recorded discussion.