Message to NVFC Members from Chairman Quinn
July 28, 2015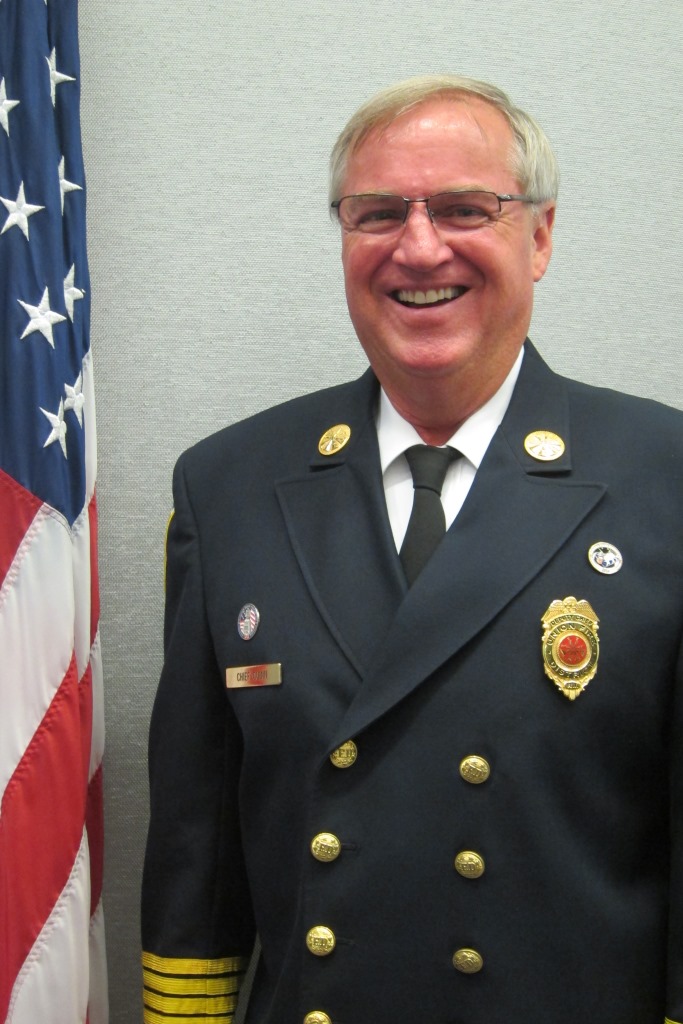 Dear NVFC Members:
I am very proud to be an American Firefighter, and especially proud to be serving my country and my community as a Volunteer Firefighter. I am deeply honored to be writing this as your newly elected Chairman of the National Volunteer Fire Council (NVFC), and I thank you for putting your trust in me. The National Volunteer Fire Council serves those that serve. I want to personally thank you for your dedication and commitment as you give so much to your community. The volunteer fire service is a special group – we are the hub of our community and we serve with pride.
As a volunteer firefighter for over 39 years, I have seen much change in the fire service. The one constant has been the dedication of our members. We are a unique breed of helpers; my observation has been that after an incident that we do not seek praise, we simply state "we are just doing our job."
Today we need to work together to meet the many challenges facing the volunteer fire service. Our numbers as a whole are decreasing, the median age of volunteers is increasing, and the call volume and type of incidents are changing. We also have a greater understanding and awareness of the residual risks that firefighters face well after the response is over, including the dangers of cancer, heart attack, and behavioral health issues.
With all of the changes in the volunteer fire service, it is time we take a different approach to the way we present our fire departments to our communities. We must begin to change with the social norms, we must understand the next generation firefighters' needs, and we must be OK with accepting a pat on the back every now and again. We must market our fire department to attract new members and raise awareness of our department's service and needs. We must become better at asking for assistance. We must let our communities know that we are seeking volunteer candidates.
The privilege of being an emergency responder comes with great responsibilities. The NVFC is here to help you achieve your goals and enable you and your department to thrive. It is our job to help volunteer firefighters and departments stay healthy and safe, recruit and retain members, find funding for necessities, and enhance the professionalism of the volunteer fire service. I challenge you to join me in asking the question of your fellow volunteers, "Are you a card-carrying member of the NVFC?"
This question may prompt questions in response, such as, "Why should my volunteer fire department join?" or "What benefits are there for me personally if I join the NVFC?" I'd like to provide my thoughts on why it is critical for volunteers to be part of the national organization and support the efforts of the NVFC.
I. The NVFC Represents You – the "Boots on the Ground" Volunteer Firefighter.
Our mission as an organization is to provide a unified voice for the volunteer fire, emergency medical, and rescue services. In all of our actions the NVFC consistently asks: "Is this decision going to positively impact the Boots on the Ground Volunteer Firefighter?" We focus on issues that matter to you, and we represent you on numerous national work groups, standards-setting committees, legislative campaigns, and resource development projects.
II. We Must Be Prepared.
As a firefighter, EMT, or rescue provider, it is critical you are adequately prepared for the job at hand. The NVFC strives to offer the training and resources you need to effectively and efficiently do your job. This includes offering on-demand training on a variety of relevant subjects, providing support to help you and your family overcome the challenges that being part of the fire service brings, making sure your department has an adequate number of personnel, helping you stay healthy and safe in an inherently dangerous profession, and raising awareness of critical issues that effect you. We also offer our members many benefits and opportunities, such as an AD&D policy, discounts on needed fire service products, and the ability to apply for special grant and scholarship programs.

III. We Stand for Professionalism.
Our public deserves the best quality of care we can provide. We must set an example by maintaining the highest level of professionalism and work together in a positive manner to achieve success in all that we do. As volunteers, it is critical that we put our best practices forward every time the wheels roll.
IV. We Must Grow Our Membership.
Just as fire departments need to look at recruiting the next generation of volunteers in order to secure their future, so must the NVFC take action to continue to expand and grow. Our strength is in our numbers, and it is our duty to do everything we can to grow our membership. A united voice is stronger than an individual voice, in everything from legislative advocacy and garnering governmental support to raising awareness among the public of the importance of the volunteer fire service. I ask you to join the NVFC and encourage your fellow volunteers to do the same. I ask you to utilize the benefits and programs we offer to our members. And I ask you to always serve with pride.
Our members are a critical part of the NVFC, and we welcome your feedback at any time. If you have any comments, suggestions, questions, or just want to learn more about what the NVFC offers, please let us know. You can contact the NVFC office at nvfcoffice@nvfc.org or 1-888-ASK-NVFC (275-6832).
I am excited to see what the future brings for the volunteer fire and emergency services, and I look forward to working with all of you to enhance and grow the National Volunteer Fire Council as we lead our Nation's volunteer fire force.
Remain Safe, I remain,
Kevin D. Quinn, NVFC Chairman